Dave from

DesignSpark
How do you feel about this article? Help us to provide better content for you.

Dave from

DesignSpark
Thank you! Your feedback has been received.

Dave from

DesignSpark
There was a problem submitting your feedback, please try again later.

Dave from

DesignSpark
What do you think of this article?
Just four and a half years after launching, Raspberry Pi founder Eben Upton has confirmed that the company has now sold over 10 million computers, cementing its position as the most popular British computer in history.
Developed by the charitable Raspberry Pi foundation, the Raspberry Pi computer is an affordable credit card sized ARM based PC. It can do many of the things that a desktop PC can do including word-processing, games, playing back High-Definition video or surfing the Internet.
However, easy access to the processor's GPIO gives the Raspberry Pi an extra dimension, which has created an army of makers, programmers, tinkerers and hackers who attach and control hardware and external devices via software code.
This in turn has led to a wide range of practical purposes for the Raspberry Pi, in both personal and commercial use. British Astronaut Tim Peake even had two Raspberry Pi computers on the International Space Station.
To celebrate the milestone, Raspberry Pi has launched what it refers to as "the perfect bundle" which is available from RS Components.
The official Raspberry Pi Starter Kit contains a Raspberry Pi 3, a mouse and keyboard, an 8GB SD card with NOOBs operating system, an official Raspberry Pi case, a 2.5 amp power supply and a 1m HDMI cable. There is also an Adventures in Raspberry Pi book by Carrie-Anne Philbin.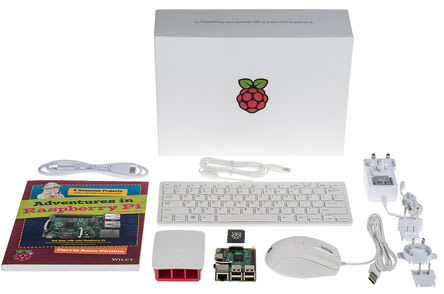 It costs just £99 plus VAT. 
Announcing the milestone in a blog this morning founder Eben Upton wrote on raspberrypi.org; "At the time, we thought our lifetime volumes might amount to ten thousand units – if we were lucky.
"There was was no expectation that adults would use Raspberry Pi, no expectation of commercial success, and certainly no expectation that four years later we would be manufacturing tens of thousands of units a day in the UK, and exporting Raspberry Pi all over the world.
"With this in mind, you can imagine how strange it feels to be able to announce that over the last four and a half years we've sold a grand total of ten million Raspberry Pis.
"Thanks to you, we've beaten our wildest dreams by three orders of magnitude, and we're only just getting started. Every time you buy a Raspberry Pi, you help fund both our ongoing engineering work, and our educational outreach programs
"Very early on, we decided that we would offer the bare-bones Raspberry Pi board without accessories: that way, cost-conscious customers get the lowest possible price, provided they can beg or borrow USB peripherals, a power supply and an SD card.
"Over the years we have seen many people build on this and produce some fantastic bundles for people who would rather get everything they need from a single source.
"To celebrate the ten millionth Raspberry Pi, for the first time we've put together our own idea of what the perfect bundle would look like, creating the official Raspberry Pi Starter Kit.
"This is an unashamedly premium product: the latest Raspberry Pi, official accessories, the best USB peripherals we could find, and a copy of the highest-rated Raspberry Pi book. The kit is available to order online in the UK from our partners RS Components, priced at £99+VAT."