Dave from

DesignSpark
How do you feel about this article? Help us to provide better content for you.

Dave from

DesignSpark
Thank you! Your feedback has been received.

Dave from

DesignSpark
There was a problem submitting your feedback, please try again later.

Dave from

DesignSpark
What do you think of this article?
We are delighted to announce that Mamta Singhal, IET WES Young Woman Engineer of the Year winner and toy engineer, has joined the EW BrightSparks judging panel, alongside Dr Lucy Rogers, design engineer and judge on BBC's Robot Wars, Tony Fish, co-founder of FabLab London, Paul Hide, techUK chief, Richard Wilson, Editor of Electronics Weekly and Lindsley Ruth, CEO of Electrocomponents.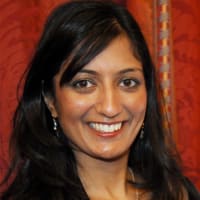 Mamta won the prestigious Women's Engineering Society (WES) prize in 2007 at just 27 years of age and started her engineering career as a creative development engineer for children's toy manufacturer, Hasbro. As her career developed, she went on to enjoy roles at both Mars and Dyson, as well as being shortlisted for ToyNews Women of the Year 2015.
Recognised as a top female engineer, Mamta was interviewed by The Telegraph last year on National Women in Engineering Day. Management Today features an in-depth interview with her about her experience as a women engineer and provides advice to women looking to get into engineering.
We caught up with Mamta to discuss EW BrightSparks and the importance of encouraging more young people into exciting careers in the engineering design world.

Q: So Mamta, what made you want to get involved with the EW BrightSparks programme? 
MS: I am honoured to be a judge for these awards, it showcases the exciting world of engineering to the younger generation. As a design engineer, I am passionate about supporting younger people into the profession as it is a great and powerful field, where one can design, create and implement cutting-edge solutions. Having worked globally as a technical expert for multinational FMCGs, I'm keen to encourage the BrightSparks entrants and see them flourish in a career in engineering and technology.
I feel it is essential to inspire and support the next generation in STEM subjects. I am a spokesperson for the Institution of Engineering and Technology (IET) and am extremely passionate about promoting engineering as a profession. The field is sadly misunderstood and we have a massive skills shortage of good quality engineers in the UK, so by starting at the grassroots level and getting younger people engaged in the field, we will hopefully encourage more talent moving into and through the pipeline.
The BrightSparks programme is a really exciting platform. These types of awards weren't available when I was a teenager and I think it is crucial that influential engineers step up and take part in being judges and mentors.
Q: Why is it important to get young people into engineering?
MS: It is very clear that if we don't get more people into engineering then we will have a serious issue in coming years. Young people need to be exposed to the opportunities in engineering as many schools and parents still don't fully understand what we do and why it is so important to the economy and the world as a whole.
Engineering is everywhere from phones to furniture, toys to towers. Once we start thinking about it, anything that isn't naturally created, like plants, is made or influenced by an engineer.
Q: Why do you think we are faced with such a skills shortage in the UK?
MS: The skills shortage is not helped by an image problem around engineering. I think it is a great field to be part of and yet so many people shy away from engineering careers. Schools, parents, governments and fellow engineers need to get together to show the exciting, fun and rewarding side of engineering. Being at the forefront of new technologies, new products and new processes is really stimulating, yet so few people see the work that engineers do on a daily basis. Engineers need to make more noise about how they get involved in building bridges, products, cars etc. otherwise, the younger generation will think it just happens by magic! The reality is that we have a massive skills shortage and we need more programmes and events like EW BrightSparks to engage young people and students, encouraging them into the wonderful world of engineering and demonstrating the range of great careers they could enjoy.  
Q: What is the future for electronic design engineering?

MS: Design engineering is very exciting and the applications go on and on. Engineering applies to all angles of our lives so to think about where we might be in 5-10 years' time is mind blowing. Design engineers like myself are involved in the next generation of toys, medical equipment and car technologies to name but a few. It is a brilliant time to be part of the engineering industry as technology is moving at such a fast and exciting pace, plus I can see that engineers will soon be the 'BrightSparks' of the business world too.
You can follow Mamta Singhal on Twitter at @mamtasinghal2
What is EW BrightSparks?
EW BrightSparks aims to find the brightest young design engineers in the UK through an awards programme that has been launched by Electronics Weekly in partnership with RS Components. It's really easy to nominate yourself, or a colleague for a BrightSparks award celebrating engineering talent and innovation in the UK.
To find out more about EW BrightSparks, or to nominate a young engineer, please Click Here.