Meet The Selection Panel: BrightSparks 2018
Follow
Meet The Selection Panel: BrightSparks 2018
RS Components and Electronics Weekly have teamed up for a second year to celebrate engineers under the age of 30 who are working or studying in the UK. We want to find the people shaping UK electronics in the years to come. This is particularly important in the context of the industry's well-publicised skills gap and the efforts of the UK government and other organisations to encourage greater take-up in schools and universities of STEM and engineering-related subjects.
With nominations open now for the BrightSparks programme we take a look at the selection panel who will be bringing their industry knowledge and category specific skillsets to assess this year's finalists.
BrightSparks Selection Panel 2018
Isabella Mascarenhas - IET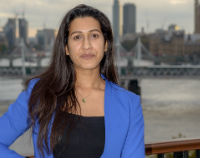 Isabella Mascarenhas is the Young Professionals Engagement Manager at the IET, one of the world's largest engineering institutions, a role which perfectly complements her energy, positivity and enthusiasm for working with bright young sparks. She has many years of experience working effectively with international communities of volunteers, key stakeholders and governance bodies.
Isabella runs two IET competitions, Present Around the World and the Young Professionals Global Challenge that seek to encourage young innovators to explore their technical knowledge and put it into practice to solve real-world issues and enhance their soft skills in the process.
Passionate about cultures and communication styles, Isabella enjoys the privilege of visiting many countries to spend time with the IET's Young Professionals and enhance their personal experience of their membership with the IET and returns to the EW BrightSparks panel for the second consecutive year.
Speaking with DesignSpark.com about returning to the panel Isabella said; "Most people today use some sort of electronic gadget or gizmo daily – from a television to a mobile phone, a baby monitor to an alarm clock or. And with revolutionary developments such as IoT or AI, the world we live in is changing, and quickly.
"Electronic design impacts everyone and is one way in which young people can have a really positive effect on the world. I look forward to seeing some of the new ideas and projects that this programme will help to highlight – and to see some faces behind the "they" that design the things we use.
"I believe the EW BrightSparks programme will show the industry and the wider business community the very high level of expertise young engineers' possess. And just maybe this will encourage others to follow in their footsteps."
View Isabella's LinkedIn profile at https://www.linkedin.com/in/isabella-mascarenhas-bbb48b1a/
Peter Hannon - HARTING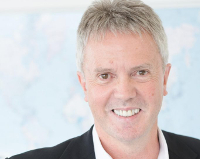 Peter Hannon has been the Managing Director of HARTING UK for the last 12 years. The company develops, manufactures and sells electrical and electronic connectors and network components.
As well as being the Connector Management Representative at ecsn, he has served as Deputy Chairman at British Connector Manufacturers Association for five years. Based in Northampton, he has also been the Vice Chair Board of Trustees for the Cynthia Spencer Hospice Charity for the last four years.
He told DesignSpark.com; "As an employer, I am passionate about attracting and developing young engineering talent into our industry. We need to keep pushing the boundaries and encourage our young people to seek a career in engineering. Engineering is about problem-solving. And with a little luck and determination, you can choose the type of problem you work on. It is exciting, it makes you think but it is not always the first choice for a career. We need to change that, raising awareness with schemes like BrightSparks, will only help us in this journey."
"Design engineering is very exciting and the applications are so varied. go on and on. Engineering applies to all angles of our lives so to think about where we might be in 5-10 years' time is mind-blowing. Design engineers are involved in the next generation of Car technologies, Automation, medical equipment and toys to name but a few. Industry 4.0, IoT is driving new ways of manufacturing and how we interact with technology. It is a brilliant time to be part of the engineering industry, as technology is moving at such a fast and exciting pace, plus I can see that engineers will soon be the 'BrightSparks' of the business world too".
View Peter's LinkedIn profile at https://www.linkedin.com/in/peter-hannon-22933314/
Adam Boulton - Blackberry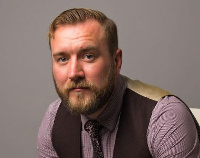 As well as being Chief Technology Officer at BlackBerry, Adam Boulton is also senior vice-president of Product Security at the Waterloo, Ontario company.
He has been with BlackBerry twelve years, including as Manager of Security Research & Assessment - EMEA, then Director of Security Research & Assessment (CSSLP, QSTM), and on to Vice President, Head of Product Security & Cybersecurity Services.
He describes himself as "a huge geek at heart".
"I still spend time developing software, reverse engineering and delivering security assessments, it is something I thoroughly enjoy on a personal level. I'm a huge Java fan and a big believer in distributed computing and cross-platform solutions."
Away from technology, he completed the Dirty Rat Race 2014 event (20th out of 954 in the 'half-mucker'), which is the world's largest assault course.
On the EW BrightSparks programme:
"The rate of change in technology advancements and adoption has been nothing short of incredible. We've all experienced these changes, it is impossible to escape. These changes have introduced new challenges in engineering, the way technology continues to be integrated means there are all kinds of safety and security issues that must be addressed. Whether it be simple gadgets or developing systems for critical national infrastructure the landscape has changed significantly. I believe we are entering a new art of engineering and one which will be heavily backed through new standards and regulations."
"EW BrightSparks provides an ideal platform for finding passionate engineers and the opportunity to develop this new art of engineering as a community. After all, engineers owe it to the world to make sure the systems of today and tomorrow are built to be reliable and dependable for generations to come."
View Adam's LinkedIn profile at https://www.linkedin.com/in/adamboulton/
Lindsley Ruth - Electrocomponents
Lindsley Ruth is Chief Executive Officer of Electrocomponents. Since joining the company in April 2015, he has been responsible for improving the financial performance of the Group and instilling a renewed focus on putting the customer back at the heart of the business.
Prior to Electrocomponents, Lindsley was Executive Vice President of the Future Electronics Group of companies, the fourth largest electronics distributor in the world. He was a key member of the core leadership team which transformed the organisation's performance and expanded its global reach.
Before joining Future in 2002, Lindsley held senior positions with TTI Inc and Solectron Corporation. Lindsley has both a BSc in Engineering (Industrial Distribution) and a Masters in Business Administration from Texas A&M University.
Read his interview on EW BrightSparks here.
View Lindsley's LinkedIn profile at https://www.linkedin.com/in/lindsley-ruth-23baa85/
Clive Couldwell - Electronics Weekly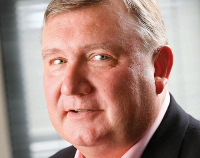 Clive Couldwell is group editor of Electronics Weekly and AV (Audio-Visual) magazine, at Metropolis Business Media, based in Croydon.
Clive has more than three decades of experience as an award-winning print, digital and broadcast journalist and editor in various areas of the technology business.
He launched and fronted the first business television service for the IT and telecommunications industries, and has written extensively for The Times, The Daily Telegraph, the Financial Times and The Wall Street Journal.
He has interviewed many of the US and Europe's leading CxOs as Secretary of The Open Group's think-tank 'The Inner Circle' (working with Professor Michael Earl, Director, Centre for Research in Information Management, London Business School), Best Practice writer for CIO Connect, Director of research club 'The EIS Forum' and as a contributor to CxO magazines CIO (US), MIS (UK) & CFO Europe.
For three years (2006 - 2009) he relaunched and then edited quarterly publication for the EC's Brussels-based DG Research unit (T4) dedicated to small-to-medium-sized research companies - 'SME Update'.
Talking ahead of the EW BrightSparks 2018 he said; "The UK has one of the world's most influential, innovative and dynamic electronics and embedded software industries, with a skills base and global influence envied by many. This should be celebrated – which is where our EW BrightSparks programme comes in. Electronics Weekly wants to highlight the achievements of the most talented young people in the electronics world, to inspire and encourage new entrants to our industry."
View Clive's LinkedIn profile at https://www.linkedin.com/in/clivecouldwell/
Paul Hide - techUK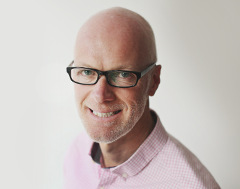 Paul returns for the second year as part of the EW BrightSparks panel. He is the COO of techUK, an organisation works in partnership with members (ranging from FTSE 100 companies to innovative start-ups) that represent the breadth of UK technology industries. Collectively they employ approximately 700,000 people, about half of all tech sector jobs in the UK.
With experience spanning sales, marketing, operational and general management, Paul's corporate career spans 25 years in B2C, B2B and B2G technology industries. This includes working for Sharp Electronics and Sony Electronics and a leading involvement in technologies delivering the analogue to digital technology transition of the past three decades.
Speaking to DesignSpark.com Paul said; "On behalf of techUK I am delighted to be able to again support the BrightSparks initiative. The UK develops some incredibly bright entrepreneurial minds who are motivated to apply their talents to the engineering technology sectors. techUK is committed to supporting the growth of skills and diversity in this sector."
"BrightSparks helps deliver against these aims and provides the opportunity for us to inspire others to pursue a career in an industry where we need to encourage more talented youngsters to join it if the UK is to remain a world leader."
View Paul's LinkedIn profile at https://www.linkedin.com/in/paul-hide-a285191/
Graham Curren - Sondrel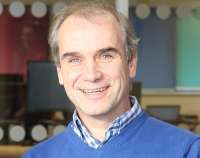 Graham is the CEO at Sondrel Ltd, a UK IC design consultancy, employing 250 staff.
In 2017 Sondrel bought Imagination's IMGworks. For Sondrel, the acquisition added 100 people and grows its expertise in high-performance and power-efficient system on chip (SoC) design for AI, automotive, networking, IoT and video processing and analytics applications, as well as adding UK sites in Bristol and King's Langley, and others in India and Poland, to its existing network of offices near Reading UK and in China, Morocco and France.
Josh Brooks described him as a quietly spoken but fiercely ambitious founder of the company. He began doing projects for big semiconductor companies; the first two clients were multinationals, one in Germany and one in France. "It grew organically from there," said Curren. "It was always an international outlook – in fact, we've always done very little business in the UK."
For six years, until September 2017, he was Director of the China-Britain Business Council. Before creating Sondrel, he was European Head of Marketing and Engineering for Avant! Corporation for seven years.
Ahead of EW BrightSparks, he told DesignSpark.com; "I am delighted to be asked onto the judging panel for the EW BrightSparks Programme this year. One of our greatest challenges at Sondrel, as an engineering company with 3 UK design centres, is the scarcity of young engineers coming into the industry."
"I look forward to learning about the 2018 candidates, celebrating their achievements so far in their career, and supporting this initiative."
View Graham's LinkedIn profile at https://www.linkedin.com/in/graham-curren-b6418b/
Martin Woodhead - Ensigma, Imagination Technologies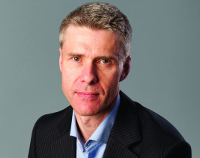 Martin is the Executive Vice President of Ensigma, with Imagination Technologies. He has over 20 years of experience in the DSP industry and was project director of Ensigma prior to its acquisition by Imagination in 2000. He also managed Ensigma's DAB and Mobile TV business before becoming EVP of the Ensigma product line in 2005.
Speaking to DesignSpark.com he said; "Being selected to be a judge for the Electronics Weekly BrightSparks programme is an honour. The engineering industry has so much potential to offer young people – a career that with engage and challenge them."
"Yet today, we're facing a shortage of skilled engineers entering the industry. Therefore, we need to celebrate the successes of young people in engineering and highlight the great opportunities it could provide others considering making it their career; opportunities that will enable them to contribute to the economy, to be at the forefront of innovation and to make people's lives better, the world over."
View Martin's LinkedIn profile at https://www.linkedin.com/in/martin-woodhead-64aab920/
Jude Pullen - Technologist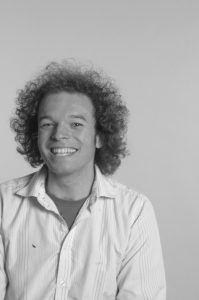 An award-winning Product Design Engineer, Jude Pullen is a multi-faceted technologist who has a passion to investigate each subject matter that crosses his path, particularly bridging seemingly disparate disciplines.
He is fascinated by fresh design challenges, be they human, mechanical or virtual.
He specialises in creating physical prototypes and uses these models to further explore design ideas, from concepts for Dyson, a medical device for the NHS, a fire-fighting robot to a mini space-pod. Recently he has featured on BBC Two's "The Big Life Fix with Simon Reeve".
Formerly Head of Research, Development and Technology at London start-up Sugru, Jude has worked with a range of blue-chip companies, and charitable organisations, such as Children in Need. He now works as a Sr. Technology Scout & Direction Design Manager at LEGO.
"I'm excited to support EW Bright Sparks and the way it champions the best of UK talent in industries which will be instrumental in our country's economic and social standing globally."
"On a personal level, I greatly enjoy seeing the public perception of engineering evolve – to realise it can be one of the most creative, socially responsible and enriching professions of our time. In EW BrightSparks 2018, I am sure we'll be witnessing some of the extraordinary minds and hearts that will shape our future for the better."
View Jude's LinkedIn profile at https://www.linkedin.com/in/judepullen/