Dave from

DesignSpark
How do you feel about this article? Help us to provide better content for you.

Dave from

DesignSpark
Thank you! Your feedback has been received.

Dave from

DesignSpark
There was a problem submitting your feedback, please try again later.

Dave from

DesignSpark
What do you think of this article?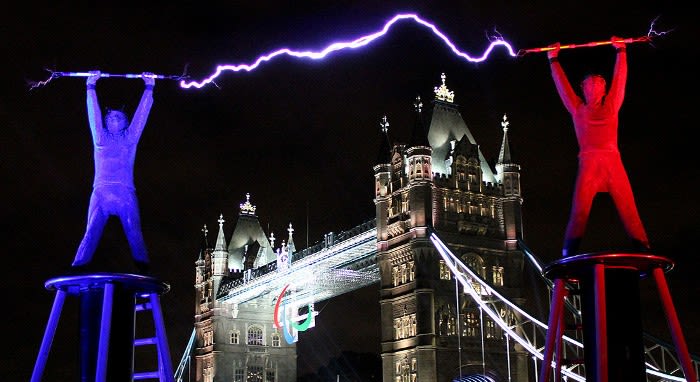 The Lords Of Lightning ( image source makerfaireuk.com )
Giant Tesla coils, spacecraft, robots and more
Originating in the Bay Area in 2006, Maker Faires have grown in popularity and now take place across the globe. Billed as 'the world's greatest show-and-tell', exhibits and activities can include interactive sculptures, ingenious electronics projects, woodworking, science workshops and more.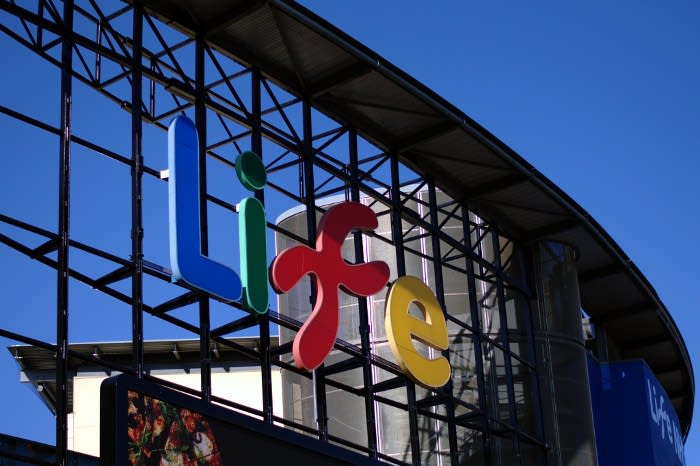 ( image source: Gareth Halfacree on Flickr )
Now in it's seventh year, and held at Newcastle's Centre For Life, Maker Faire UK brings together scientists, artists, engineers and makers for a family-friendly celebration of invention, technology and making. All of this takes place alongside the existing museum exhibits, making it a great event for visitors of all ages.
The march of the makers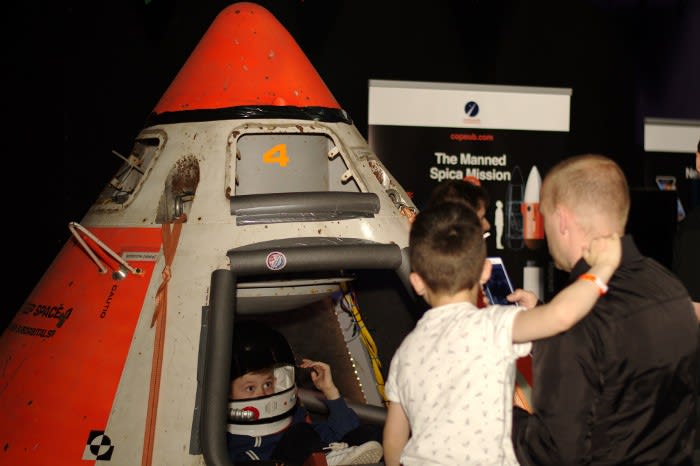 Copenhagen Suborbitals ( image source: Gareth Halfacree on Flickr )
Walking around this year's exhibition halls you may have bumped into a space rocket from Copenhagen Suborbitals, the world's only amateur space program, and got the chance to speak to the team about what happened when it burst into flames during a static test. One of the rocket engines was also on show, cut into cross-section, next to a model of a space capsule that visitors could climb into.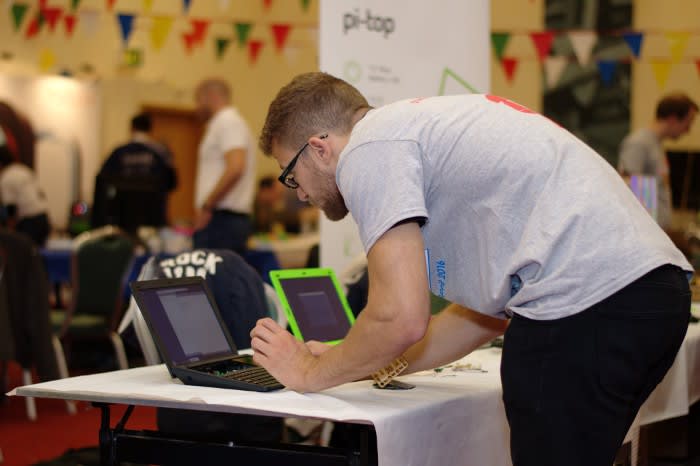 pi-top ( image source: Gareth Halfacree on Flickr )
Raspberry Pi fans will have spotted plenty of the single board computers around, including lots on the pi-top stand, with members of the team on hand to demonstrate their new products and talk about their future plans.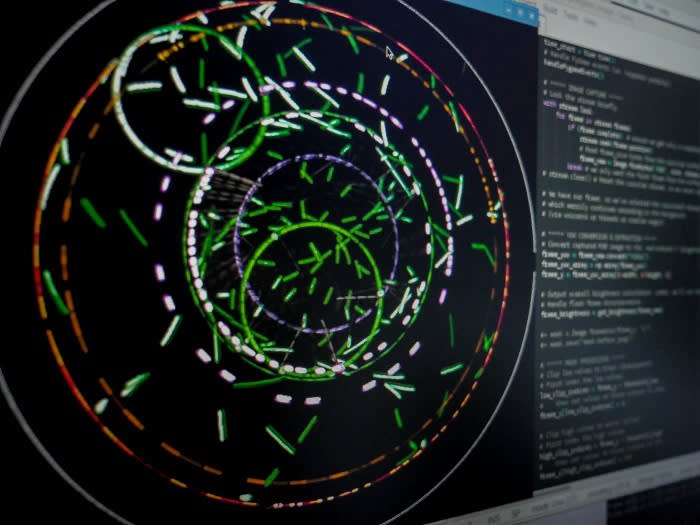 Technology Wishing Well ( image source: thinkphysics.org )
One cool project was the Technology Wishing Well from Think Physics – a STEM teaching outfit based at Northumbria University – that made use of no less than four Pis for their elaborate display!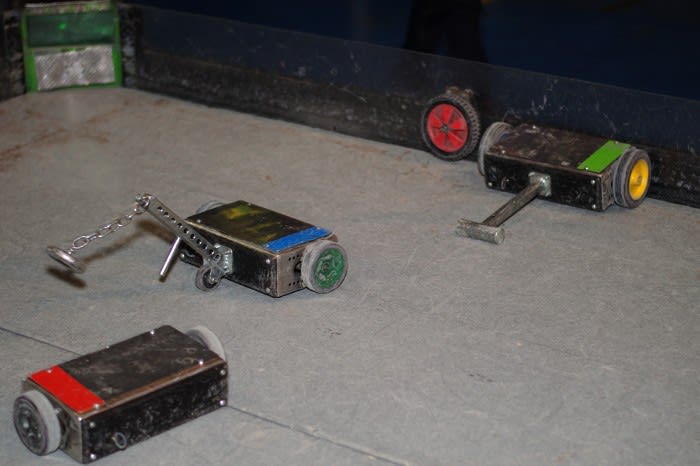 Battling robots ( image source: Gareth Halfacree on Flickr )
At the slightly noisier end of the spectrum, visitors had the chance to battle remote-controlled robots at the Robo Challenge arena. Also wandering the halls was a 5 foot tall robotic spider that launched foam darts, as well as a full-sized Dalek and other costumed characters that all added to the wonderful atmosphere of the show.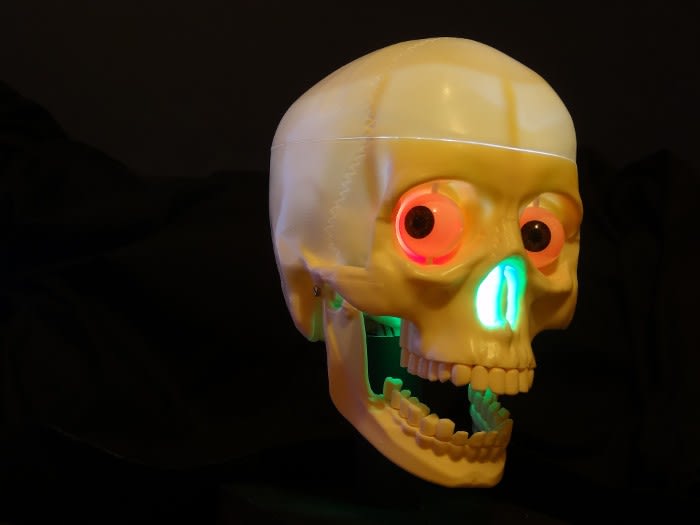 Grumpy Mike's Mulder ( image source: makerfaireuk.com )
Grumpy Mike, a pillar of the Arduino forums and long-term Maker Faire exhibitor, had several fun projects including Mulder, an eerily animatronic skull that could be controlled via keyboard commands, that proved popular with most, if a touch frightening for the very youngest members of the attendees!
Hackerspaces included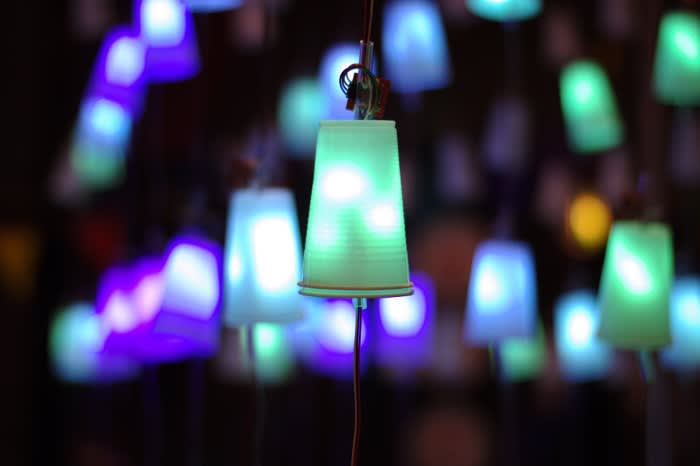 Detail of the Leeds Hackspace giant RGB LED cube ( image source: Gareth Halfacree on Flickr )
Some of the most impressive exhibits at the Maker Faire were brought along by hackerspaces from around the UK. Open to all, these organisations commonly have a workshop space with tools and materials purchased by members, for members, and are a great way of getting access to such facilities, as well as getting to meet and work with others.
Leeds Hackspace had a stand made up of cool projects, most notably their giant RGB LED cube that had lots of visitors reaching for their cameras in amazement.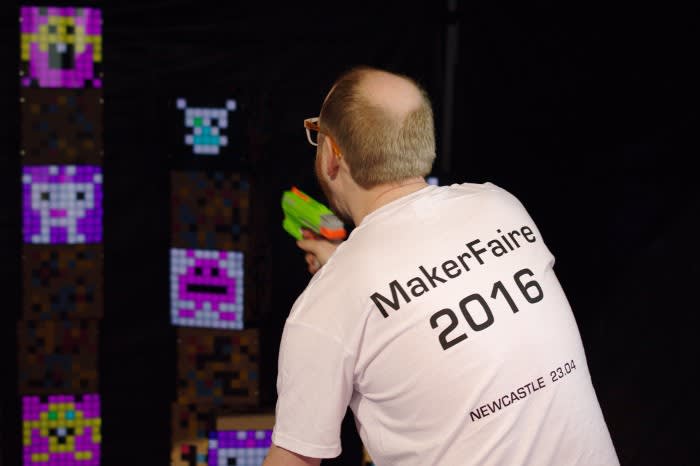 DoES Liverpool's Made Invaders ( image source: Gareth Halfacree on Flickr )
DoES Liverpool had brought along Made Invaders, a Nerf-gun shooting range with custom Arduino compatible boards driving LED matrices that proved endlessly popular with the crowd.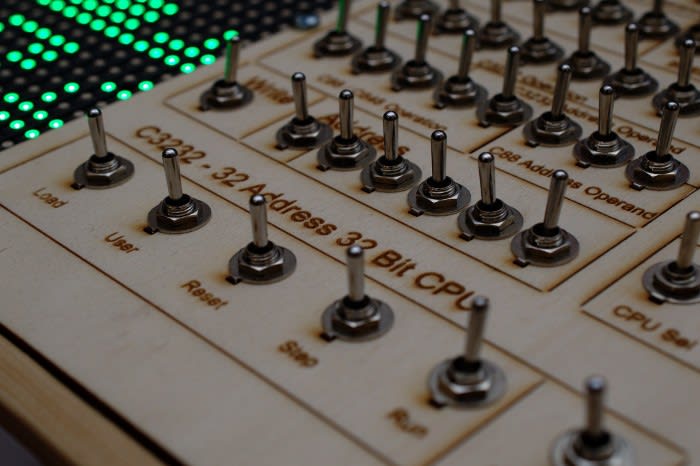 Detail of one of Daniel Bailey's awesome computers ( image source: Gareth Halfacree on Flickr )
Maker Space, Newcastle's hackerspace had a huge electro-mechanical 'penguin run', whilst York Hackspace were showing SpaceHack, their spaceship disaster simulation game, as well as some very cool computing projects by Daniel Bailey.
A comprehensive list of makers at the event, including a dedicated hackerspace section, can be found here.
Inclusive and participatory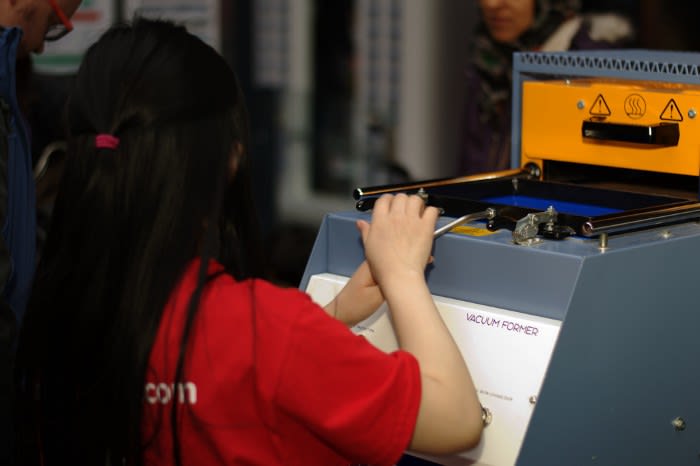 Vacuum forming ( image source: Gareth Halfacree on Flickr )
Whilst there is plenty to see at Maker Faire, there are also talks and performances to watch and workshops to take part in. Head-to-head drone battles were taking place in a large netted enclosure for those with destructive tendencies, whilst a slightly more peaceful area included an enormous pantograph to shrink your silhouette down to the size of a piece of paper.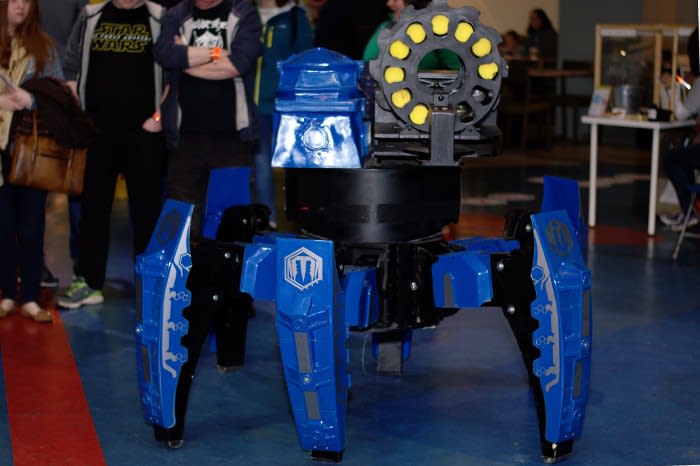 Walking robot ( image source: Gareth Halfacree on Flickr )
Elsewhere, jewellery-making workshops were taking place alongside simple scientific experiments, badges were being made and people were learning how to solder. There was even a taxidermy workshop taking place too – not for the fainthearted!
Plenty more to come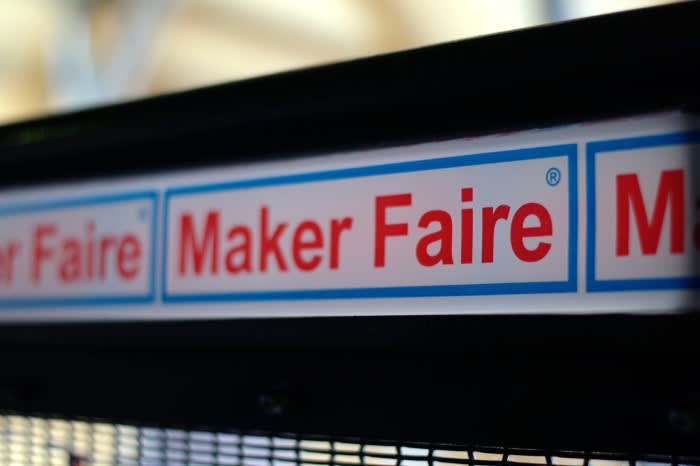 ( image source: Gareth Halfacree on Flickr )
If you would like to attend, or be a part of a Maker Faire, there are plenty more planned around the world. In the UK, the next two events for 2016 are the Mini Maker Faire in London on June 11-12th, and the Bristol Mini Maker Faire on September 3rd. A complete map of all upcoming Maker Faires can be found here.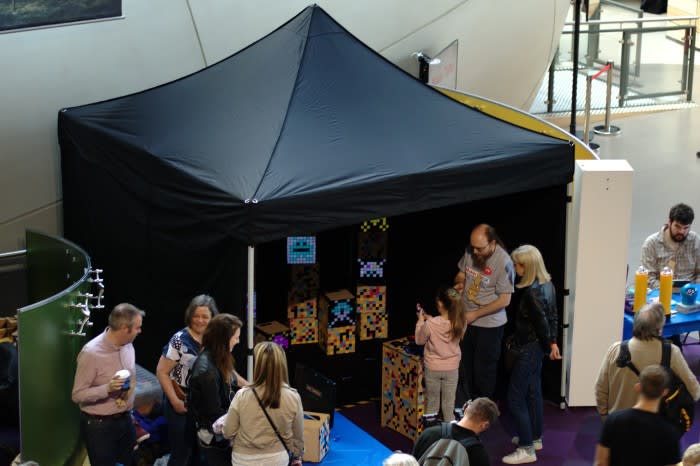 ( image source: Gareth Halfacree on Flickr )
With projects from such a vast range of disciplines and makers of different backgrounds, skills and interests, Maker Faire continues to be an inspiring and educational event. I'm not sure many places exist where you can chat to electronics experts, learn about the finer nuances of hand stitching artwork and witness 4 million volts arcing between two people in chainmail suits, whilst at risk of being accosted by a Dalek or covered in sparkles by a Pi-powered glitter cannon!
This all may sound like fun – and it is – but there is real value here, too. Minds are being stimulated, both young and old, and there is serious engineering, both software and hardware, involved in many of the projects on show. Maker Faire exhibits aren't just about the finished article, it is the norm to find out how something was constructed, the problems encountered along the way and reasons behind decisions made.
You can listen to the conversations that go on, and be a part of those conversations too. Maker Faire is a huge melting pot of ideas, with both the makers and the attendees contributing to what is for me, and I'm sure many others, a compelling and inspirational event
Maker Faire is a registered trademark of Maker Media, Inc.