Dave from

DesignSpark
How do you feel about this article? Help us to provide better content for you.

Dave from

DesignSpark
Thank you! Your feedback has been received.

Dave from

DesignSpark
There was a problem submitting your feedback, please try again later.

Dave from

DesignSpark
What do you think of this article?
Digitalisation is crucial for the future of manufacturing. Adopting the next generation of transformative digital technologies such as artificial intelligence, data analytics, virtual reality, augmented reality and the internet of things will drive lower costs and better margins, increase quality, reduce time to market and greatly improve delivery times. It will also enable new business models and help manufacturers deliver new services to their customers.
It is clear that steps taken now by manufacturers could offer the UK first mover advantage and the edge required in an increasingly competitive global landscape. With this in mind, Digital Capapult has today launched research into the impact of 5G on the UK's manufacturing sector, uncovering the potential of 5G technology for industry and setting out recommendations for 5G to tackle connectivity challenges.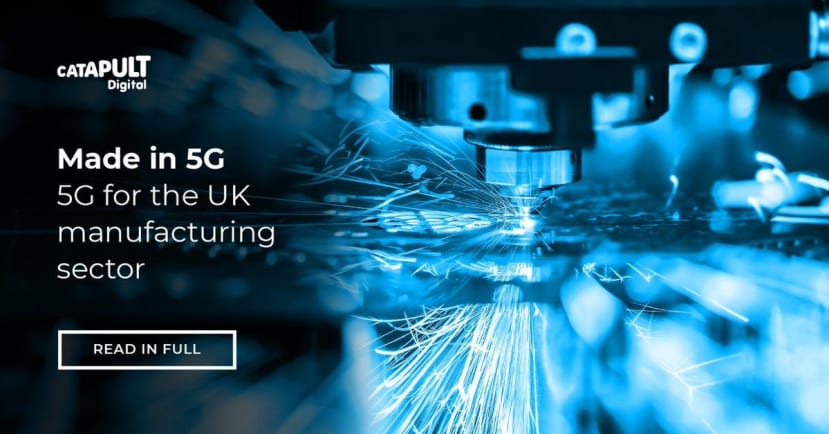 With the potential to contribute up to £15.7 billion per year to the UK economy by 2025, 5G will enable large scale business transformation if key barriers are overcome.  
Made in 5G, created in partnership with Digital Catapult's 5G in Manufacturing Working Group and drawing on new research direct from the UK's manufacturing industries and 5G technology providers, outlines the main challenges to 5G adoption by industry, and sets out recommendations for the UK's manufacturing industries and their supply chains.
An overwhelming majority of manufacturers surveyed for Made in 5G identified a lack of demonstrable return on investment (71%) as the main barrier to 5G adoption. Cost (56%), concerns around compatibility and interoperability of existing networks often due to problems with legacy solutions (20%), security concerns as manufacturers tend to prefer control over their own networks (32%), lack of understanding about 5G (42%), and cultural barriers to adoption such as skills (54%) were also identified as obstacles. 
Find out more about Digital Catapult at https://www.digicatapult.org.uk