Dave from

DesignSpark
How do you feel about this article? Help us to provide better content for you.

Dave from

DesignSpark
Thank you! Your feedback has been received.

Dave from

DesignSpark
There was a problem submitting your feedback, please try again later.

Dave from

DesignSpark
What do you think of this article?

Reduce risk, improve productivity
The lighting in warehouses and logistic centres is enormously important for many reasons. Appropriate illumination increases the levels of concentration of warehouse employees and order pickers, resulting in faster processing of information such as small numbers or item designations, with a significant impact on employee productivity. Tasks such as labelling or filling out forms also become easier with sufficient light. Last but not least, appropriate amounts of light reduce the risk of accidents, making it a win-win for both employers and employees.
Correct light values in warehouses
For warehouses covering a large ground area or warehouses up to six metres high, we recommend light strips or LED systems in warm or neutral white colours. Illumination strength should be chosen according to the type of the warehouse and conditions in the room using the relevant lighting standards. Usually, storage areas and rooms which are not in constant use can be sufficiently lit with 100 lux illumination. However, in shipping and packaging departments where workers frequently need to read small print, 300 lux light sources should be used. High bay rooms similarly require a medium illuminance level of around 150 lux.
Standards for the illumination of storage rooms
Most countries have developed specific regulations to set the standard for the lighting of indoor workplaces. The illuminance values referred to earlier must be maintained according to local standards. Values are set to promote both visual comfort and performance and requirements for the quality and quantity of lighting systems are highlighted. Regulations also provide information on the direction and colour of light, as well as how to deal with flickering bulbs and daylight. In many cases, light density limits have been put in place in the cases of workstations with screens. Other regulations relevant to the running of warehouses can be found in the relevant national laws.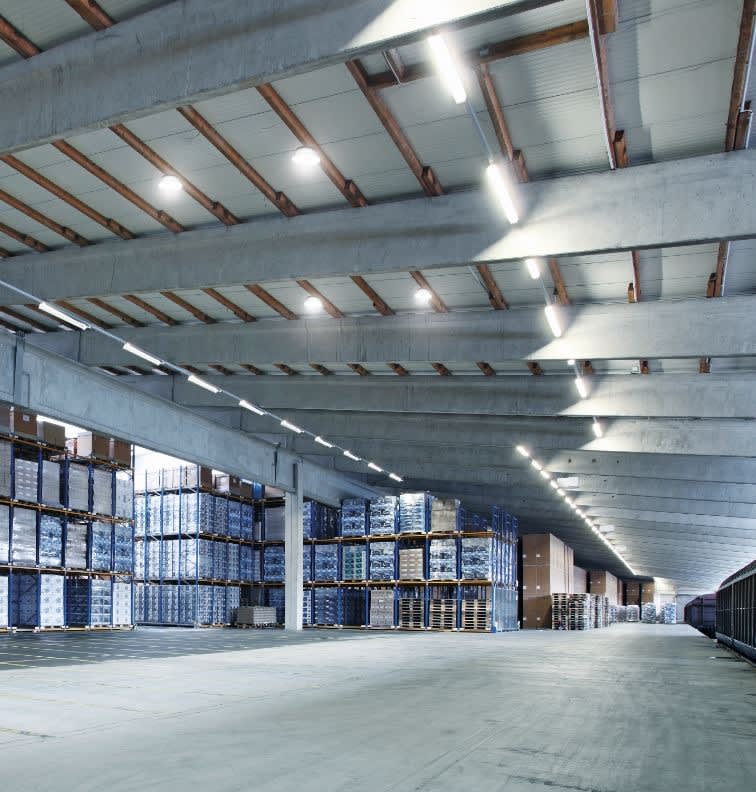 Good lighting despite high shelves
With highly-stacked storage goods or shelves, it may be the case that light from the ceiling does not properly reach the aisles. This is especially common in large warehouses. High bay reflector lights solve this problem by directing light into the aisles using reflectors, thereby increasing illuminance levels. This way even when looking vertically - for example during the labelling of pallets and shelves - sufficient brightness is provided. The correct alignment of reflectors can also save a significant amount of energy.
The bottom line of logistics lighting
The local regulation sets the standards for indoor lighting
In warehouses, there should be a lighting of 300 lux for tasks involving reading and writing
Good lighting increases workers' concentration
Accident risk is reduced, productivity is increased
Light colour should be a tone of white (warm or neutral)