Dave from

DesignSpark
How do you feel about this article? Help us to provide better content for you.

Dave from

DesignSpark
Thank you! Your feedback has been received.

Dave from

DesignSpark
There was a problem submitting your feedback, please try again later.

Dave from

DesignSpark
What do you think of this article?
Learn to develop and deliver real IoT Edge applications for use in industrial processes.
Working in partnership Zerynth and RS Components have devised an exclusive IoT Edge Kit and Workshop package that is tailored to self-learning. In the interview below, we discuss this new opportunity with Daniele Mazzei from Zerynth. We learn more about the kit and workshop package and why as a self-paced learning tool, it's great for both industrial process engineers and engineering students alike. 
The Zernyth kit (219-6059) contains all you need to get started.
The workshops are delivered by Zerynth engineers and follow 5 progressive steps to give you a structured learning curve.
FAQ's
Where can we purchase this Kit and Workshop package?
This Kit and Workshop package can only be purchased at RS Components under this stock number (219-6059) . 
How is the workshop delivered?
Once you have received your purchase from RS it will contain an access code. This can be activated using the ACTIVATION REQUEST link below. Note: The workshop material is hosted on DesignSpark, registration with DesignSpark is completely free.
After your activation is registered, you will receive an email giving you access to all training materials including the 16 video workshops. 
Is there any additional support provided?
Yes, the purchase allows you to request 3 x 30min sessions with a Zerynth Engineer. After activation, you will be able to book these with Zerynth.
Can I access the training workshops without purchasing a kit?
Unfortunately not, this is an RS exclusive and is only sold as a Kit and Workshop package.
Image from lesson one.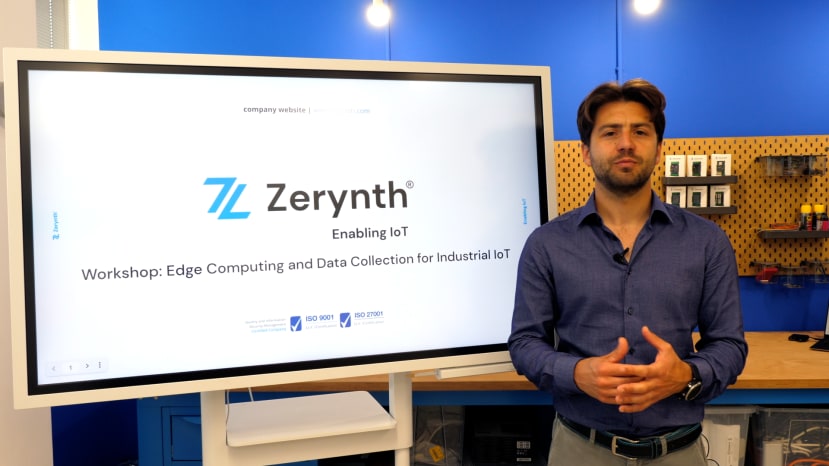 Image from lesson 5.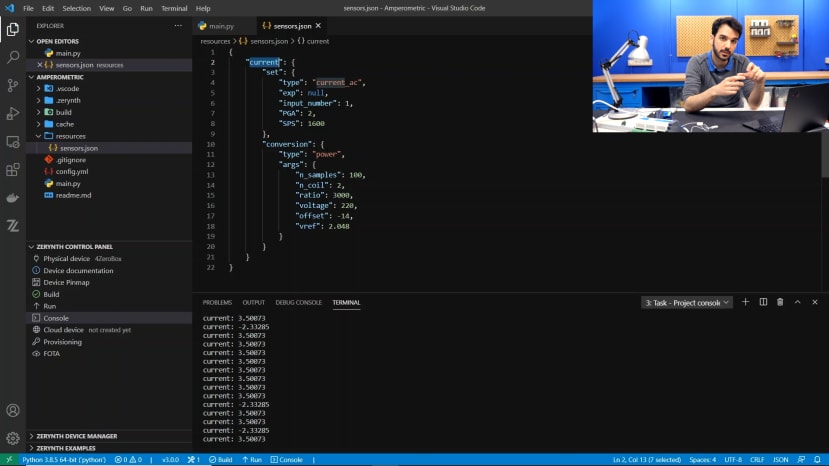 Workshop lesson breakdown
Lesson 1: Industrial IOT and Industry 4.0
Lesson 2: The 4ZeroBox
Lesson 3: The Zerynth Suite
Interfacing with Industrial machines
Lesson 4: Interfacing with digital machines
Lesson 5: Interfacing with Industrial analogue sensors and interfaces
Lesson 6: Interfacing with Serial RS485
Lesson 7: Edge processing and filtering of acquired data 
Store Data Management
Lesson 8: Store on SD
Lesson 9: Timers, Thread and Watchdog
Lesson 10: Store on TSLog
Cloud Services Integration
Lesson 11: Introducing the Zerynth Device Manager
Lesson 12: Zerynth Device Manager data stream
Lesson 13: Zerynth Device Manager Jobs and control actions
Lesson 14: Zerynth Device Manager conditions
Lesson 15: 4ZeroBox Firmware over the air update
Integration with Zerynth Storage and Dashboard
Lesson 16: Integrate and Build a Dashboard