Dave from

DesignSpark
How do you feel about this article? Help us to provide better content for you.

Dave from

DesignSpark
Thank you! Your feedback has been received.

Dave from

DesignSpark
There was a problem submitting your feedback, please try again later.

Dave from

DesignSpark
What do you think of this article?
Creating a simple 2D design for profiling from MDF.
DesignSpark Mechanical is a free-to-use CAD package available from RS Components. Whilst primarily aimed at 3D modelling, it can also be used to create 2D drawings suitable for profiling sheet material. This post covers the designing of a simple case with cable strain relief, before exporting the files to be laser cut.
For in-depth tutorials and further help in using DesignSpark Mechanical, see the DesignSpark Mechanical support section.
Creating the drawing
For 2D drawing, the use of layouts is recommended. Start by following the instructions found here. Sketches within layouts behave differently to simply sketching on the grid and are more suited to 2D design work.
The use of layers is recommended to help keep your drawing organised; they can be named and are convenient for hiding elements from view if needed. Features like this may seem unnecessary for simple designs, but encourage good practice ahead of more complex design work.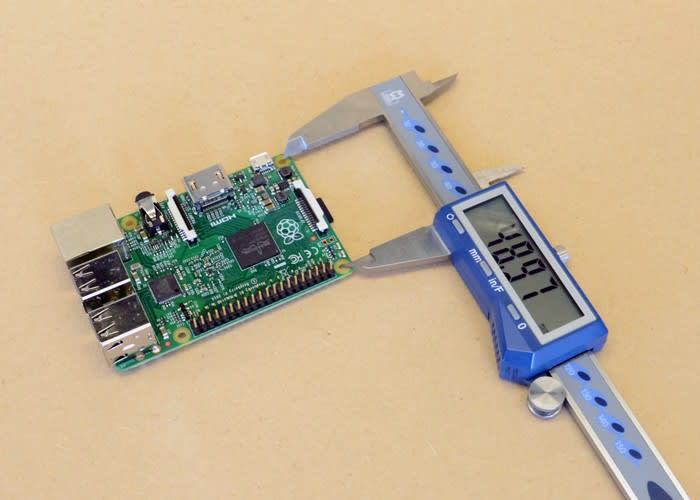 Calipers are a useful tool for CAD; often a part will need to be measured to determine spacing of mounting holes, dimensions of sides and so forth. This can be done whilst creating the drawing, taking measurements as they need to be input to the software. Several different types of caliper are available, see here for further information.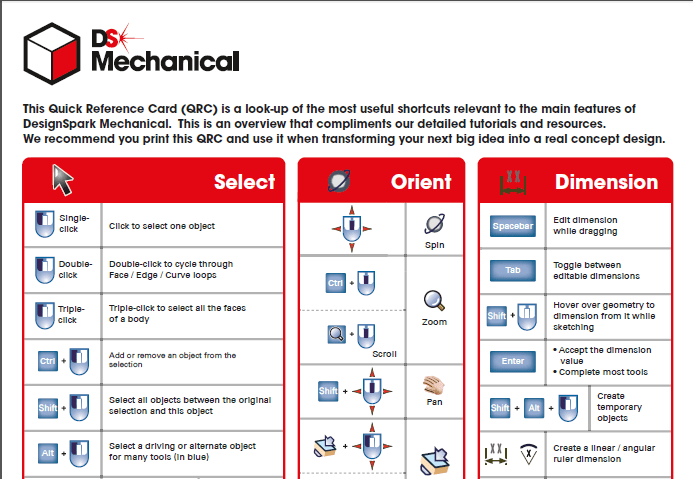 Another handy tool is the quick reference chart, which can be downloaded as a pdf file. This can be downloaded and/or printed out to provide assistance whilst using the software.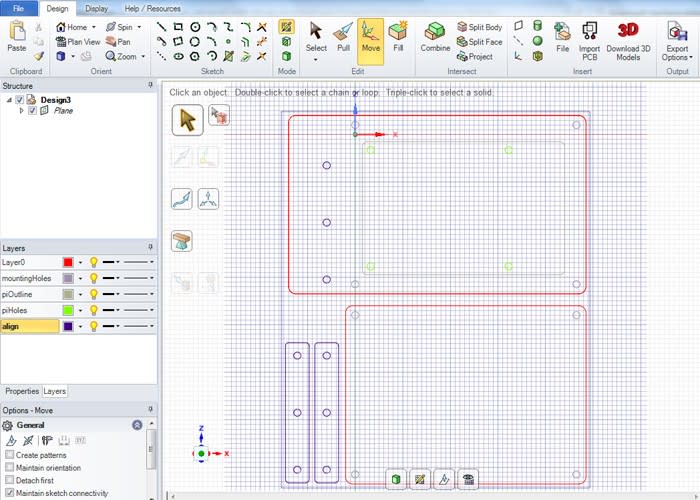 With a completed 2D drawing, the file was first saved as a DesignSpark .rsdoc file, to allow for later modification if desired, before being saved as a .dxf file, ready to be imported by the laser cutter control software.
Notes on laser cutting
In a previous post, CAD files exported from DesignSpark Mechanical were opened in a piece of CAM software to generate tool paths, before being used to control a 3-axis milling machine. This accounts for the size of the cutting tool used, amongst other variables, determined after the initial CAD process.
Laser cutting generally does not require this additional tool path generation, as the width of the laser beam is thin enough to be ignored for many projects (~0.2 – 0.5mm). This means that the shapes or paths within the CAD file can be used to determine the paths followed by the laser, rather than new ones needing to be generated.
Parameters that are added to the original CAD file include laser power and head speed. These can be assigned to different parts of a file based on colours or layers, and can determine whether a path is to be cut or engraved into the material. Different materials also require different speed and power settings, for example, thicker material needing slower head speed, higher power or both.
Cutting the parts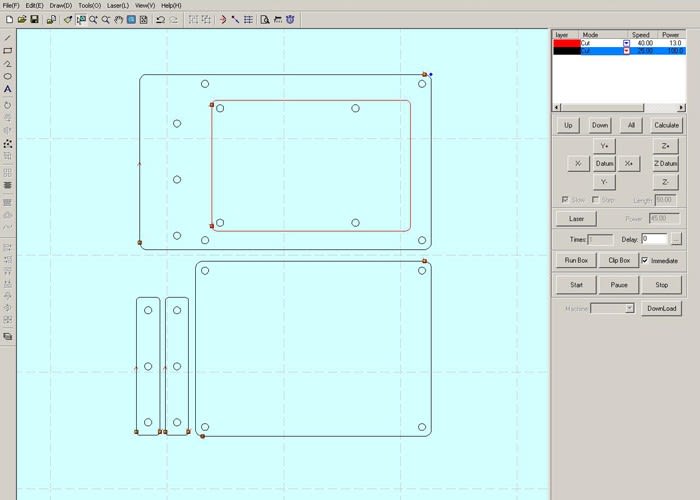 After importing the design to the laser cutter software, part dimensions were checked to ensure they were correct. Scaling issues can sometimes arise when exporting .dxf format files across different software, resulting in incorrectly sized parts, wasted material and cutting time.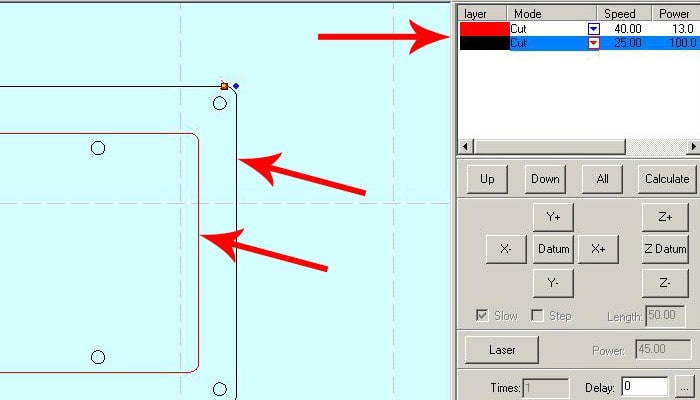 With the drawing dimensions confirmed, two different speed and power settings were defined using two different colours in the laser control software, to determine which paths to be engraved (Pi outline on the base plate), and cut (the rest of the paths).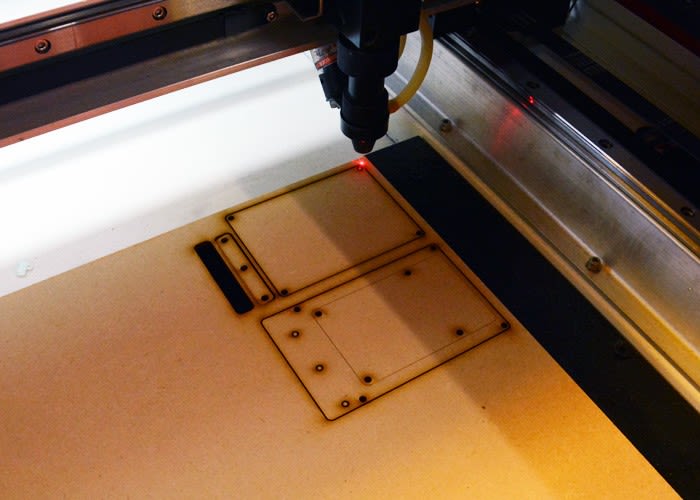 The job was sent to the laser cutter and parts cut. MDF sheet is an ideal material for the first run of a design, it can be cut quickly and is cheaper than other sheet material such as acrylic.
Summary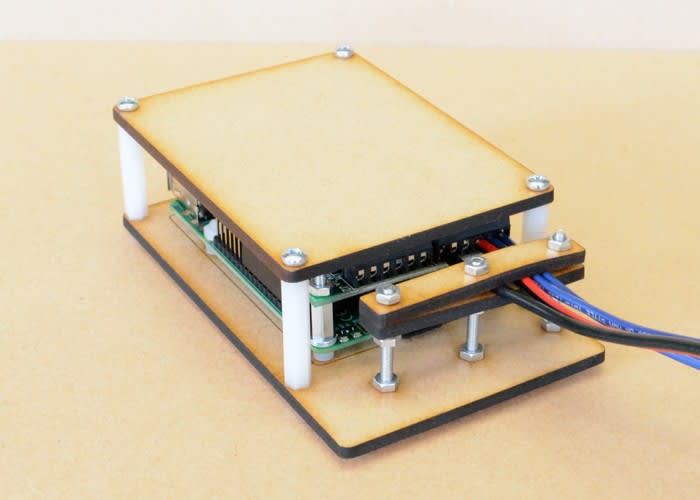 Laser cutting allows rapid prototyping of projects, with the ability to move from on-screen design to physical object within hours, with a relatively small learning curve.
As well as being a powerful tool for designing and exporting 3D models that are suitable for manufacture, the free version of DesignSpark Mechanical can be used to create simple 2D files suitable for laser cutting. More advanced 2D drawing features can also be used, with the addition of the Mechanical Drawing Add-on pack available here.