Dave from

DesignSpark
How do you feel about this article? Help us to provide better content for you.

Dave from

DesignSpark
Thank you! Your feedback has been received.

Dave from

DesignSpark
There was a problem submitting your feedback, please try again later.

Dave from

DesignSpark
What do you think of this article?

The entry for Beta Testers has now closed and the Winner has been Announced.
Join with DesignSpark to learn about our approach to Activist Engineering and discover more about our current Air Quality program. There is also a chance for you to get involved, as we are looking for 50 Beta testers to receive a free kit air quality kit, in order to test, deploy and connect to the cloud, showing how you intend to use this to raise awareness and potentially drive change through #ActivistEngineering.
Plus one lucky Beta stands a chance to win £3000. 
We are looking for Beta testers from around the globe to create a core team of 50 Beta testers who can share their experience here on DesignSpark.
We want you to take this kit and deploy it within your local environment, showing how this will raise awareness of issues that are impacting air quality and why data can drive change through #ActivistEngineering. 
To be selected as a Beta tester you can apply right here, see further down the page. Simply tell, us a little about yourself and the following:
Where do you plan to deploy & use the Environmental Sensor Development kit?
What issue/problem are you highlighting?
What steps would you take to make a change? #ActivistEngineering.

DesignSpark considers Air Quality monitoring to be a key ingredient of #ActivisitEngineering so please include how your intended project plays a role in #Activist Engineering.
Beta selection will open from [21st December 2021 at 9 am GMT] and close on [7th February 2022 9 am GMT] please ensure you enter before the closing date as entries received after this date cannot be considered. The air quality kits will be shipped starting soon after.
Beta's who are selected will be contacted via their Email address and will be asked to provide a shipping address to receive their kit.
The kits are PI-based and comprise elements that contain the following sensors, Air Quality, VOC, Temperature and Humidity. These together with an onboard MQTT broker and GPS provide the main functional elements and alongside this, there is also access to the DesignSpark Grafana powered cloud platform and Dashboard for data sharing. These kits are an open-source (hackable) platform intended for users who are technically experienced and competent. There may be a requirement to edit code (Python) and perform minimal kit assembly. 
Please note, these kits are best suited to indoor applications and powered by the provided mains power supply, they do not include Carbon Monoxide or Nitrogen Dioxide sensors. You can of course modify the kit to suit your environment.
Beta testers can also provide feedback or question to DesignSpark and engage with other Beta testers via the forums area (coming soon) on the Air Quality Page.
Note: All enclosures are 3D printed and provided, however, Beta Testers are encouraged to print additional enclosures to personalise their projects.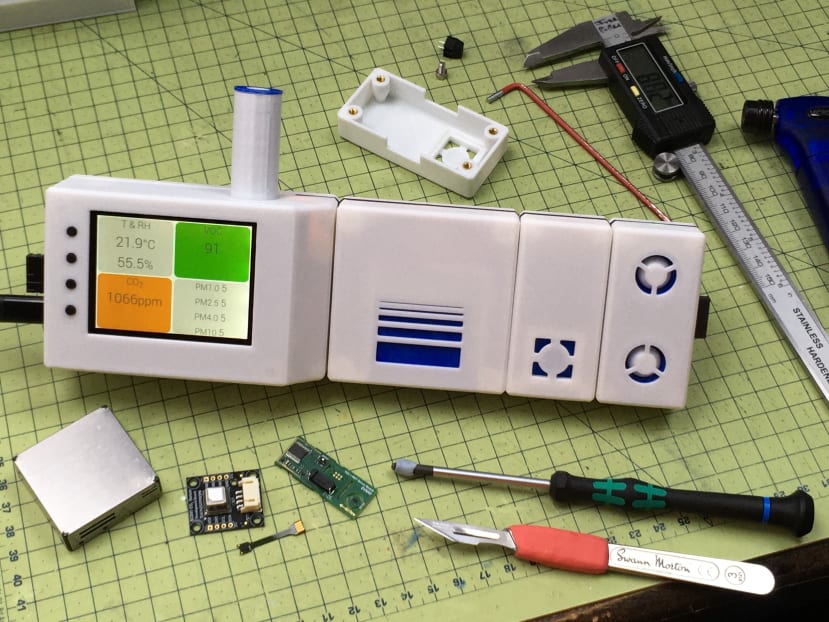 In order to be in the running for the £3000 prize, selected Beta testers must go on to submit at least one article on DesignSpark showing their kit in operation, explaining its purpose and highlighting the data transmitted to the cloud, plus explaining how this can drive potential change through #ActivitistEngineering.
Adding articles is easy and we have a guide that you can follow.
Please note Beta articles must be submitted to DesignSpark by [29th April at 9 am GMT] these will then be published on DesignSpark [from 2nd May to 30th Sept]. After which we'll select one Beta as our overall winner and award £3000.
To give you ideas and inspiration we have created a team of Global Influencers who are sharing their own projects on the DesignSpark AQ hub.  You can follow these projects to learn more about what others are doing to raise awareness of air quality issues.
If you haven't already, sign up for our weekly newsletter to receive updates and news items about this and other activities on DesignSpark.
Want to be a Beta tester? Then please fill in and submit the form below **, also ensure you read and tick to agree with the Terms and Conditions.
** in 1000 characters or less