Dave from

DesignSpark
How do you feel about this article? Help us to provide better content for you.

Dave from

DesignSpark
Thank you! Your feedback has been received.

Dave from

DesignSpark
There was a problem submitting your feedback, please try again later.

Dave from

DesignSpark
What do you think of this article?
You can do almost anything on your smartphone these days. It's hard to list everything as the list is so vast, but me in particular, I know almost 90% of my Christmas shopping is done from my phone as well as looking after utility bills, playing games even charging my electric vehicle is dependent on a smartphone and, if I'm being honest, I also use my smartphone to keep the kids quiet in emergency situations….anyway, my point is we use them a lot!
But what about our world of industrial automation? Quint power supplies from Phoenix Contact can be configured with a smartphone app. You can switch our SMS relays with TC Mobile app on a smartphone. But what about industrial marking and labelling? Well, that's where the Thermomark GO comes into play.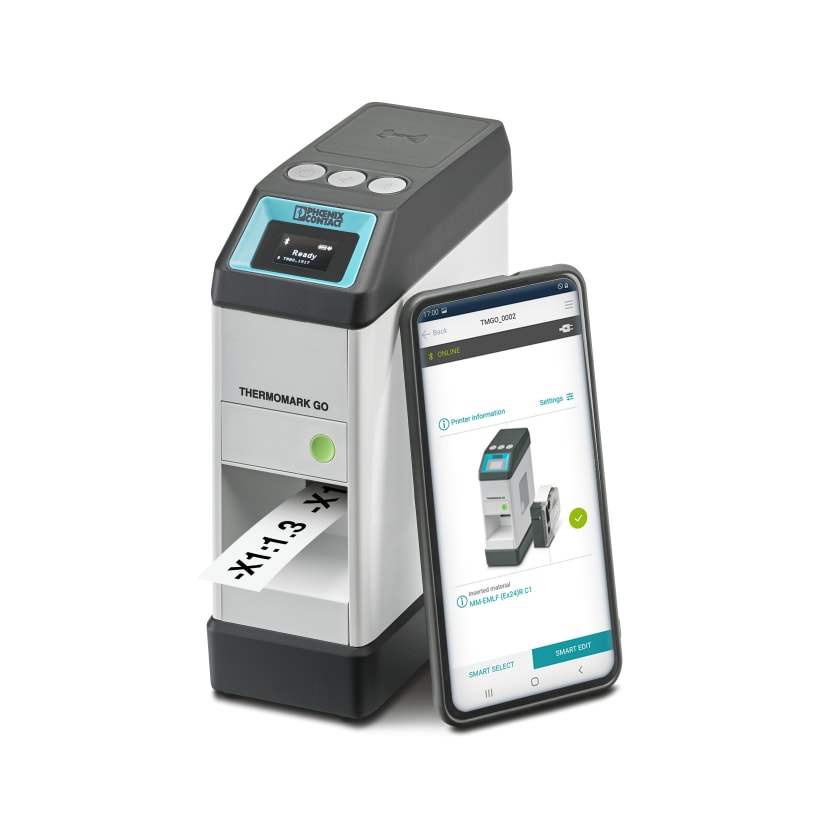 The Thermomark GO is a completely mobile marking system which you operate from your smartphone! The Phoenix Contact Marking App (available from Apple App store and google Play store) uses NFC technology and Bluetooth to talk to the printer. It instantly recognises there is a printer being used close by and even knows what marking material is inside them, speeding up your product search.
All marking files created can be saved and stored on your smartphone for repeat work and you can even use your smartphone's camera to scan Phoenix Contact products to find the correct label for that product.
What can it mark? The Thermomark GO can create a good variety of cable markers from shrink sleeve, cable wraps, inserts, flags and even halogen free cable tie markers. Equipment markers can also be quickly created in a range of sizes and material types for high-temperature applications and different colours. And of course, it can create terminal markers for Phoenix Contact terminals whether that be on din rail or on a PCB.
Can I use a PC? The Thermomark GO can also be plugged into a PC and be operated with our Project Complete software. OK this doesn't make it quite as mobile anymore but if you've got 100 shrink sleeves to do then it can speed things up a lot, especially if you're copying and pasting it from a spreadsheet.
106 materials are available for the Thermomark GO making it very versatile and if purchased as a kit it comes in a nice stackable carry case to throw in the van and take to site…perhaps don't throw it.
Written by Andy Neat; Senior Product Manager- Marking, Identification and Tooling