Dave from

DesignSpark
How do you feel about this article? Help us to provide better content for you.

Dave from

DesignSpark
Thank you! Your feedback has been received.

Dave from

DesignSpark
There was a problem submitting your feedback, please try again later.

Dave from

DesignSpark
What do you think of this article?
Critical elements within your process facility shouldn't just be left to chance.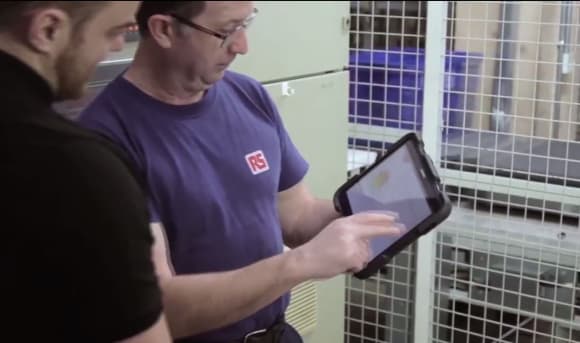 Just imagine the scene, its the busiest period of the day and your process is running at 100%. The conveyor systems are processing over 1000 parcels per hour, all with guaranteed next day delivery. Then, suddenly, the main feed motor fails and the conveyor grinds to a halt. All parcels are stranded, the lorries for overnight dispatch remain empty and those customers who have been assured of next day delivery are soon to be disappointed. At the very best you can resort to handballing the parcels you can get access to through a manual procedure and perhaps rely on goodwill and overtime to get your parcels out of the door, belatedly to your customers.

Now, in the meantime, you have a system down and a motor out of action that needs replacing. If you are forward planning it may be a case of a simple replacement, so the cost of downtime + work carried out + installation cost + staff overtime + extra shipping costs to keep your service level agreements, if your lucky you'll get a little change from say, £100,000. This is only if you get the fix in place in under an hour.

Ok, why didn't someone pick up on this motor during the last maintenance check? That would have helped would it not. Well actually during routine maintenance would the operational characteristics of the motor be reviewed? If so, you are only measuring that point in time, this could be meaningless in isolation.

Now what if that motor could give you advanced notice that its about to break down or that it's not running efficiently, and what if it could also provide you with the data needed to take it offline at a time when there is little impact on the processing facility, thus giving you the opportunity to, plan, order and implement changes that are far less costly, and give you much more change from say a £1000.

This is actually what Neil Burrows, the Facilities Manager at RS Nuneaton has done. Between the upper order, processing floor and the lower order dispatch floor, there are two main motors that drive the conveyor system, should either of these fail then the whole system backs up. The other problem is that nothing new can be added and the work currently on the conveyor cannot be easily accessed.
The solution that Neil needed was to identify issues before they become a problem. Also, they would need to send data that was only pertinent to the function of the motor and could be viewed on a Smart Asset Management dashboard. After discussion and looking at a number of scenarios, the conclusion was to use a Beckhoff-supplied edge computing solution and system gateway for sending data.
The image below shows the vibration and temperature sensors mounted on the motor housing.
The Beckhoff embedded PC module is located in the top right of the control panel below, I/O and Ethernet are located either side. 

The data that needs to be gathered in order to provide real insight into the performance of the motors, includes the following: vibration, temperature, harmonics and current. Using data collected against these it's plain to see how the motor is performing. Limits were set for each element using Node-red programming, and deviation outside the normal working parameters can be logged and retrieved easily for data analysis.
This data is processed by the embedded CPU module, passed over Ethernet to the Interior Automation Gateway (as shown below), sent to the cloud and picked up by the Smart Asset Management System. From here it can be integrated to a vendor based API for automatic ordering of spare parts or even a new motor if necessary.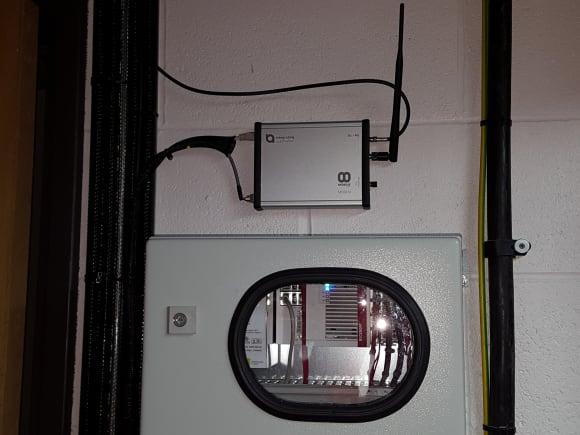 Also, using the Smart Asset Management system, Neil could set up a works order based on the data received. This could be to send engineers to investigate, or to place an order as mentioned above.
The ultimate benefit of this approach is that any issues are identified quickly and appropriate action is taken before any failure occurs. No longer is there a reliance on having £100,000's worth of spares sitting as inventory, more savings are made because with this data there is less likelihood of a major breakdown occurring and the system can be taken offline when there is little or no impact on the overall system. With this approach, Neil and his crew can rest easy that they have introduced a tangible saving to the business by becoming less reactive and more planned in their approach, decisions are now based on data, actions become less urgent and system uptime is kept to a premium. 
For more on Beckhoff click
For more on Interior Automation click