Dave from

DesignSpark
How do you feel about this article? Help us to provide better content for you.

Dave from

DesignSpark
Thank you! Your feedback has been received.

Dave from

DesignSpark
There was a problem submitting your feedback, please try again later.

Dave from

DesignSpark
What do you think of this article?
Industry 4.0 is a hot topic, so it's time to look at how we can integrate Industry 4.0 technologies across machinery, shop floor, and building management systems. To do so involves ensuring equipment is able to work with enhanced communication – including the three lifelines of industry – power, signal and data.
Multi-way communication of 'big data' is created by connecting devices so they are able to interact with each other. The modular industrial computing architecture – MICA – uses open software architecture for an embedded industrial computing device. The robust IP67 industry computer can easily be integrated into the manufacturing environment as a stand-alone offline computer, or a protocol converting gateway linked via the Internet.
Integration of additional intelligence to an existing production line environment is achieved using MICA. Process improvements can be identified through the capture and process of data from a variety of sensors. It therefore provides the processing pre-analytical link between the factory floor sensor level and the analytical/ big data cloud. As such it supports the trend toward Industry 4.0 enabling the integration of the two key elements of Machine to Machine communication and Manufacturing Logistics.  MICA is the first embedded computer to provide virtualisation in the manufacturing environment.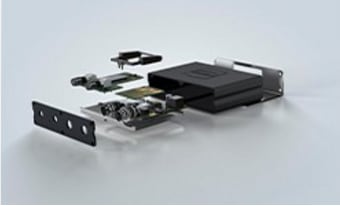 MICA is very simple to operate and set-up, due to its modular, open architecture software platform. The software runs in virtual, Linux based containers on top of a streamlined base Operating System.  Each application runs sandboxed in its own container with all libraries and drivers.  Communication between containers requires a separate IP address, ensuring data security.   Standard containers are available for download at HARTING web site e.g. Java, Python, C/C++, OPC-UA, databases and Web toolkits.  It is also customisable to facilitate other containers if required.  It allows a touch-optimised interface, based on standard tools (e.g. HTML5 and JavaScript), making it easy to program through a web browser for both end-users and administrators. MICA is also based on a modular hardware architecture with a standard CPU card, power & networking card, and finally an optional flexible I/O function board.  Standard RFID and USB function boards are currently available, with WLAN, SSD storage, Bluetooth or proprietary fieldbus options coming soon.  Again designers can customise to their specific requirements.
When looking at Industry 4.0 applications, and where MICA can be used within these, the possibilities are endless. For example, by integrating suitable sensors and being able to communicate with a machine's existing operating system software, MICA can be retrofitted to support predictive maintenance, reducing downtime and significantly extending the lifetime of the machine. It can also be customised to carry out defined test programs for remote, field based applications, making it a viable solution for rugged programmable testing conditions. MICA can be used in high vibration and wide temperature fluctuating applications. 
For Industry 4.0, using MICA offers significant economic benefits compared to industrial PCs; without the need of a fan, the device is maintenance free, and there is no associated licensing or leasing fees.  It offers further operating cost savings as the base version only consumes around 5W of power. 
For more information please visit www.HARTING.co.uk/MICA