Dave from

DesignSpark
How do you feel about this article? Help us to provide better content for you.

Dave from

DesignSpark
Thank you! Your feedback has been received.

Dave from

DesignSpark
There was a problem submitting your feedback, please try again later.

Dave from

DesignSpark
What do you think of this article?
According to British Formula E driver Sam Bird and the Virgin teams' chief designer who I had the opportunity to talk with at a recent event. In "formula E" (Electric) maintaining speed and managing available battery energy (and temperature) through efficient driving is bringing a whole new driving style to motor racing. Similarly, requirements for increased efficiency and motor life are bringing new demands to driving motors in industrial applications.
According to Semicast Research, the industrial semiconductor market was valued at $40.7 billion in 2015. The market analysis includes traditional areas such as factory automation, motor drives, lighting, building automation, etc. So following last week's look at RS's latest XMC uC LED drive dev kit from Infineon (https://www.rs-online.com/designspark/rgb-led-lighting-dimming-goes-flicker-free-on-xmc1202-with-arduino-style-shield), we'll take a quick look at some of the extensive range of Motor Drive solutions, based on their winning formula XMC microcontrollers.
The name of Infineon is synonymous with Industrial control, and so in addition to Boot kits for their microcontrollers, Infineon produce a range of motor control development kits; from the Arduino shield style single or dual DC motor drive based on the BTN8982 half-bridge IC (906-2874) , through the XC836M2FRI 8-bit microcontroller, utilising the 6ED003L02-F2 MOSFET Gate Driver and BSC016N06NS (906-4325) high-efficiency SSO8 MOSFETs designed to control 18-24V BLDC motors of up to 300W. Typical control applications include power tools, electric bikes, small electric vehicles, and other industrial controls.
The range continues to grow with the XMC series of ARM M0 based XMC1100-1400 microcontrollers, for which a free software development platform called DAVE™, can be downloaded from the Infineon website. A great example (910-6854) is the XMC1300 32-bit microcontroller kit that includes an MCU board with a detachable SEGGER J-Link debug interface and a motor drive board complete with 15W BLDC flat motor. A universal power supply is also included in the kit, 100-240Vac 50-60Hz input, 24Vdc 1A output to get you going right out of the box. The new XMC1400 which RS will be introducing shortly offers even more connectivity and provides for electronic control of small combustion engines such as those in lawnmowers, chainsaws, or generators. The XMC1400s have a 48MHz clock while the XMC1000 series typically runs at 32MHz. In the XMC1400, significant elements of the controller peripherals such as PWM timers and AD converters can also be operated at double frequency (96MHz). Unique among Cortex M0-based products, the XMC1400 is also capable of carrying out trigonometric calculations and division in real-time. An integrated MATH co-processor working in parallel with the Cortex-M0 CPU is responsible for the additional real-time operations.
The Motor control Dev kit range is further extended with a 750Watt kit (910-6863) which is also supported by DAVE. This kit includes two alternative drive cards based on the Infineon XMC1300# (ARM M0) & XMC4400* (ARM M4) 32-bit microcontrollers and a Powerboard. The drive cards provide galvanic isolation for the debug interface to guarantee safe operation during software development and the kit is suitable for controlling a 750 Watt 3-phase PMSM motor. The Power Board incorporates a 3-phase inverter utilising discrete IGBTs, includes a line input filter and active PFC. The drive cards are also available separately from RS, XMC1300# ARM M0 (910-6841) , and XMC4400* ARM M4 (910-6851) which includes On-board J-Link Lite Debugger with galvanic isolation 2x Hall Sensor Interfaces and 2x Encoder Interfaces.
As an example of these feature-rich kits the XMC1300 drive card has the following building blocks:
·1Power Board Connector
·1set of position interface connectors (HALL, ENCODER)
·Encoder Enable signals via GPIOs (P0.10)
·1User LED connected to GPIOs (P0.4)
·Variable resistor (POTI) connected to GPIO P2.5 (ADC group 1, channel 7)
·USIC0 interface connector (P0.10, P0.14, P1.4, P1.5)
·Isolated On-board Debugger via Debug USB connector (Micro-USB) with UART channel (USIC0, channel 1)
·Optional Infineon Debug interface connector for Drive Monitor USB Stick V2 (KIT_DRIVEMONI_USB_V2)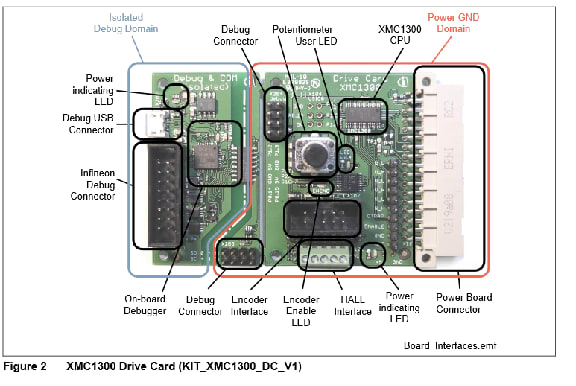 Rounding off this quick tour is the XMC4400 Motor Control application kit (910-6857) which provides a complete plug-and-play solution for 3-phase drives. The kit includes an XMC4400 Microcontroller Board, a 24V Power Board with MOSFET power transistors, and a brushless DC motor. Again DAVE™ provides a Motor Control Apps library, including sinusoidal and block commutation as well as various position detection and sensing schemes with encoder, resolver, hall sensors, and shunts.
Of course, the story does not stop there, as the Infineon range extends to larger IBGT ECONO-MODULES and PRIMEPAKS with supporting EICE drivers for larger drives in traction and Commercial and Agricultural Vehicle (CAV) applications that are also offered to the Global market by RS Components and we will continue to bring you the latest advances directly here on DesignSpark.