Immersive technology underpins new paradigm in maintenance capabilities
Follow article

Dave from

DesignSpark
How do you feel about this article? Help us to provide better content for you.

Dave from

DesignSpark
Thank you! Your feedback has been received.

Dave from

DesignSpark
There was a problem submitting your feedback, please try again later.

Dave from

DesignSpark
What do you think of this article?
For all the advances in modern engineering, there are still some traditional disciplines that remain as essential as always – even when everything else around them is changing. Among these, and arguably one of the most important, is maintenance.

Wherever there is dirt, moisture, friction, rotation, or noise (or indeed, combinations of all five) you can guarantee somewhere close by is a maintenance manual, which either tells you what you need to do to undertake repairs or what you need to do to prevent the device from needing repairs in the first place.
Maintenance is essential because modern factories and operations – and their associated performance targets – thrive on uptime to stay cost-efficient. Along with throughput and quality, uptime is probably one of the most important metrics. And to maintain optimum uptime, you need reactive and proactive maintenance to keep the wheels in motion.
As well as appeasing the financial director and his shareholders, there are other facets to this discipline too. Maintenance has a vital role to play in sustainability. A well-oiled machine running within optimal parameters uses less energy, wastes fewer raw materials, makes less noise, and produces lower emissions. Well maintained machines and equipment also last longer, so there is less scrap, and so on.
More effective maintenance
The good news is that maintenance has certainly not been left behind in the new paradigm that is Industry 4.0. In fact, arguably, it is an even more effective discipline, as it can feed off the same operational data that is underpinning digital transformations everywhere.
From a human perspective, Industry 4.0 arrived just in time. Globally, manufacturing and engineering are losing their seasoned engineers as they retire – taking a lot of their knowledge with them. These engineers had a tactile almost intimate relationship with hardware, using sight, smell, touch, and sound to predict and interpret faults. And it is this sense-driven relationship that is hard to pass on to new starters; after all, this was the result of years of experience.
The good news is that the modern engineers replacing these departing technical gurus are more digital savvy, small screen driven and can be spoon-fed with quite remarkable amounts of data that should, in theory, allow them to do an even better job than their predecessors, especially proactively.
They can also have a hand on their shoulder. Not from their line manager, but virtually from a technical expert in the machine builder's factory 5,000 miles away in Leipzig, Germany. All thanks to data, connectivity and the 'new normal', which is now just 'the normal'.
Rapid adoption
It's hard to put a positive spin on the pandemic, but what it has done is accelerate the deployment of technologies and digital tools that were – before COVID-19 – only making slow and minor in roads into modern engineering. These new digital tools quickly evolved from a medium-term 'nice to have' into short term 'must haves'. And the good news is the foundations for their deployment were already well ensconced in modern operations.
With the internet of things (IoT), Industry 4.0, 5G, new Ethernet standards, broadband boosts and advances in wearable and immersive technology, there was a digital playground ripe for exploitation by all manner of engineering disciplines; but it took a global pandemic to get it into the hands of enough people to give it critical mass. And it certainly now has mass! If you're not going virtual and immersive, you are part of the old guard.
Remote software capabilities have been available for a number of years now, with dedicated VPNs giving third parties access into machine to reconfigure servo programmes, change drive parameters or diagnose the fault codes from a sensor. Often sold as part of an after-sales package, or Maintenance as a Service (MaaS), remote dial-in was commonplace, but it was really only suitable for troubleshooting and interrogating software and code.
More effective virtually
Mechanical systems were a different challenge entirely. Once the repair manual had been exhausted, the next option was a phone call, maybe even a video chat, a few photos via email and then a site visit, all of which take up valuable time, effort, and money, not to mention the extended downtime. So, it is clear to see that in the more physical realm, a virtual approach to remote interactions will deliver the greater dividends.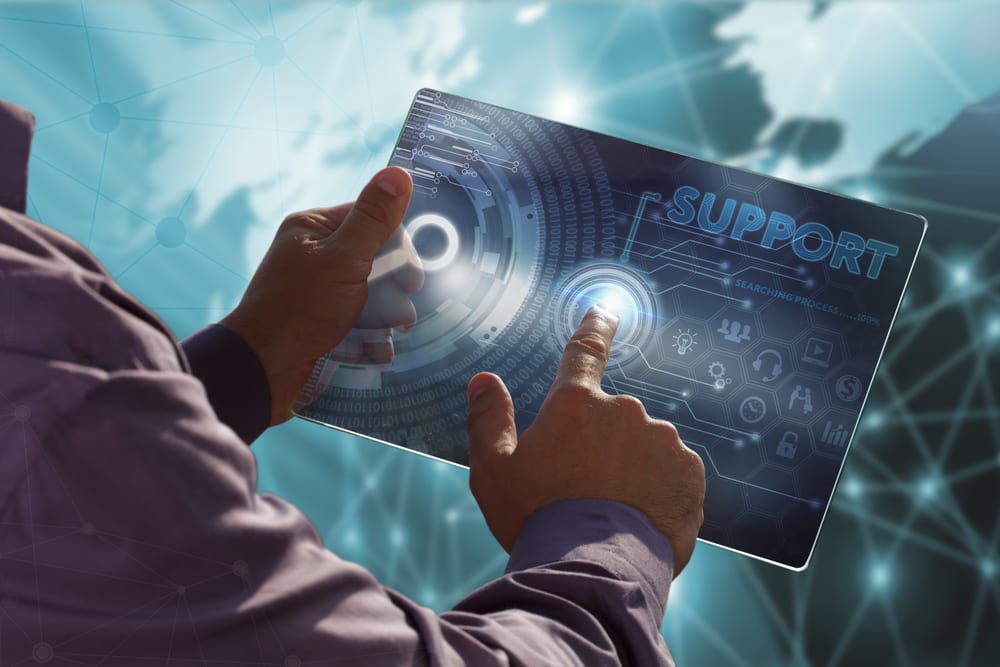 When the pandemic hit, there was an element of panic as new machines turned up at customer sites, or lines shut down, and there was no one available to sort them out. But as is normally the case when engineers are involved, things started happening and happen quickly. The technical press started to get stories about how an Italian machine builder had undertaken a Factory Acceptance Test (FAT) using iPads and web cams, or how a wind turbine was put back in action thanks to a 4G connection and a mobile phone camera.
Very quickly the iPad was replaced with a number of multi-angle 4K cameras and lighting rigs, Zoom meeting software was usurped by proper annotatable visualisation software, and dedicated connections were established by suppliers in order to deliver seamless voice, video and data chat with their customers.
One of the first benefits identified, unsurprisingly, was related to cost, or rather a lack of it. Three engineers, for three days, needing three flights to a site three thousand miles away costs a lot of money. The same engineers, at their own desks, linked by video and immersive tech only costs a fraction of the original outlay. Why on earth would you go back to 'the old ways'?
Face-to-face was certainly effective, but the less demanding virtual approaches just make more sense. And this immersive and remote interactivity is not just restricted to technical matters, it can be deployed along the entire project timeline, resulting in potentially huge saving in time, cost, and effort.
Technology on tap
So, what is available to people wanting to exploit really effective remote capabilities? We have already discussed simple dial-in, but it does go beyond this. With the glut of data flying around modern manufacturing, from smart components and smart machines, both OEMs and their customers can interrogate these operational ones and zeroes – either in real time or historically – and use them to make instant line-side decisions – arguably when it is all distilled down, the ultimate goal of Industry 4.0.
But what is really raising eyebrows is the more intimate immersive approaches delivered by Virtual Reality (VR) and, more recently, Augmented Reality (AR).
VR has been with us for a while and has always been a popular but serious gimmick at trade shows. But goggle-based VR is arguably more suited to design office fly throughs and interrogations, which won't be full of machinery that could harm you. This is where the mixed reality offered by AR comes into its own.
By overlaying real-life images with computer-generated schematics, line side engineers and operators have access to an incredible array of extra insights, functionality, and knowledge. Not only for maintenance, but also training, production changeovers and design improvements. As is the case with most technology built in the last 30 years, this capability is underpinned by CAD data, so older machines are not necessarily precluded from this new digital approach too.
Machine builders have also demonstrated spares routines driven and instigated by a machine's operating data. Once alerted, engineers are shown the part, where it lives on the machine and what its service interval is, prior to being presented with a button that initiates contact with the spares supplier.
And it's not just line side. Augmented models can be overlayed on your desk, where operational issues can be discussed, or layouts tweaked. And, with the CAD data, modules can be swapped out as easily as replacing toy building blocks and the machine set to run. We really have only scratched the surface in terms of the possibilities and use cases.
Here to stay
The great news is that this immersive technology is not just a stop gap. As we alluded to earlier, this new normal driven by necessity is now just normal. Within an incredibly short amount of time, it has demonstrated beyond any shadow of doubt that it is far more effective in many cases than the face-to-face systems it replaced. If a picture paints a thousand words, then an augmented display reveals a thousand possibilities.
Remote support and immersive technology are set to dominate maintenance engineering going forwards. They proved utterly indispensable during the pandemic and as the technologies evolve, the hardware becomes more palatable in terms of costs and the virtual world grows to encompass more disciplines, augmented solutions will soon be as ubiquitous as the mobile phones and tablets upon which they will thrive.