Dave from

DesignSpark
How do you feel about this article? Help us to provide better content for you.

Dave from

DesignSpark
Thank you! Your feedback has been received.

Dave from

DesignSpark
There was a problem submitting your feedback, please try again later.

Dave from

DesignSpark
What do you think of this article?

From slurry to ceramic
Ceramic production include a very wide array of different processes according to the final result they wish to achieve. Regardless the target would be to make everyday tableware, like your beloved teapot, or to produce high performance  advance engineering cermic, like the shields of an industrial furnace, they all have in common three critical steps:
powders grinding and mixing
preparation of the slurry and shaping
drying and firing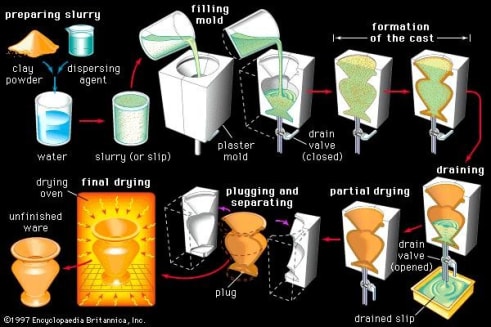 A proper powder grinding and mixing is the base for a strong final structures. The final powder mix needs to be composed by the right percentages of different granulometries in order to have the smaller partices to go filling the spaces between the biggest ones.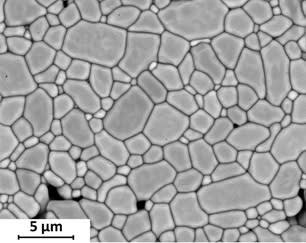 The following step is to add a binder to the ceramic powder to create the slurry. Binders may vary a lot with the final application from simple water to low melting temperatures polymers up to very complex compounds of waxes, slipping additives, surfactants and much more. All in all those different binders have the same function, which is to allow ceramic powders to be shaped and to keep that shape until the end of the process.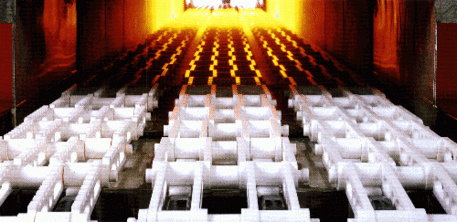 The last step is maybe the most critical ones. Now that ceramic has been shaped all the binder added need to be removed to leave just pure ceramic at the end. 
The problem: to be processed ceramic powder need to reach high temperatures from 900°C up to more than 2000°C while the binders completeley gasify from 90°C to 400°C (according to the specific composition). Therefore during firing process it is very critical to be able to manage a soft heating ramp to let binders being dissolved gently without any fast transition from solid to gas which may couse creaps or even brakes in the still fragile ceramic structure.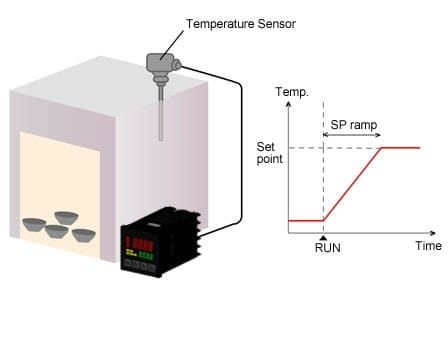 The solution: the built in SP (set point) ramp function of OMRON E5CC-B and E5EC-B digital temperature controllers, prevents rapid heating of the workpiece and enables smooth temperature increase. Smooth temperature increase for ceramic firing ovens is critical for a final high quality and these two digital temperature controllers from OMRON are the perfect soltion to achieve it.
___
Stay tuned!