Dave from

DesignSpark
How do you feel about this article? Help us to provide better content for you.

Dave from

DesignSpark
Thank you! Your feedback has been received.

Dave from

DesignSpark
There was a problem submitting your feedback, please try again later.

Dave from

DesignSpark
What do you think of this article?
The Johan Cruijff ArenA in Amsterdam will host three group games and a Last 16 tie during this summer's European Championships, however, this venue is so much more than just an iconic football stadium. It is more than a just smart stadium too, it is a living innovation lab.
Despite this year marking the 25th anniversary since the stadium was opened as a partnership between the city of Amsterdam and Ajax Football Club, it remains as one of the most innovative venues in the world.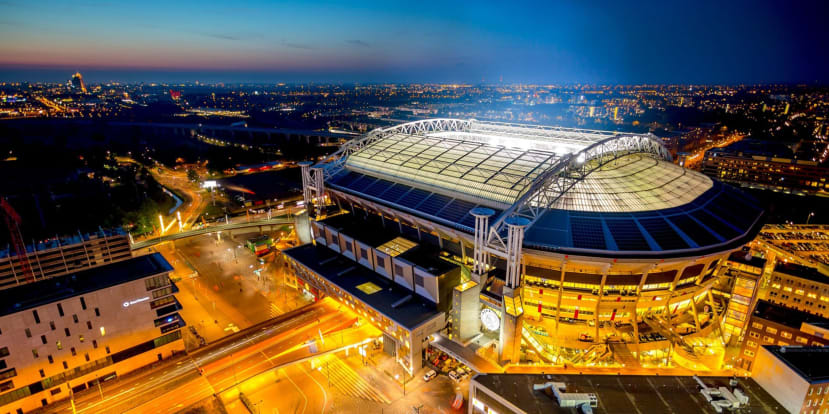 The Netherlands may be a small country, but big thinking lies deep within the Dutch DNA. The Amsterdam South East area where the stadium sits has been transformed into a unique location where mobility, sustainability, fan experience, safety and security are combined into an open innovation platform where the development and testing of Smart Stadium and Smart City solutions can prosper.
To minimize the footprint of the stadium and its visitors, the stadium uses a mix of proven sustainability measures and innovative technology. Wherever possible, every opportunity is taken to work on sustainability projects, big or small. These projects often benefit not only the stadium but also the immediate surroundings and wider society.

Orange Kit. Green Energy.
By always moving forward and looking for new opportunities, sustainability has become inextricably linked to the Johan Cruijff ArenA.
When Frank de Boer's side take to the pitch this summer they will be adorning the iconic orange national team jerseys, however, the energy used within the ArenA is overwhelmingly green. With the combination of more than 4,200 solar panels on the roof of the stadium and a wind turbine in the nearby Oudendijk area, the Johan Cruijff Arena took a huge step towards smarter and more sustainable energy consumption.
But that wasn't enough, they wanted to have a wider impact, by developing breakthrough systems and using emerging technology.
This includes a method of storing the sustainably generated energy, that can be used whenever it is needed. By working alongside RS Components' supplier Eaton, plus Nissan, BAM and The Mobility House, with the support of the Amsterdam Climate and Energy Fund (AKEF) and Interreg – the Johan Cruijff Arena has developed the largest European energy storage system in a commercial building.
Batteries from 148 used Nissan LEAF cars provide 3 MW of storage with a capacity of 2.8 MWh. The sophisticated system can balance the differences in energy supply and demand in the Arena. This ensures that it can provide backup during a power failure and reduces the use of diesel generators.
Its main purpose is to deliver back-up power to the stadium in case of outages or during heavy use. But as well as providing a reliable source of sustainable energy, it also relieves pressure on the Dutch electricity grid during concerts and other big energy-consuming events.
And during periods of low demand, the stadium can contribute power to the grid, capable of supplying energy to 7,000 households for an hour or charging 500,000 iPhones.
Henk van Raan, the Chief Innovation Officer of the JCA said: "Our goal, having all of this sustainable energy available, was to find a way to store it. We don't have a match or a concert every day, just once a week, so we tried to develop a battery in which we could store our energy and only use it when we need it."
Carmakers have been grappling with the problem of what to do with EV batteries when they pass their peak performance.
Lithium-ion batteries can continue to store electricity for years after they're taken off the roads, and several carmakers including Nissan are working on projects to repurpose EV cells for home energy storage.
When the new system at the Johan Cruijff ArenA was unveiled, Nissan commented that it demonstrates second-life batteries can play a role in "making the whole energy system more efficient and sustainable".
Isn't the pitch just grass?
Without a doubt, the space that enjoys the most applied technology at the Johan Cruijff Arena is the pitch.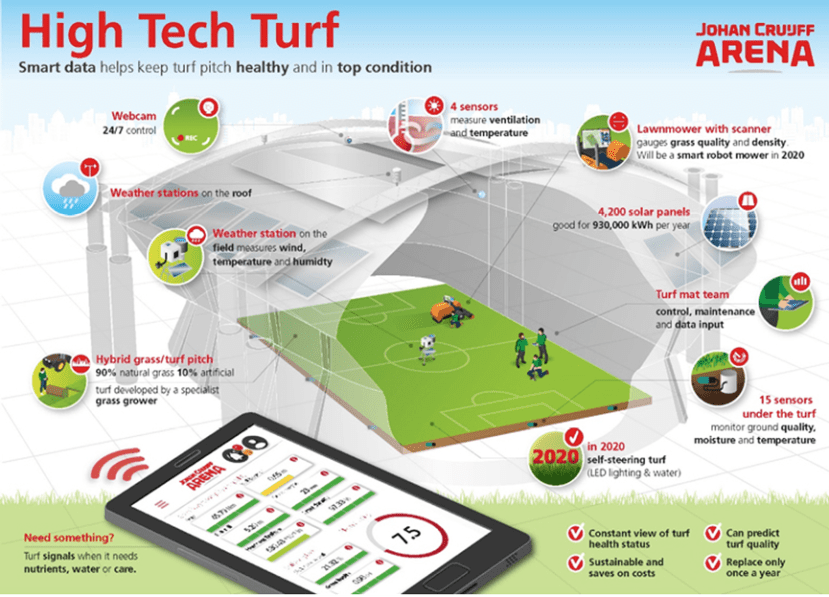 In addition to an innovative LED lighting system that ensures grass growth, the stadium has weather sensors on the roof of the stadium that provides information about humidity, temperature, wind; plus sensors inserted into the pitch that measures the quality of the grass and its density. The data is collated, filtered and analyzed to continuously improve the maintenance processes. This has benefits beyond just football, as it has resulted in the multi-use venue developing algorithms to improve the process of covering the turf for concerts whilst keeping it in top condition. This has enabled the ability to hold events during Ajax's football season.
The Johan Cruijff ArenA's head groundskeeper also checks the pitch daily to ensure the playing field is in perfect condition, as close to a natural carpet as possible. However, it is only a matter of time before he becomes an agent of change. His work kit will soon include shoes with a special sole that will be able to measure the quality of the grass by means of different sensors connected to the chips already embedded in the pitch. This innovation will not only save him time but will also help him in his decision-making and make his work more efficient.
A novel approach to waste
The Johan Cruijff Arena also takes a proactive approach to waste, applying a circular idea as much as possible: minimizing waste and high-quality recycling. By making it easier to collect waste separately, they are gradually reducing the amount of residual waste during events.
At the same time, they take advantage of creative opportunities to use waste. Therefore, tons of grass mown from the pitch finds its way to the Amsterdam farm De Dikhoeve. Here, the goats produce milk for the ArenA cheese, which is not only available on cheese boards in the stadium but also in selected shops and restaurants.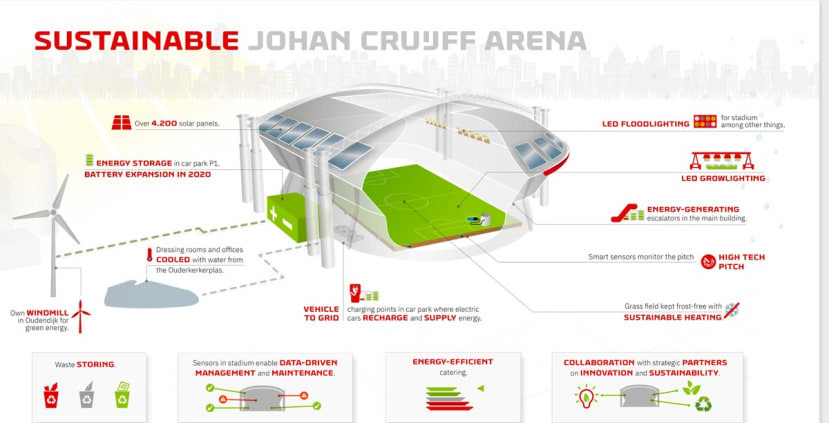 Smart Stadium. Smart Finance.
The Johan Cruijff ArenA has undoubtedly succeeded in creating an ecosystem focused on data analysis to spark the imagination and address solutions that will have benefits in cities around the world. But how can this be achieved without an unlimited budget to spend on testing and implementing such technologies.
Sander van Stiphout, international director and innovation manager at Johan Cruijff Arena said: "To be at the forefront of innovation and development you can use different ways: have a big budget and buy everything that is on the market and relevant or, on the contrary, and that's what we do, be smarter by inviting and motivating our partners to use the stadium as a field lab, showing the world everything they have to offer and creating an impact on society. And we do this based on three premises: we collaborate with the beneficiary companies, with our corporate partners such as Johan Cruyff Institute, and with startups. We innovate and accelerate."
You can watch a free webinar with Sander about How to become a truly innovative stadium below: