Dave from

DesignSpark
How do you feel about this article? Help us to provide better content for you.

Dave from

DesignSpark
Thank you! Your feedback has been received.

Dave from

DesignSpark
There was a problem submitting your feedback, please try again later.

Dave from

DesignSpark
What do you think of this article?
Having been one of the first people on the planet to boot up a Raspberry Pi, I've since seen many people use it as a key ingredient to what they hope to be the next killer accessory with varying degrees of success. However, once in a while a great idea comes along…
I recently met up with Jesse and Ryan over a cup of coffee. Both are couple of bright Graduates with a solid plan to build upon the Raspberry Pi philosophy of inspiring a new generation to become technology literate, by luring them with cool tools to get to started on their journey.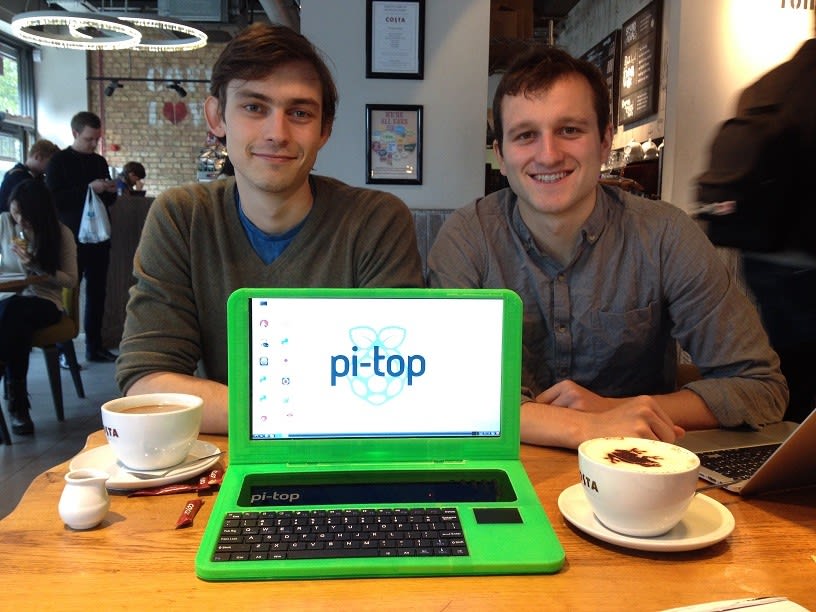 Pi-Top is a kit form Raspberry Pi powered laptop for $250. What's unique about these guys is that they've created a neat self contained open source environment for learning coding,electronics and 3D design. They've also created a series of HATS (Hardware Attached on Top - a Raspberry Pi standard for B+) that plug directly onto the Pi's GPIO, accessible via a sliding section just above the Pi-Top's keyboard. Together with sets of exercises, it allows users to experiment with cool things like Robotics or Home Automation. The kit form (no soldering required) also makes it a fun journey of discovery. For the more adventurous, they have also made the 3D CAD Files available so that they can 3D print their own. All this together makes more than just an educational platform, but also a useful tool for Makers to create Pi based hardware projects.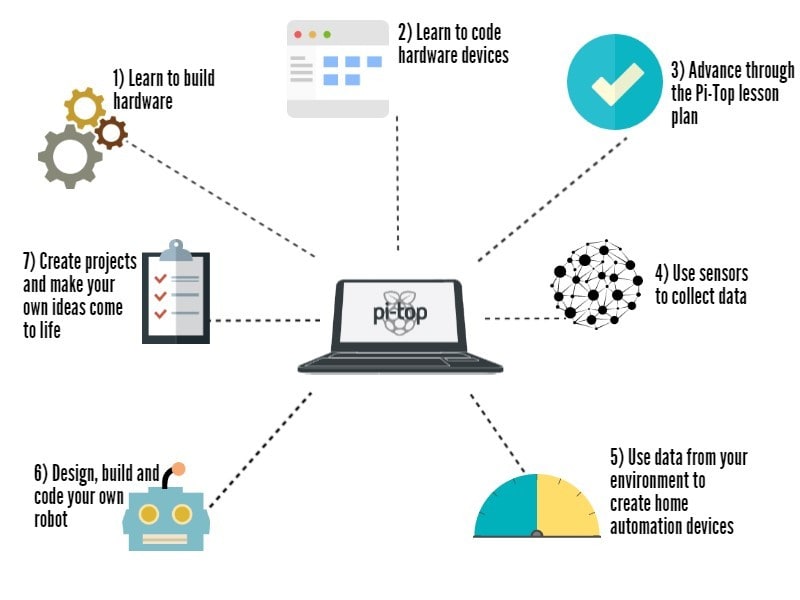 These guys have certainly done their homework. Just talking to them you can see how much passion and drive they have for it, and that's before we had even drank any coffee! They've spent a fair amount of time test driving the product in classroom environments as well as taking it around the Pi and Tech communities and have received some fantastic feedback. The popularity of Pi-Top has already shown its potential. Within the first few days of going live on the project crowdfunding site INDIEGOGO, they had already raised their target $80K. The campaign ends Nov 13th 2014, so if you want to be one of the first to get a slice of Pi-Top, shoot over to their page to back it. Pi-Top on Indiegogo
Having first hand experience myself teaching kids to program Raspberry Pi's, the Pi-Top's ticks many boxes. Firstly it solves the challenge of rounding up enough screens, keyboards and mice. The Pi-Top is portable and even has it's own battery, so it can be used in just about any environment. Secondly, the supporting material makes excellent lesson plans for all abilities. For Makers, it's a compact, portable rapid prototyping tool for creating and building projects, as well as helping them continue their learning experience.
This is just the start. The guys have plans to build a library of resources and projects for Pi-Topers to get down and get creative. They will also encourage the community to create and share. I also discovered that they had chosen to create the Pi-HATS in our DesignSpark PCB Tool.
When using DesignSpark PCB, there were two features which stood out for Pi-Top.
There is a large database of ready-to use components that had both a schematic and PCB layout.
Components that were not in the database had to be created from scratch, but this was made easy by the component wizard for automatically generating pad layouts (particularly excellent for ICs).
Both of these features cut down design time significantly, which was a huge benefit for Pi-Top since the developers had to design PCBs very quickly.
As a Start-Up, they are lacking in finances, Our tool was perfect for them as not only could they download our professional level tool for free, but it's easy to learn, powerful and unrestricted for commercial use.
You can find out more about Pi-Top on their website.