Dave from

DesignSpark
How do you feel about this article? Help us to provide better content for you.

Dave from

DesignSpark
Thank you! Your feedback has been received.

Dave from

DesignSpark
There was a problem submitting your feedback, please try again later.

Dave from

DesignSpark
What do you think of this article?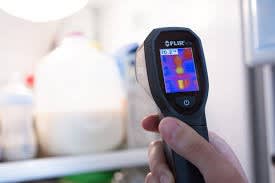 Because profit margins in the Food and Beverage industry are constantly under challenge, one of the keys to success in the industry is to keep food processing equipment running and avoid production downtime.
FLIR systems has supported preventative maintenance professionals in the Food and Beverage industry for many years, and now, with their range of thermal cameras, they have a low cost and effective tool to locate hot spots and prevent downtime.
The Benefits of Flir Spot Thermal Cameras
Although spot meters have become indispensable for today's maintenance professional, finding the exact location of a mechanical or electrical problem might require a degree of guesswork because problems are not visible to the naked eye. Electricity problems can also be dangerous when approached closely.
FLIR Spot thermal cameras help users to overcome these problems, bridging the gap between current generation IR thermometers with no imaging capability and FLIR's thermal cameras. An IR thermometer provides a non-contact temperature reading, while a thermal imaging device shows the relative thermal properties of a subject or targeted area in the context of its surroundings – FLIR spot thermal cameras do both!
Infrared Guided Measurement
FLIR call this IGM, or Infrared Guided Measurement. IGM technology allows maintenance professionals to identify the precise location of a problem that is invisible to the naked eye, saving them time and allowing them to identify problems from a safe distance. It visually guides the user to temperature problems, and helps them to identify which spot may require further investigation.
FLIR SPOT THERMAL CAMERA MODELS
FLIR TG130 spot thermal camera
The TG130 is an entry-level spot thermal camera for a broad spectrum of small business applications. By simply pointing the TG130 (922-8765) at an object, you can identify energy- and temperature-related issues in and around a structure, and this helps to find drafts, detect heat loss around doors and windows, locate areas without proper insulation resulting in increased process efficiency, prevention of potentially expensive and dangerous production problems and improved energy efficiency.
Click here to find out more about the Flir TG130
FLIR TG165 and TG167
The more advanced FLIR TG165 (848-1331) (50 degree field of vision) and TG167 (922-8761) (25 degree field of vision) help you identify heat patterns, measure temperature reliably and store radiometric images for reports. With a spot ratio of 24:1, they also allow you to take accurate readings from safer distances (this means that the temperature of a spot of 1cm diameter can be accurately read at a distance of 24cm).
Click here to read more about the FLIR TG165 Or click here to discover the FLIR TG167