Dave from

DesignSpark
How do you feel about this article? Help us to provide better content for you.

Dave from

DesignSpark
Thank you! Your feedback has been received.

Dave from

DesignSpark
There was a problem submitting your feedback, please try again later.

Dave from

DesignSpark
What do you think of this article?
In 2015 FLIR released the FLIR ONE® thermal imaging camera attachment, a simple but revolutionary tool that put thermal imaging functionality in the hands of domestic and general industrial users. Two years on, the company have enhanced the original FLIR ONE®, adding a range of exciting new functions to appeal to a broad range of professional users.
Read on to find out how the FLIR ONE Pro™ can help you save on power and reduce your energy bills.
VividIR™ Advanced Imagery
The Thermal resolution on the FLIR ONE Pro™ is up to four times higher than on the original release, and VividIR™ image processing means that its images are more detailed. You can measure smaller components from farther away, and work more safely around energized equipment. The FLIR Pro version benefits from the superior image quality that results from VividIR™ technology.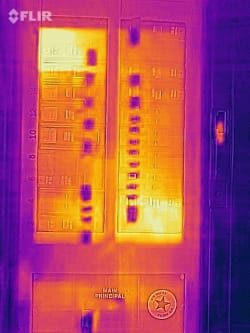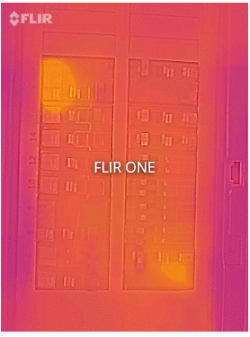 Image taken with VividIR compared with one taken with the original FLIR ONE®
OneFit™ Connection
The OneFit™ adjustable-height connector on the new release means it will fit into your phone or tablet, even when it's in a compatible case, so you can keep your device safe whilst still getting access to thermal images.
Expanded Measurement Capability/Functions
FLIR Pro's thermal sensor has a resolution of 160x120, and with FLIR ONE Pro™ you can measure temperatures between -20° and 400°C. Users can also adjust the gain using high or low gain mode, helping them to distinguish between different temperature ranges, or toggle between a thermal-only or an RGB-only view in place of being locked into the combined MSX view available on the original FLIR ONE®.
You can also view on-screen metering of actual temperatures in real-time as either a repositionable rectangular or circular 'region of interest', or as up to three spot meters that can each track independent values simultaneously and be moved anywhere within the viewfinder.
FLIR ONE App
New FLIR ONE Pro™ features an upgraded FLIR ONE App which requires account sign-in to enable warranty registration. This includes all the latest updates from FLIR, unlocks additional "pro" camera features to give the best image possible, includes in-app Tips & Tricks videos, and is compatible with FLIR Tools so you can issue reports direct from your smartphone.
Rugged Hardware
FLIR ONE Pro™ is built to withstand being dropped from up to 1.8m and comes in a rugged plastic design with strengthened corners and edges.
These advanced functions on the FLIR ONE Pro™ version make it ideal for tradesmen or contractors doing electrical, structural or plumbing work and who would benefit from adding affordable and functional thermal imaging to their tool kit.
It has a broad appeal and can be used in a wide range of different contexts ranging from general facilities maintenance to plumbing or HVAC inspection, from electrical maintenance to site surveying, but one of the main areas where the FLIR Pro can help save users money is in energy loss and power management.
Saving Energy On Site with FLIR ONE Pro™
The high and low gain mode functions, in combination with the improved VividIR™ image processing mean that users benefit from an image detailed enough to show up temperature differences and cold areas – a big clue that heat is being lost due to poor insulation around windows, doors or other openings. They can also detect and hone in moisture damage, early before it starts costing big sums or needs extensive repair.
Also, by giving electrical contractors or facilities managers the capability to quickly check heat levels being emitted from junction boxes, extension sockets and other power outlets, the FLIR ONE Pro™ helps them detect where electrical power is being used unnecessarily, identify risks, and take any action needed to stop the wastage.
A third way in which the new FLIR ONE Pro™ can help reduce energy wastage is by identifying leaking pipes or air ducts. When air ducts leak it means that hot or cold air is heating or cooling areas that it is not supposed to, and the air isn't getting to where it is intended. More energy than necessary is also is being used to heat or cool the target area. As with the two examples above, this could lead to businesses wasting big sums of money, particularly when running big factories or facilities.
The FLIR ONE Pro™ is available globally from RS Components.
CLICK HERE to see the full range of FLIR Thermal Imaging Cameras available from RS