Dave from

DesignSpark
How do you feel about this article? Help us to provide better content for you.

Dave from

DesignSpark
Thank you! Your feedback has been received.

Dave from

DesignSpark
There was a problem submitting your feedback, please try again later.

Dave from

DesignSpark
What do you think of this article?
Taking the first steps to design new electrical motor installation can be daunting. But, whatever the application, putting efficient motor management at the top of your list of objectives will mean you end with end up with the best possible electrical design, and help you save on installation and operational costs.  
The boxes below offer a generic representation of electrical motor installation equipment:
Each of the four generic boxes contains elements that connect it to the others. As a designer, it is important to focus on identifying devices in the three blocks preceding the motor that will deliver the optimum motor operation based on application requirements, reduce installation costs, and ensure that motor operation has the lowest possible impact on the electrical supply and parallel loads. The optimal electrical design will result from making efficient motor management your primary consideration!
Of course, this is easier said than done, so Iet's consider the key process steps for achieving this. Here are five key steps to driving efficient motor management that take every aspect into account:
STEP 1. Analyze "the application"
"The application" refers to the load, (eg. different industrial applications, such as pumps, fans, conveyor belts, etc.) and its operational characteristics. It is characterized by its relation to the speed, and inertia. Different applications have different forms of torque such as quadratic, linear, constant, and decreasing. Inertia can also restrict the use of specific motor controls in some applications.
Effectively, "the application" defines the motor load, speed, acceleration, deceleration and duty cycle of the motor. Because every industrial process has different application requirements with regard to starting, stopping, speed control, and synchronising with other applications in the same process, the first step you need to take will always be to carry out a full assessment to make sure you have properly understood application. This will help to avoid over-performance in your final design.
STEP 2. Select the motor control
After considering application constraints and requirements, the next step is to focus on a suitable,   cost-optimized solution for motor control. Importantly, the solutions for low and medium voltage applications differ depending on application.
At this point, it is important to consider whether you need to design in switchgear-integrated contactors or circuit-breakers, soft-starters and autotransformers or variable speed drives.
Put simply, if the requirement is to control speed, synchronize with other processes, or if saving energy is a primary consideration, then variable speed drives will be the most suitable solution. Otherwise the main focus will be on protecting motors when starting. Frequent motor starts, critical motors, or weak networks will require a progressive start solution. During design phase, this may be more expensive than identifying a simple contactor or circuit breaker, but in the long run you will recoup costs by saving on maintenance, reduce risk of failure and constraints on parallel loads during start.
In the end, classical motor starters provide you with the lowest integration cost and are suitable for most cases.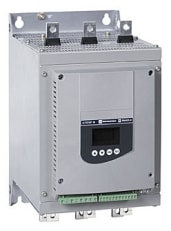 Schneider Altistart® 48 Softstarters offer advanced electronic soft start, soft stop performance by means of an exclusive torque control system (TCS). By controlling motor torque, the ALTISTART 48 provides enhanced control for a wide variety of applications.
STEP 3. Build in motor protection
It is vital to prevent faults and overloading in your design. Your motor and installation require protection, either by protection relays or a variable speed drive. What is key again here is to identify the real need to avoid over-engineering. Most motors require simple protection such as overload and earth or phase fault and this can be achieved just with current transformers. For more critical motors, voltage transformers allow monitoring of power, frequency, and under and overvoltage. This is a more expensive solution which requires more installation work and might increase the volume of cubicles. Even more advanced protection options include motor differential protection, which provides sensitive protection against internal phase, -phase and internal phase-ground faults.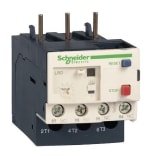 Schneider LRD Thermal Overload Relays are designed to protect ac circuits against overloads, phase failure, long starting times and prolonged stalling of the motor.
STEP 4. Guarantee power quality
Power quality has a direct impact on the motor and parallel loads, and both harmonics and power factor will need to be accounted for when designing your installation. Both affect motor control – with variable speed drives it is key to check harmonics, and with motor starters power factor.
Issues resulting from power quality may not be immediately obvious at first, but when they do occur they affect several types of equipment. You can consider several solutions.
For example, active filters help you manage harmonics from multiple-speed drives flexibly in parallel, whereas passive filters are less efficient and cost less. You can also select low harmonic drives, especially for large ones, and solve the problem at source. For power factor improvement, capacitor banks offer the most effective solution.
STEP 5. Monitor and manage motor assets
Proactively supervising motor and load helps to prevent failure, avoids emergency maintenance and production downtime.
Solutions for predictive maintenance include vibration monitoring, insulation condition monitoring, and motor and load monitoring through current and voltage measurements. The key point is to connect all relevant sensors to the supervisory SCADA system, meaning that users will receive early warning of any faults which are developing and can schedule maintenance. Services-oriented drives can also perform this monitoring.
Offering real-time intelligence and equipment condition monitoring, Altivar variable speed drives ensure that applications are performing at optimum efficiency at all times