Dave from

DesignSpark
How do you feel about this article? Help us to provide better content for you.

Dave from

DesignSpark
Thank you! Your feedback has been received.

Dave from

DesignSpark
There was a problem submitting your feedback, please try again later.

Dave from

DesignSpark
What do you think of this article?
Connectivity
Supports a variety of communications protocols: HTTP, HTTPS, Modbus/TCP, TCP/IP
Traditionally, a signal tower was mainly used as a signal light for factory machinery. While signal towers are still in use as such, they are now required in far more diverse areas of activity. In addition to laboratory automation, the IT industry or a smart factory, there are many other areas of application that require a needs-based programmable signalling and acoustic solution. By supporting various protocols, the signal tower can be controlled via software and IT devices, for example, to visualize processes, cycle times or optimization potentials within the production line. With common and simple command controls, the signal tower can be quickly integrated into a company's system and adapted to the desired tasks.
Improving productivity by visualization of SCADA software.
Increasing security with IP camera detection alert.
Visualization of sensing data such as temperature and humidity.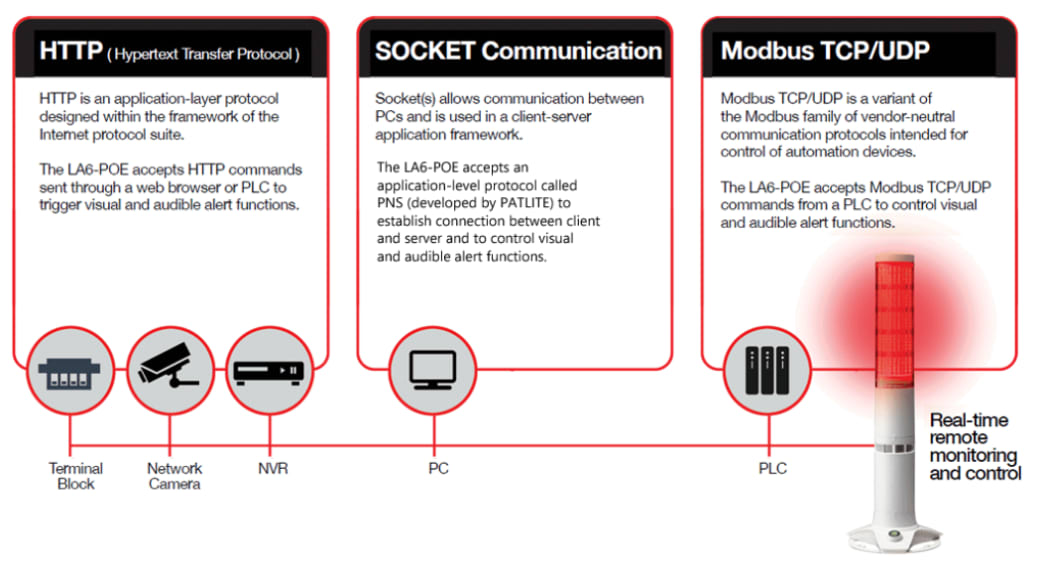 Programmable
Configurable LED light motion and buzzer tones
In addition to controlling the turning on and off of LEDs and buzzers like a normal signal tower, the smart signal tower allows pre-configured LED light movements and buzzer patterns to be set through commands. This enables an intuitive visualization and an improved display that contains more information.
Visualizing cycle times of machines to reduce downtime.
Displaying air pollution levels.
Fire prevention by monitoring the heat of the disposal site.