Dave from

DesignSpark
How do you feel about this article? Help us to provide better content for you.

Dave from

DesignSpark
Thank you! Your feedback has been received.

Dave from

DesignSpark
There was a problem submitting your feedback, please try again later.

Dave from

DesignSpark
What do you think of this article?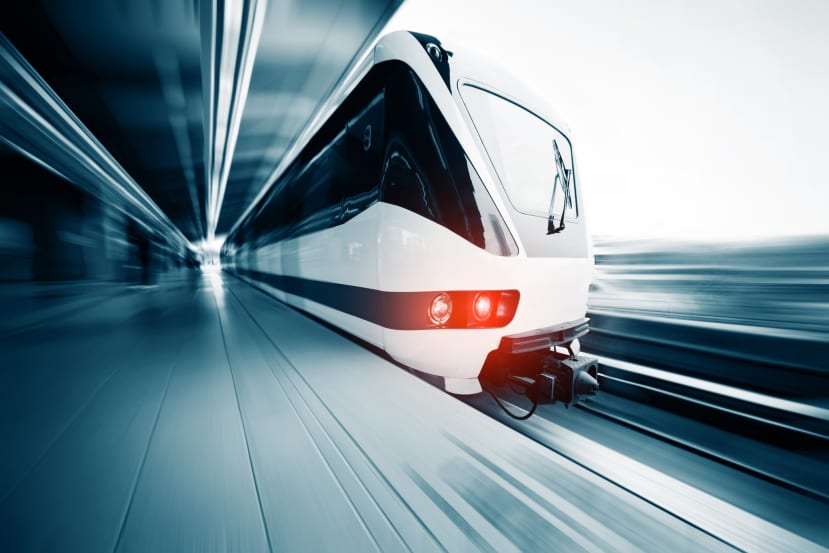 Utilizing the latest in technology development, Murata's DC-DC converters are able to cover a wide range of battery input voltages from 9V to 160V DC in a single module (with input voltage ratios up to 10:1). Specific nominal battery input voltage range converters are also available. Products are suitable for both on-board and trackside rail applications, as well as industrial/manufacturing and farming equipment and the automotive industry.
Murata's IR series for transportation applications
IRH - 150W half brick

               IRQ - 100W quarter brick

IRE - 120W eighth brick

          IRS - 50W sixteenth brick

Features
1/2, 1/4, 1/8 and 1/16 brick formats
Input voltage ranges from 9-160V
Stable no-load operation
-40°C up to 85°C (ambient) and 110ºC (case) operating temperature
Baseplate and flange package options
High efficiency - up to 91.5%
3.3V, 5V, 12V and 24V output
Tight line and load regulation
3000V RMS input/output isolation
Dipped varnish coating
Construction
Baseplate machined from a single block of aluminium
Thermal interface materials are of the highest quality and thermal conductivity
Plastic components are made from engineered plastics with temperature ratings >300°C
Conformal coating with Cytec CE-1171 – which is qualified to meet IPC-CC-830B
Applications
Travellers' cabin - Infotainment, Lighting, Air conditioning, Smoke alarm
Facilities - Door opening control, Washrooms, Passenger counter, Smart sand Public address system
Driver's cabin - Cab radio, Displays, Wipers, CCTV,  Headlights
Propulsion - Braking, Axle monitor, Drive control, PTC, Sensor
Trackside - Signaling, Level crossing, Communications, Lighting, Thermal rail
NEW
IRV300 series
16V – 160V DC 10:1 input range
300W output power
12V, 24V, 48V outputs
EN50155 compliant
+/- 10% adjustment
OR-ing option
Over temp, over voltage, over current protection
Fully enclosed for chassis mounting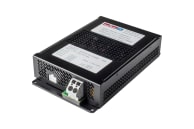 IRH/IRQ w80 series
16V – 160V DC 10:1 input range
250W 1/2 brick or 100W 1/4 brick option
Hold-up function pin
-40°C to +100°C temperature range
12V, 24V, 48V outputs
Under voltage lockout feature
Remote sense
+/-10% adjustment range
Extremely high efficiency
EN50155 compliant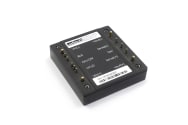 Evaluation boards
EMC filtering (EN50155)
Output adjustment
Cage clamp connectors
LED indication
Remote on/off
Full signals interfacing
Hold-up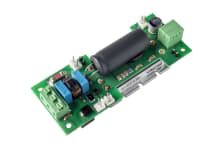 Ultra-wide (10:1) input DC-DC power
By utilizing proprietary technologies and our component selection process, Murata has developed a range of ultra-wide (10:1) input voltage ratio, DC-DC converters, in both component 'brick' style format and standalone fully EN50155 compliant and chassis mount solutions.
These converters have been designed to satisfy and exceed the full range of battery voltages as defined by EN50155 (see table) for nominal inputs of 24V, 28V, 36V, 72V, 96V and 110V with one single device while also maintaining high efficiency across the full input voltage range.