Dave from

DesignSpark
How do you feel about this article? Help us to provide better content for you.

Dave from

DesignSpark
Thank you! Your feedback has been received.

Dave from

DesignSpark
There was a problem submitting your feedback, please try again later.

Dave from

DesignSpark
What do you think of this article?
The "EIE Microcontroller Application Design Contest (2021 – 22)" is organized by the Department of Electronic and Information Engineering (EIE), The Hong Kong Polytechnic University, and sponsored by RS Components Ltd.
The contest aims to promote EIE students' interest in microcontroller-based electronic product design and to provide a platform for EIE students to exercise their creativity and innovation through teamwork. The contest consists of two phases.
In Phase I, each team with at most three members was required to submit a proposal to describe the design and implementation of its products. Before the deadline (i.e., 1 December 2021), RS Components Ltd. and the EIE department organized a brainstorming session on 1 December 2021 for all students to share their ideas and gave them comments. Phase I was completed on 3 December 2021 with some proposals received. Ten teams were shortlisted for Phase II.
In Phase II, the shortlisted teams received financial support and technical advice/support from the EIE Department and RS Components Ltd. All teams had around two and a half months to produce their products based on their proposals.
On 18 February 2021, each team delivered an online 15-minute presentation to describe and demonstrate the features of its final product with a 5-minute Q & A session right after. A panel of judges was formed by the EIE Department (two representatives) and a representative from RS Components Ltd. The result is listed below:
Award

Team

Students

Champion

A Smarter Smart Home

Wen Chin, LO

Ki, CHEUNG

Runner-up

Champion (Design)

Child-Friendly Advanced Toy Gun

Jiayuan, LIANG

Runner-up

Merit (Design)

Toilet Occupied Indicator

Chun Hang, LEUNG

Wai Ki, KWONG

Tsz Yin, LEE

Second Runner-up

6DOF Motion Simulator for Functional Apparel Design

Yeok Tatt, CHEAH

Merit

Smart Pet Feeder

Kam Ming Kim, CHAU

Ka Lam, CHAN

Pak Yeung, CHAN

Merit

IOT Valuable Reminder

Samuel, YAKOBUS

Hsiang-An, TSENG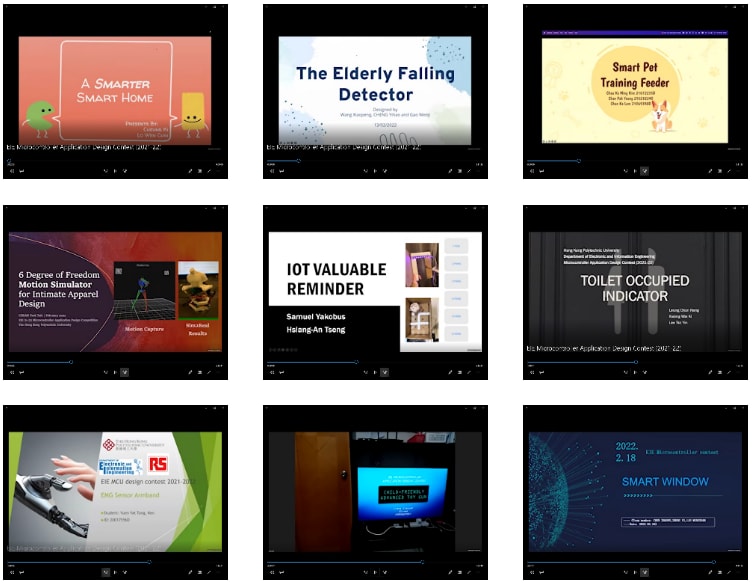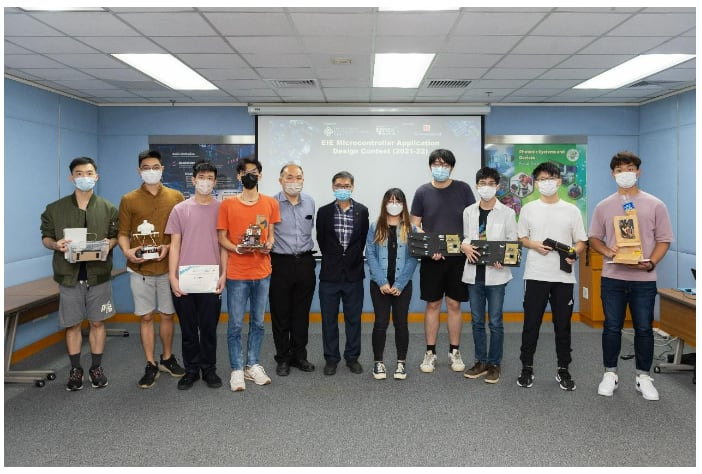 The project introduction of each team in Phase II is detailed on the links below:
A Smarter Smart Home (Champion)
Child-Friendly Advanced Toy Gun (First Runner-up and Champion (Design))
Toilet Occupied Indicator (First Runner-up and Merit (Design))
The Elderly Falling Detector
6DOF Motion Simulator for Functional Apparel Design (Second Runner-up)
The Smart Pet Feeder (Merit)
IOT Valuable Reminder (Merit)
EMG Sensor Armband
Smart Window