Dave from

DesignSpark
How do you feel about this article? Help us to provide better content for you.

Dave from

DesignSpark
Thank you! Your feedback has been received.

Dave from

DesignSpark
There was a problem submitting your feedback, please try again later.

Dave from

DesignSpark
What do you think of this article?
Are your electrical controls under attack? Designing controls for equipment in industries such as chemical processing, mineral extraction, food processing, textiles and leather production? You know the problems - EAO Series 45 may have the solution.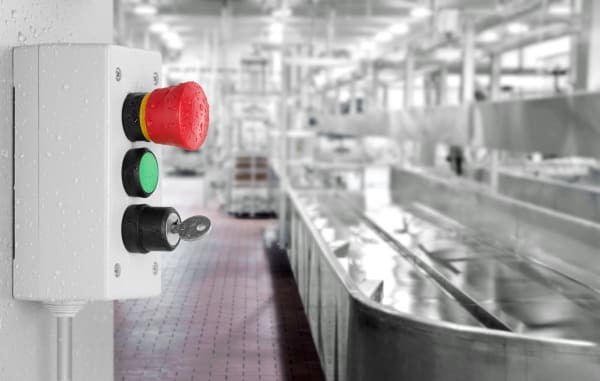 Enemies can include, fine or abrasive dust, chemicals, fuels and lubricants, high-pressure cleaning jets – not to mention operator misuse and accidental mechanical damage from knocks and impacts.
To design a reliable human-machine interface (HMI) for such applications and where operators may also be wearing gloves means that traditional electromechanical switches can be a better choice that touch screens or membrane controls.
The EAO Series 45 is a new and modern IP69K and IP67 sealed switch range for 22mm or 30mm mounting. It is designed for easy assembly with one hand single point fixing and with actuators constructed out of either plastic, stainless steel or nickel chrome.
Secure fixings and easy assembly are key for environments that are subject to vibration. The novel Series 45 has a 3D seal that holds the switch in place in the mounting hole whilst the holder is latched onto the back with a light push.
The single screw fixing collar clamps the switch actuator around the full 360 degrees of the mounting hole with 8 separate biting points to hold it secure against vibration. The contact blocks clip-on from the back and take screw or cage clamp connections.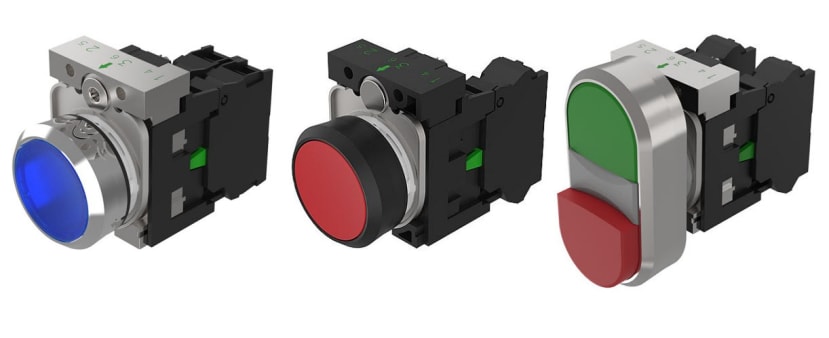 The range of actuator types is designed with the many varied markets in mind so besides the usual functions like indicators, pushbuttons, selectors, keylocks and E-Stops, which you see on the RS site here...
...there are less common actuators such as wobble sticks, potentiometers, buzzers, toggle switches, palm switches, RFID keylocks etc.
Rugged, reliable design
Reliable mechanical switching and illumination are even more important in difficult work environments, so with products that are rated for up to 10 million operations and LEDs that last up to 100,000 hours you can build equipment with confidence. Whilst the electrical life can be optimised through a choice of silver or gold/silver contacts to cover the whole switching range from 5V to 500V.
Whatever your application, the exceptional build quality and durable materials are resistant to exposure from many acids, alkalis, fuels, lubricants and solvents.
Protect and survive. For the harshest industrial applications, the switch actuators themselves may need to be covered with additional protection over and above the IP69K sealing. For example, silicon rubber covers, flapguards and metal or plastic protection guards can prevent external damage or the penetration of food particles and abrasive grit into the crevices.
The most popular EAO Series 45 products are available direct from RS, but if you can't see what you want, there are nearly a thousand different products available on the EAO website at eao.com/45/
So, with such a range of actuator types, construction materials and mounting styles, you can use the Series 45 to design an innovative, intuitive and reliable HMI.
EAO is your expert partner for human-machine interfaces - so contact us for advice on your HMI design.