Dave from

DesignSpark
How do you feel about this article? Help us to provide better content for you.

Dave from

DesignSpark
Thank you! Your feedback has been received.

Dave from

DesignSpark
There was a problem submitting your feedback, please try again later.

Dave from

DesignSpark
What do you think of this article?
DesignSpark Mechanical support zone, Zendesk, is packed with tutorials, videos and guides to help you make the most of our free-to-download 3D CAD software, which is still one of the best out there!
In this article, which you can find in the DSM Zendesk tutorials area, we take a look at PULL mode options.
Why are some of the PULL mode options greyed out?
Some of these options only work with boundaries (edges) of a 3D object. Make sure the edge is selected instead of a face.

Take this circular shape for example. The 5 options in the left tab are disabled as the only a face is selected.
3 options are now enabled which allow you to extrude, copy or pivot an edge.
Try pulling this shape to a cylinder and select the circumference; the round, chamfer, etc. All 5 operations will be automatically enabled now allowing you to round & chamfer edges.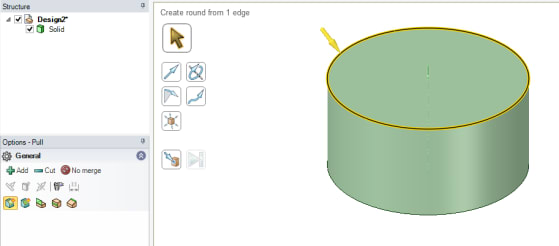 There's plenty of tutorials, videos and guides to help you get to grips with DesignSpark Mechanical 3D CAD software and you can find them all here in Zendesk.