Dave from

DesignSpark
How do you feel about this article? Help us to provide better content for you.

Dave from

DesignSpark
Thank you! Your feedback has been received.

Dave from

DesignSpark
There was a problem submitting your feedback, please try again later.

Dave from

DesignSpark
What do you think of this article?
The National 3D Printing Society initiative to print PPE has now officially ended. 
3D printing has played a key role in the UK, helping to keep medical staff and key workers safe since the start of the COVID-19 crisis.
Thousands of volunteers, schools and businesses across the UK have supported not only this initiative but many others, including 3D Crowd UK and Makers 4 the NHS. Collectively these groups have helped to ensure that over 250,000 visors have been produced in just two months.
This period of support through 3D printing has enabled injection moulding companies around the UK to get up and running, who are now producing thousands of visors each day, using a much more efficient and sustainable method of manufacturing. Injection moulding not only produces the visors in larger quantities but also increases product consistency and quality.
Stock levels of traditional PPE are also returning around the UK. RS Components now has PPE Class I certified face shields in stock and available for free next working day delivery, along with a host of other vital equipment including disposable face masks.
As a result, there has been a significant reduction in the demand for auxiliary PPE prints. This, coupled with a recent UK Government guidance document which required some significant changes to be made to current processes being used by voluntary organisations, has led to many initiatives pausing or ending production completely.
With thousands of assembled visors remaining within the National 3D Printing Society's network which have not cleared the new guidelines set by the government, these will instead be diverted to countries outside of the EU that are able to use them, working with the Red Cross. RS and igus are also working to explore support for other initiatives in Africa and Moldova respectively.
Any remaining funds from the £14,472 crowdfunded for the N3DPS campaign, are being donated to MedSupplyDrive UK, an organisation run by volunteer NHS doctors and medical students to purchase PPE for frontline workers. MedSupplyDrive UK has been a key partner in the initiative, alongside igus, RS Components, ByBox, the Gap Partnership, SHIELD and the Nottinghamshire Community Foundation.
Whilst not all of the visors will be heading to the UK frontline workers as originally intended, they will still be helping to save lives across the world and that is no small achievement.
The increased number of injection moulding companies now producing large quantities is helping to ensure that the demand within the UK will be supported. RS Components will continue to work with the Office for Product Safety and Standards to clarify guidance, specifically around the inclusion of heat testing in the CE Marking process and the liability for volunteer groups. This will enable 3D printing solutions to step up again in the UK as and when needed.
The focus for RS Components and DesignSpark now moves towards supporting health-care workers from across the globe. We would like to thank everybody who has been involved in the initiative to-date, including members of the DesignSpark engineering platform. The community spirit and resolve to help has been a huge positive during this time, and we continue to urge people to produce emergency equipment for frontline healthcare workers wherever it's needed.  We are one community, supporting each other in facing the same challenges from COVID-19.
--------------------------------------------------------------------------------
Do you have a 3D Printer? You can help us to fight COVID-19!
We are calling on everybody who has access to a 3D printer to join us in supporting the National 3D Printing Society's initiative to produce and distribute PPE to frontline medical staff as they continue to fight the Covid-19 pandemic. Together as a community of engineers and makers we can all make a real difference.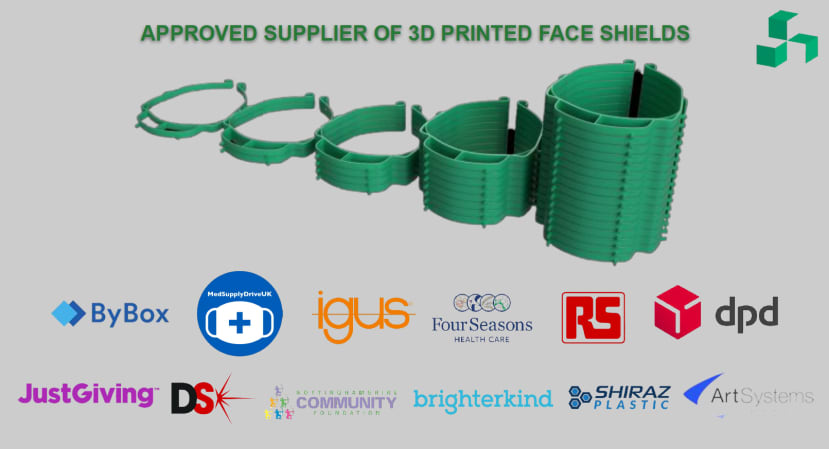 The NHS is in crisis. Over the last few weeks, we've all seen the shocking news about shortages of protective equipment in health care services. Doctors, nurses and other healthcare staff simply do not have the basic equipment to keep themselves, and their patients, safe.
Stuck inside our homes, many of us feel angry and frustrated, desperate to help but powerless to do anything about it. That's why we would like you to join us in a network of people and businesses who are 3D printing vital protective equipment components.
When someone with coronavirus coughs, they breathe out tiny droplets of water that carry the virus into the air. Nurses and doctors report that they are working in environments with a high risk of contamination. They feel like sitting ducks, and it could just be a matter of time before they too become infected.

That's why we are urging anybody who has access to a 3D Printer to join us in working with the National 3D Printing Society to print these face shields.
The National 3D Printing Society have pulled together a network of people and organisations with 3D printers spread across the country. They also have a distribution network with official NHS suppliers and distributors, ensuring that the equipment produced ends up exactly where it is needed.
In less than a week over 1000 people have already volunteered their time and 3D Printers to produce these visors, with a daily production capacity of 20,000. However more are required to ensure that we are able to respond quickly to the needs of NHS workers.
Why N3DPS?
All prints through the National 3D Printing Society initiative will be sent through an approved medical charity. Igus UK are assembling the printed mount with the visors centrally before they are sterilized and sent on to the NHS personnel who need them through MedSupplyUK. NHS staff can request free equipment by
Clicking Here
.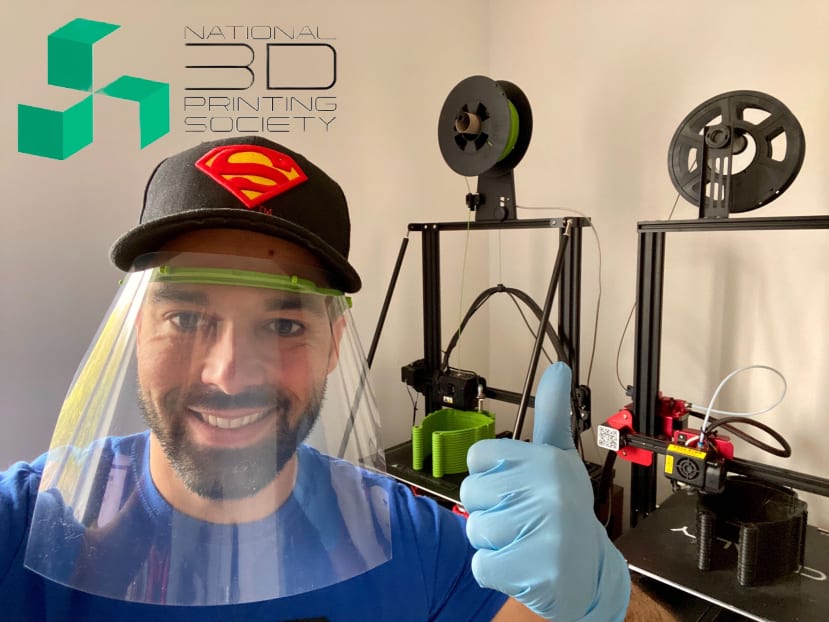 The N3DPS goal, besides providing PPE for our NHS, is to avoid face-to-face drop-offs that could compromise the health of everyone involved and to also make sure that the products are correctly sterilised and sent by an already established medical supplies provider.
Can I only print this design?
I'm sure that you will have seen many variations of design across social media and news stories recently. So what is different about the N3DPS design and why would we advise you to print this one?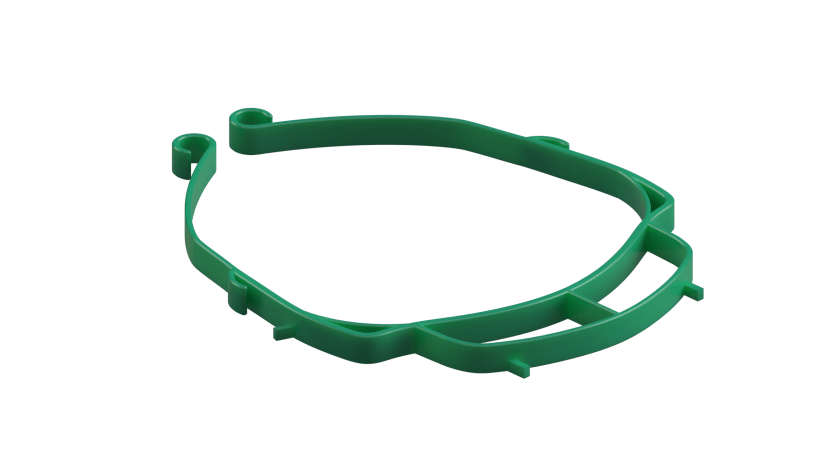 The N3DPS team has developed this new NHS accepted design. This design is less complex, has a shorter print time and lower production costs than other available designs.
This new design focuses on CE compliance and also follows the guidance provided by the government for PPE. BS EN 166, 167 and 168 has had a major impact on the outcome. This design satisfies those requirements and provides the safest design so far.
The N3DPS is accepting this design (and previous versions) only, as we are trying to have a unified design making the quality checking protocol more solid.
But what are the advantages of the design?
It uses an A4 ISO888 hole configuration (4 hole punch).
Visors or screens can be made from clear PVC binder covers (10p per screen) using a 4 hole punch (5£ to 10£)
Can be printed in less than 1 hour and can be stacked to print.
No need for fibre elastic to secure it, making it easier to sanitise and less wasteful. In the rare case of needing more grip, an elastic band can be used at the back.
Has more depth when worn allowing for larger facial features, masks or bigger glasses
The design can also be used in injection molding
N3DPS are working with recognised NHS suppliers (MedSupplyDriveUK)
The National 3D printing Society is a registered non-profit social enterprise and has been operating for 3 years.
STL Source Files & Printing
You can download the latest STL for the visor below:
Please stick to the versions provided.
Material
The plastic visors must be printed in either PLA or PETG.
No other plastic is currently known to be suitable.
They can be printed in any colour.
All parts will be sterilised before they are given to NHS front line staff. However please follow the recommended guidelines where possible to minimise the risk to all involved.
Slicer Settings
These settings should help to give you the fastest print times, however, you know your printer best.
Infill: 0%
Temperature: Follow specified temperatures provided to you by you materials supplier
Print Speed: 50mm/s
Layer Height:
0.4mm (Standard Hot-end)
0.8mm (High-flow Hot-end)
Shell: 20
Wall width:
0.4mm nozzle -> Set line width to 0.5
0.6mm nozzle -> Set line width to 0.66
0.8mm nozzle -> Set line width to 0.8mm
1.0mm nozzle -> Set line width to 1.0mm -> 50% overlap
1.2mm nozzle -> Set line width to 1.33mm -> 50% overlap
50% overlap on all nozzle sizes
If you get gaps in your print please revert to 100% infill. Headbands must be solid with no gaps. By cutting out the infill you are just printing perimeters; this will reduce print time significantly but you are compromising print speed for quality and quality is more important.
Recommended Guidelines
Wash your hands before handling printed visors.
If you have clean disposable gloves and a dust mask please use these when you're moving finished prints.
Bonus points if you have other PPE show us and tweet using the hashtag #N3DPS
Print in a place you see fit. If your printer has an enclosure even better but if not please use common sense and print in a 'clean' environment (I know how messy we makers can get!) What a perfect time to clean up your workbench.
Please try to keep potential contaminants away from your printer.
If you are not happy with your print please do not send it, you are the best judge of the quality your printers can produce.
These are guidelines. If you don't have PPE please don't stop printing, all visors are sanitised once you have sent them ahead of distribution to the NHS.
Print Approval/Quality Inspection
Please print one test visor and the post a picture as advised below. This is important for quality control and filament reimbursement. Once Admin have signed this off, then you can start mass manufacturing.
You can request approval by heading to the members area on the N3DPS website and following the registration process or signing in.
You will find the Approval section on the navigation bar once you are logged in and will be prompted to upload and select a photo of your test print.
Once your photo is uploaded, it will display on-screen and you will be able to add
comments in the box below the photo.
Once your photo has been reviewed, you will receive an approval notification via
email or comments if there are any issues with your print.
Please check back in the member section for any feedback from admins or to find out if you have been approved.
What if my approval is rejected?
Don't be disheartened. Please see comments on the approval page, use the Slack channel
to ask for help to resolve any issues, and re-upload an approval picture (see step above).
Once approved?
You will receive an email and your account will now be fully active.
You can also find support from the network of volunteers who are printing and the Admin on the Slack channel, which you can access below:

Shipping
The National 3D Printing Society has a number of shipping routes available, however the steps are the same for all methods. All go through MedSupplyUK and sanitisation before reaching NHS hospitals and frontline care staff.
Sending Your Prints:
Log in to your account in the Member section of the N3DPS website. Click on the donate section and fill out the details for the items you are donating.
Delivery Methods:
You can select from three delivery methods to get your prints to the main distribution centre. You can either drop off at a local GAP Group branch nationwide, drop at a ByBox locker or by post directly to Igus UK.
CLICK HERE TO FIND YOUR NEAREST GAP GROUP BRANCH
CLICK HERE TO FIND YOUR NEAREST BYBOX LOCATION
There are further supporting materials and additional information for each route on the Slack Group.
Once you have submitted your form you will see a confirmation notification, which will include a link to download your packing slip, which must be included inside the box. Any packages received without the slip will be discarded. A copy will also be emailed to you for convenience.
Please do not drop items directly to a hospital. We believe that the latter is against
government guidelines and puts NHS personnel at risk of getting contaminated products.
Redeeming Points
RS Components has supported the N3DPS with a donation of 400kg of filament to be sent to members of the network who have already donated items.
Points will be credited to your account once your donated parts have arrived at Igus and
checked for both quality and quantity. These points are awarded based upon the quantity donated.
You can then go to the Redeem page in the Members Area and select the filament that you would like to redeem. Once your order is placed, the National 3D Printing Society aim to have it delivered within two weeks.

Please select the correct filament, as the N3DPS cannot accept returns or any reason.
Help us print. Help us protect. Help us save lives.
We are all in this together.
You can sign up to the National 3D Printing Society Slack channel below:

You can also donate towards the project at:


If you are interested in 3D Design you can download our free professional CAD software DesignSpark Mechanical by Clicking Here.
Print Gallery
A selection of images from some of the people who are already taking part in the N3DPS initiative.
FAQ's
1. Is N3DPS making any profit from this operation?
No, N3DPS is a non-profit social enterprise and we are not and will not be making any profit
from this operation.
2. Will I get paid for providing the mounts?
Whilst makers cannot be promised any compensation to cover for their material cost, N3DPS have started fundraising for this cause (fundraising link) to cover for the following costs:
Acetate sheets for visors
Printing material for route 2 makers
Distribution for route 2 makers
Potential injection molding
RS Components has also made a donation of 400kg to start this process off.
The National 3D printing society has been operating for more than 3 years and will still operate after this pandemic. Any fundraising collected above the amount needed to cover for route 2 makers, will be used to support the 3D Printing community. Either by providing free 3D printers to schools and universities or building online platforms to connect, students, researchers and recruiters interested in 3D Printing.
3. Why is N3DPS encouraging makers to be compensated with filamet?
N3DPS believes in covering the material cost of its maker's network. Being able to do so
can encourage the maker and assist them in providing even more mounts than originally planned, supporting further our NHS protective equipment crisis.
4. Can I deliver by myself to my local hospital?
No, we recommend using one of the two routes so that the products are sanitised before
reaching NHS personnel. If your local hospital needs protective equipment, please tell them to get in touch with Medsupply UK via https://www.medicalsupplydrive.com/
If you have any other question not covered in this document, please submit it in the #questions channel in Slack.