Dave from

DesignSpark
How do you feel about this article? Help us to provide better content for you.

Dave from

DesignSpark
Thank you! Your feedback has been received.

Dave from

DesignSpark
There was a problem submitting your feedback, please try again later.

Dave from

DesignSpark
What do you think of this article?
The advantages of videoscopes are well known, with their ability for non-destructive inspection and giving you the inside view of hard to reach locations, which helps identify issues before costly and time consuming tear-down of the system or equipment, however some videoscopes don't give you the full picture as they have limited resolution or are not up to the tasks of surviving the industrial environments and this is where the new Fluke Diagnostic Videoscopes (DS701 & DS703 FC) come in, with their high resolution superior image quality, adjustable lighting to capture the best image, whilst being rugged and built for gritty industrial environments.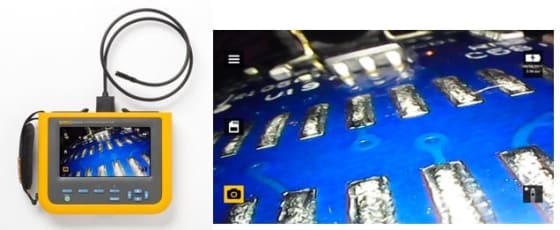 These videoscopes are also ideal for preventative maintenance, as what you can't see can cause costly and time-consuming downtime, so with regular non-destructive inspection internal images can be captured (and shared with Fluke Connect), helping to establish a baseline and maintenance history so planned maintenance can be carried scheduled when needed, which reduces downtime and enhances productivity.
The following video illustrates the new Fluke Diagnostic Videoscopes, which have a resolution of up to 1200 x 720 (DS703 FC) and with the probes being IP68 rated, makes them stand up to the  dirtiest and harshest industrial environments:
Key Features of Fluke Diagnostic Videoscopes that make them stand out from the crowed are:
High resolution for greater clarity
7" LCD screen for easy viewing
High definition probe with dual-view camera, allowing forward or side views for those difficult or hard to reach locations.
IP68 probe, to stand up to the most harsh environments
Up is Up® technology rotates the display screen for appropriate image display, regardless of the orientation of the probe (Only 5MM/1.2M Probe).
Adjustable lighting to capture the best image
Macro and micro zoom function
Fluke Connect (DS703 FC) – Saves time and improves reliability of your maintenance data by wirelessly syncing measurements.
The Diagnostic Videoscopes are rugged and designed for a variety of industrial applications, typically:
Industry - heavy duty maintenance (e.g. inspection of clogged pipelines; corrosion in rotors and stators).
Production (e.g. inspection of bearing surfaces and lubrication; gear helix inspection).
Aviation - aircraft maintenance (e.g. blade inspection; engine hot section contamination).
Automotive - quality assurance (e.g. testing of casting goods; inspection for cracks, chips, and contamination in HP chambers).
Products within these areas can be summarised in the following illustration:

Along with the two Diagnostic Videoscopes there are a range of probes and accessories which are listed below:
| | | |
| --- | --- | --- |
| FLK-DS701 | Fluke Diagnostic Videoscope (800x600 pixels) | |
| FLK-DS703 FC | Fluke Diagnostic Videoscope (1200x720 pixels) | |
| FLK-3.8MM/1M Probe | 3.8 MM Scope with a 1M Probe - Forward View | |
| FLK-8.5MM/3M Probe | 8.5MM Scope with a 3M Probe, Dual View Camera | |
| FLK-5.5MM/1M Probe | 5.5MM Scope with a 1M Probe, Dual View Camera | |
| FLK-8.5MM/1.2M Probe | 8.5 MM Scope with a 1.2M Probe, Dual View* | |
| FLK-8.5MM/1M UVProbe | 8.5MM Scope with a 1M Ultra Violet Probe | |
| FLK-9MM/20M Probe | 9MM Scope with a 20M Probe Reel, Forward View | |
| Fluke DS 7XX Neckstrap | Fluke DS 7XX Neckstrap | |
|   | * Supports Up is Up™Technology |   |