Dave from

DesignSpark
How do you feel about this article? Help us to provide better content for you.

Dave from

DesignSpark
Thank you! Your feedback has been received.

Dave from

DesignSpark
There was a problem submitting your feedback, please try again later.

Dave from

DesignSpark
What do you think of this article?
Here at DesignSpark we always like to hear about great product innovation, we were excited to learn about a new kit that has hit the RS-Components shelves that has a power converter and load PCB that was designed using our free to download DesignSpark PCB software!
The XMC Digital Power Explorer Kit is a new offering from Infineon, utilising their range of industry leading XMC ARM® Cortex®-M Microcontrollers, OptiMOS™BSC0924NDI MOSFETS and IRS2011S high and low side drivers.  The new Kit was designed in collaboration between Biricha Digital Ltd. who offer training and consultancy in the design of analog and digital switch mode power supplies, and Wurth Elektronik, who are a world renowned supplier of electronic and electromechanical components.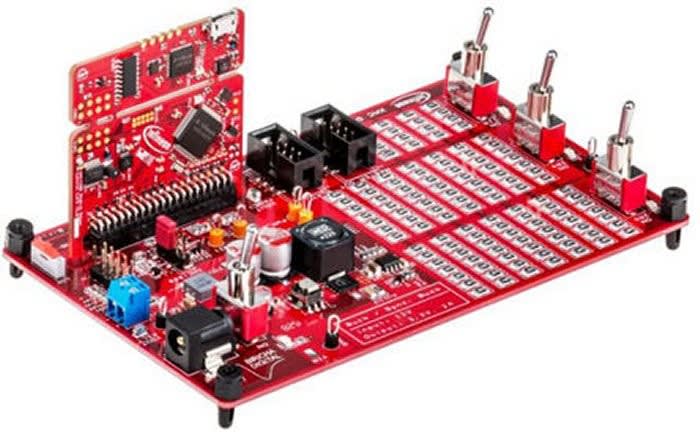 Created as a training platform for analog power supply designers, the kit is also useful for embedded software programmers who need to accelerate their learning curve in digital power control techniques including the use of PMBus. Efficiently performing almost any power topology combinations including voltage, current, or customised control resulting designs can easily be adopted in a range of industrial and telecom DC/DC power conversion applications.
This impressive kit features a Digital Power board which was cleverly designed using DesignSpark PCB by Biricha Digital Ltd. (with Wurth Elektronik providing manufacturing support and components). The XMC Digital Power Explorer Kit also includes two XMC, ARM® Cortex®-M Microcontroller plug-in boards from Infineon, which run Infineon's DAVE™ 4 IDE software development platform for XMC™ Microcontrollers, which is downloaded free of charge from Infineon's web site.
With our excitement here at DesignSpark HQ bubbling over a little at the news regarding the use of our software to design a part of this fantastic kit, we spoke to Dr Ali Shirsaver of Biricha Digital Ltd. and asked why his company chose to use DesignSpark PCB for the design of the Digital Power Board:
'We have been using DesignSpark PCB for a while now, it is free and very nice and unlike some other free products, it does not force you to buy from anyone specific.  Even though  most of the time we buy from RS because if you find your component from RS many times it comes with the outline and the footprint which is very convenient, so you can create outline library, footprint library and BOM with just a few clicks.
The DesignSpark PCB software itself is relatively easy to use and intuitive consider it is free, it has a good library of components that are easy to import, I will definitely be using DesignSpark PCB again for my future projects and designs, many thanks for making it available!'
Biricha Digital Ltd., using this free to download software, circumvented long training times associated with bespoke high-end software systems, and, of course, the high cost! Enabling them to produce a unique fit for purpose design in the least amount of time and take that design to market with the least amount of trouble!