Dave from

DesignSpark
How do you feel about this article? Help us to provide better content for you.

Dave from

DesignSpark
Thank you! Your feedback has been received.

Dave from

DesignSpark
There was a problem submitting your feedback, please try again later.

Dave from

DesignSpark
What do you think of this article?
You have been busy creating your next electrical circuit design using DesignSpark Electrical, but you need to renumber your design after a few modifications. Fresh from the pages of the DSE Zendesk is this tutorial that should tell you everything you need to know! Zendesk is the support area for all of our free design tools. Ideal if you need to brush up on your skills.
DesignSpark Electrical has options for numbering equipotentials (short-circuits) and wires.
To start numbering, make sure you have a project open. Then;
1. Navigate to the Project tab -> Configurations -> Project
2. To modify and/or toggle display of equipotential conflicts and wires, use the Graphic tab.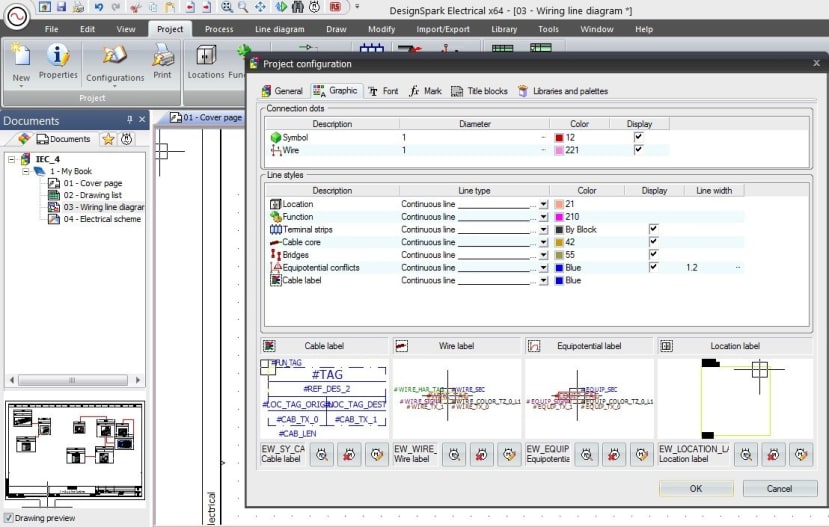 3. Change the numbering label text font type, size, etc. from the Font tab.
4. Change the direction of numbering from the Mark tab.

5. Under the wire styles configuration, you can find further options to switch numbering modes (equipotential/wire) and text layouts.

6. A set of wiring lines can be classified into numbering groups. Right click on the group name to access a variety of tweaks including numbering display toggle, starting number/order, uniqueness level of wires in group and calculation of multiple wire order numbers.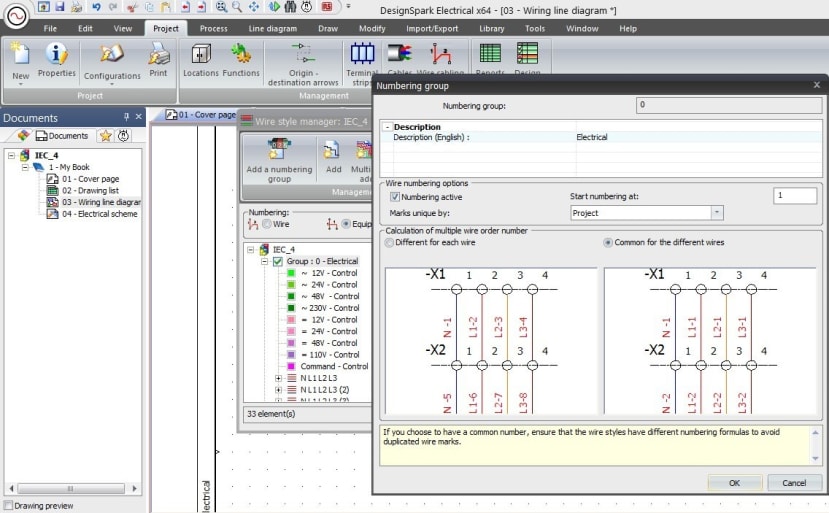 7. For individual wires, modifiable properties include numbering formulae (double click to change) for drawing, terminal strips and wire lists. This formula is used to process the formatting of the number and to store it in an EQUIPOTENTIAL variable.
8. In multiple wire groups, individual properties of conductors can also be modified with the right-click properties tab similar to wire settings.

9. To execute the settings you have just applied in the above steps, you'll need to switch to the Process tab
Wire numbering is done at two levels.
The first level is used to number new wires (does not modify the existing numbering) and the second level allows you to recalculate all the numbers.
10. Editing wire marks:
The command used to edit a wire mark is available in the contextual menu for the wire. It can be used for multiple selections.
The wire number will be changed to manual mode. If you enter a number that already exists in a project, a message will be displayed.
Click here to read and comment on this Zendesk tutorial
Need to learn more about using DesignSpark Electrical? Click Here