Dave from

DesignSpark
How do you feel about this article? Help us to provide better content for you.

Dave from

DesignSpark
Thank you! Your feedback has been received.

Dave from

DesignSpark
There was a problem submitting your feedback, please try again later.

Dave from

DesignSpark
What do you think of this article?
From February 21st, 2020, a new version 2.0 of DesignSpark Electrical is downloadable here: https://www.rs-online.com/designspark/electrical-download-and-installation

Please pay attention to the important and required actions in the service e-mail to all DSE users dated February 24th / 25th, 2020, about the mandatory update to v2.0 from v1.x (where 'x' refers to the point release- 0, 1, 2, or, 3).
As a v1 user, it is important to note again that there is a revised page limit of 3 schematics & wiring line diagrams in v2. This does not affect reports. Your existing v1 projects wiith more 3 wiring schematics will be impacted, so please see the suggestions here on how to continue your work.
Before uninstalling DSE v1.x for the v2.0 update, please backup a copy of your C:\ProgramData\DesignSpark Electricaldata folder to a safe location. This directory contains your unarchived projects which you can replace, in case it is accidentally lost during the uninstallation of DSE v1.x.
Here's a list of enhancements in v2.0 and details on each point is in the full changelog on DesignSpark support area: https://designspark.zendesk.com/hc/en-us/articles/360005937938
New command to insert macro (as a symbol)
New interface to manage revisions
Hyperlink in report drawing as in report manager
Navigate from wiring cabling order dialog to scheme
New parameter allowing you to select the type of symbol used in the renumber components feature
Black box terminals can be displayed by using connection points and attributes
Filters for location, function and book in search drawing dialog
Adding a symbol to the palette
Option "Dimension unit" to choose units to display wires, cable, manufacturer part dimensions in interfaces
Origin destination manager - delete multiple arrow at once
Improvements in the Copy/Paste special command
Project archive
Project configuration
To have descending sort condition in the report configuration
Support multiple wire styles with several "Control" conductors
Reports - Automatically maximize column width in preview to fill available space
Ability to add the project name into reports
You will also notice some changes in available design options after updating to v2.0 from v1.3, and these have been addressed in the FAQs here: https://www.rs-online.com/designspark/designspark-electrical-dse-is-changing/questions
This version of the software is developed by SOLIDWORKS and they are offering a paid upgrade to unlock page limits and more features:
A paid upgrade option is now available for SOLIDWORKS® Electrical.
You're also eligible for a significant discount on the upgrade if you had activated DesignSpark Electrical v1 before November 30, 2019.
This discount applies to the following SOLIDWORKS® Electrical packages and is valid on purchases until December 31, 2020:
SOLIDWORKS® Electrical Schematic Standard CAD software- perpetual licence + optional one-year subscription service
SOLIDWORKS® Electrical Schematic Professional CAD software- perpetual licence + optional one-year subscription service
SOLIDWORKS® Electrical eCourse- one-year access**
**Only with purchase of both software licence and subscription service
Upgrade order placement and queries:
Send an e-mail to SOLIDWORKS.DSE-upgrades@3ds.com mentioning you are a DesignSpark Electrical user, your DesignSpark registered username and which country you are located in. If you have a preference of standard or professional version, please indicate that in your e-mail. SOLIDWORKS® will quickly verify your discount eligibility and help you with next steps (price, order placement, etc.).
If you'd like to see more information on how this upgrade could help you, look out for:
Live/on-demand SOLIDWORKS® Webinars – topics available here https://www.rs-online.com/designspark/electrical-software/questions/11-dse-v1-3-v2-0 and registration links will be updated in due course through DesignSpark newsletters and our website.
DesignSpark blogs by SOLIDWORKS representatives. Coming up from February 24th https://www.rs-online.com/designspark/are-purpose-built-schematic-design-programs-really-much-faster-than-generic-cad
SOLIDWORKS® Electrical case studies and Whitepapers offered to our DesignSpark marketing opted-in users.
Follow our DesignSpark social media feeds where videos on the upgrade capability will be shared.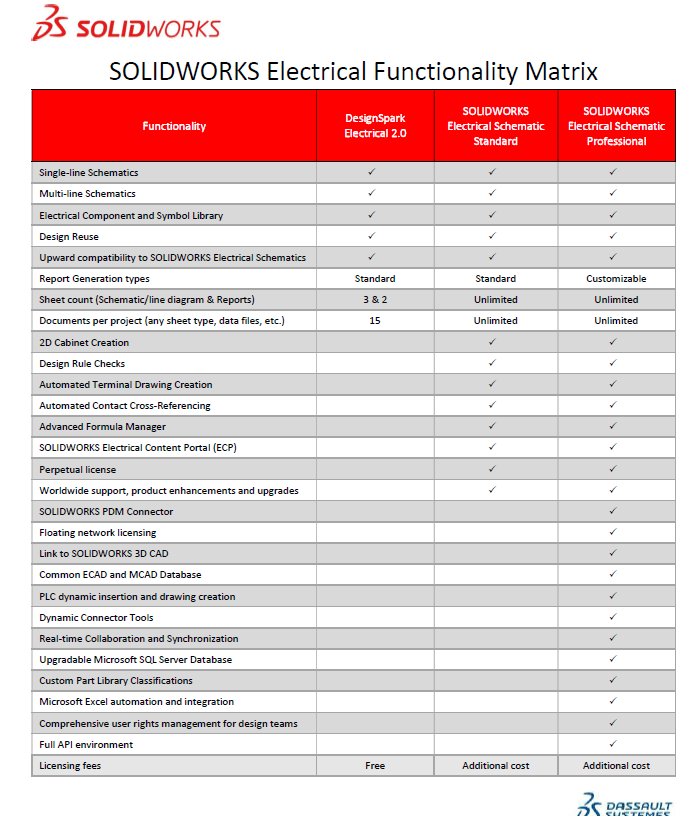 Attached is also a detailed guide on how to migrate your projects from DSE to SOLIDWORKS Electrical (SWE) once you have purchased the licence & installed SWE.
Read more about the SOLIDWORKS Electrical product family including DSE 2.0 here:
https://www.rs-online.com/designspark/new-designspark-electrical-and-solidworks-electrical-product-family