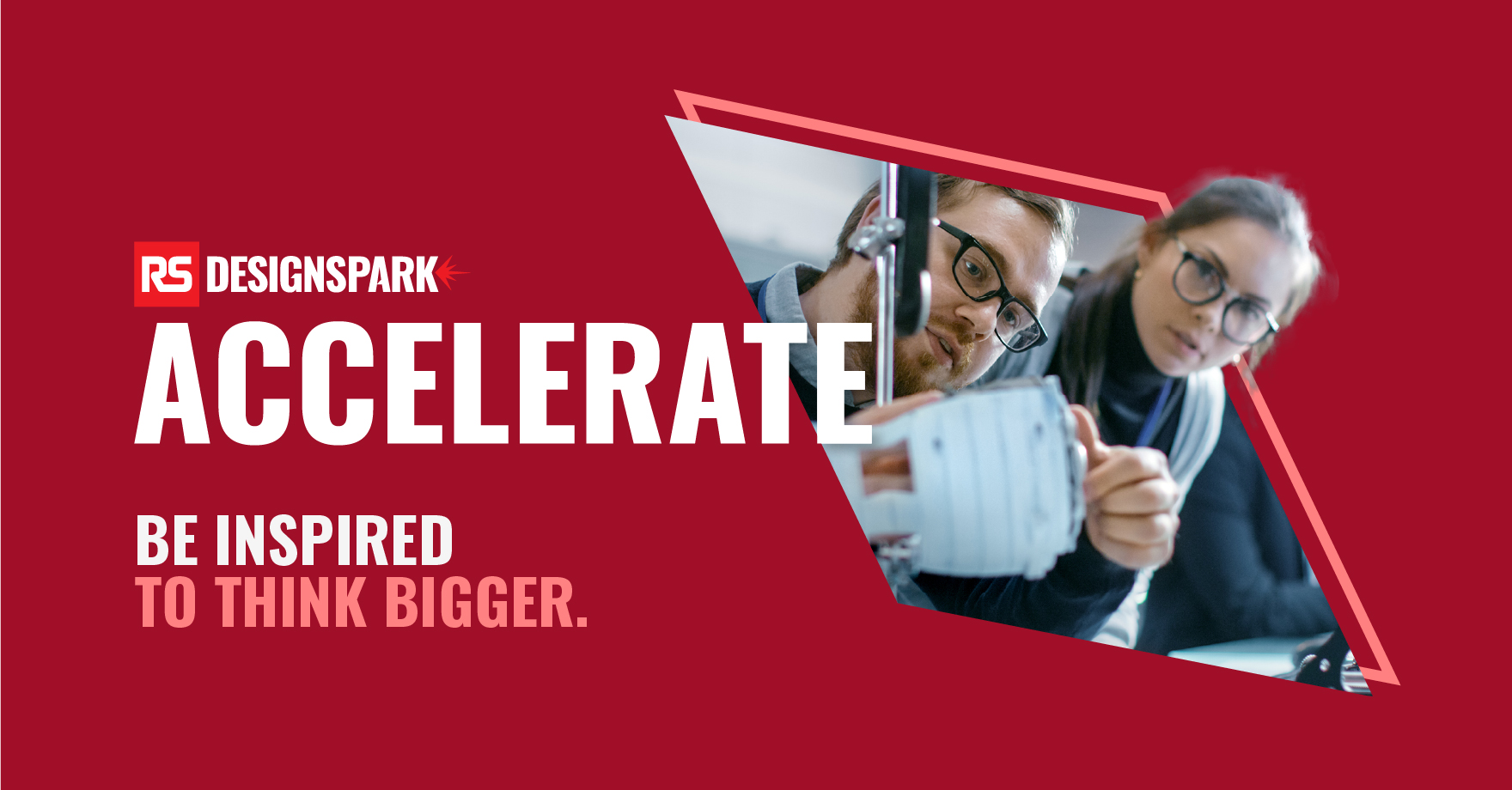 Need $50,000 to develop your big idea? You've come to the right place.
Apply to the Accelerate program below. Selected applicants will be eligible to participate in the 12-month Accelerate program and qualify for up to $50,000 of in-kind funding.
Apply Here
What are the goals of the program?
Program Timeline

Program approved by the RS Group
Frequently asked questions
Who is eligible to apply for Accelerate?

We are looking for new and unique manufacturing or industrial technologies. Anyone that has an idea, prototype, start-up (even if you're already trying to secure a Series A) is encouraged to apply. While there are no specific minimum requirements, preferred applicants will show exemplary problem comprehension and a deep-rooted passion for their project.
What kind of companies is Accelerate targeting?

Accelerate is designed to support industrial and manufacturing technologies. Focus areas may include, but are not limited to, supply chain technologies, smart building devices, Industry 4.0, digital factories, and energy management.
How many companies will be accepted into the Accelerate program?

We will be selecting four companies for the 2023-2024 program. Three will be considered "in-person" while the fourth will be considered "virtual."
What is the process to be accepted into the Accelerate program?

Considered applicants will contacted for an interview with the Accelerate selection committee. Applicants will be notified after their interview with a program acceptance decision.
Where is the Accelerate program located?

The Accelerate program will be based out of Bryan/College Station, Texas in the DesignSpark Innovation Center (DSIC). For more information on the DSIC, please visit: https://lakewalktx.com/innovation-center/
Is there a virtual option for participating in the Accelerate program?

We are accepting one virtual participant and three in-person participants for the 2023-2024 program.
Do I have to move near the DesignSpark Innovation Center?

In-person participants will have dedicated onsite office space, events, and meetings at the DSIC. It is up to the individual companies if they want to commute to the office or stay nearby.
How much time will Accelerate activities take away from my schedule?

Participants will be required to attend at least one meeting per week with Accelerate staff for progress updates. We will also coordinate multiple networking, learning, and social events that participants will be highly encouraged to attend. The required activities may be adjusted during onboarding based on each participant need.
Does Accelerate have a participation fee or require equity?

There are no fees and participation does not require equity. We are looking for companies that are working on things valuable to RS, our customers, or our suppliers. RS will get value over time from the product, service, or solution that participants develop and bring to market.
What is the partner network that we would have access to through participation?

We are focused on growing each participant's professional network. Participants will have access to the entire RS network: suppliers, customers, seasoned technical experts, etc. Each participant will also be paired with a business mentor.