Dave from

DesignSpark
How do you feel about this article? Help us to provide better content for you.

Dave from

DesignSpark
Thank you! Your feedback has been received.

Dave from

DesignSpark
There was a problem submitting your feedback, please try again later.

Dave from

DesignSpark
What do you think of this article?
We see large E Stop's on all sorts of machinery and equipment, where there is plenty of space to fit in the foolproof e-mech mechanisms needed to meet safety regulations - but what about space critical applications like handheld controllers?
So the equipment you make could present a risk of injury to the operator, other persons, or damage to the equipment if things go wrong during operation.
You've done a risk assessment and the combination of the likelihood of a hazard and the severity of potential injury and/or damage to the equipment indicates that you need a proper, certified Emergency Stop function.
There are lots of regulations relating to the use and design of the Emergency Stop function, such as the EN ISO 13850 and EN60947-5-1, but in essence you need to provide a foolproof means where a human can use a single action (like the press of an Emergency Stop switch) to bring the equipment to safe stop that prevents hazards or injury. In addition, it should not be possible to get things restarted without a deliberate action to reset the Emergency Stop function and then to have a separate restart of the equipment.
In many modern designs, the ergonomic and aesthetic design of the equipment favours a small and compact controller that can be comfortably handheld or worn as a belly box. Applications might include lifting and handling equipment like cranes and hoists or wired pendant controllers.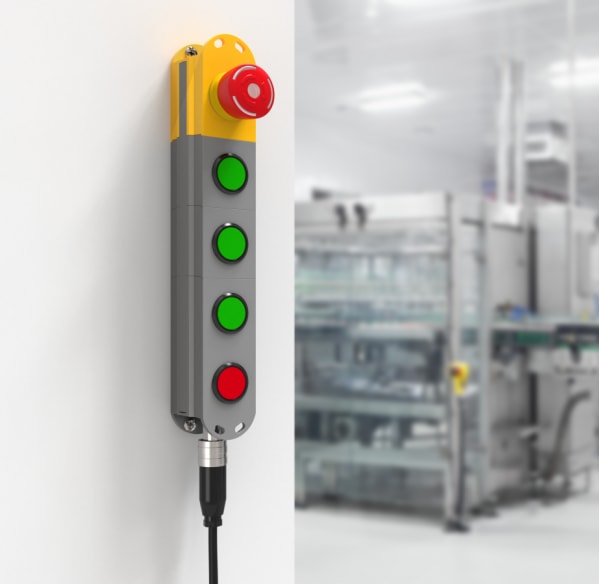 Alternatively, the Emergency Stop function may need to fit in the same low depth enclosure as a touch screen.
Fortunately, cramming all the electomechanical components into a compact Emergency Stop whilst still retaining the safety features and design elements to meet EN ISO 13850 and EN 60947-5-5 legislation is EAO's speciality.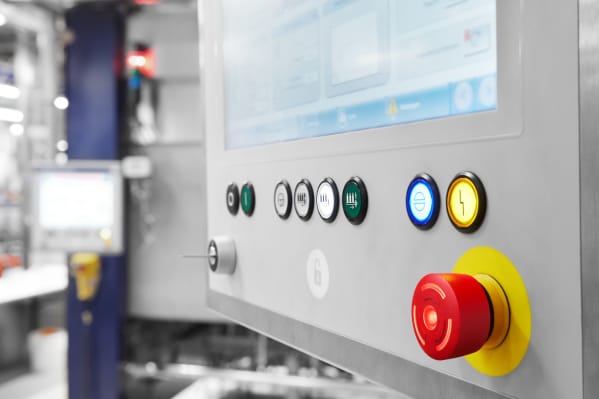 With innovative designs, intuitive operation and reliable products, the EAO Series 61 Compact E Stop saves front panel space with its 16mm mounting hole, 27mm diameter head (optional 40mm version) and low mounting depth of only 21.2mm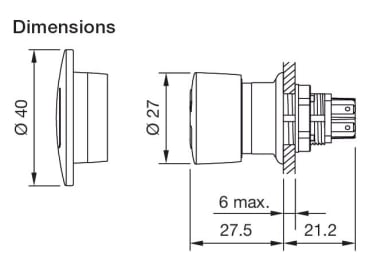 There are up to three separate contacts per E stop all safely built into a reliable mono-block design where the contact block cannot come loose and the front is jet-wash proof to IP69K - good enough for the most demanding environments.
The Series 61 compact is designed for low voltage applications up to 50V and with gold contact for low current switching up to 0.2A. There is also the option for high brightness LED spot illumination.
Explore the range: Series 61 Compact
Higher Voltage Compact 22mm Mount E Stops
Space critical applications that require a higher switching voltage of up to 250V, but still need a compact size are catered for by the EAO Series 84.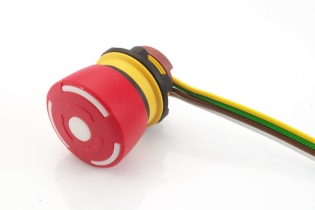 With a larger 22.3mm mounting hole and a 3A max rating they still offer a low back panel depth as low as 13.5mm flying lead and 18mm for plug-ins – so they fit even the most compact enclosures. 
Explore the range: Series 84
So, with such a range of actuator styles, sizes and illumination options, you can design an innovative, intuitive and reliable Emergency Stop function into even the smallest space envelope.
EAO is your expert partner for human machine interfaces - so contact us for advice on your HMI design.