Dave from

DesignSpark
How do you feel about this article? Help us to provide better content for you.

Dave from

DesignSpark
Thank you! Your feedback has been received.

Dave from

DesignSpark
There was a problem submitting your feedback, please try again later.

Dave from

DesignSpark
What do you think of this article?
Whether you are designing outdoor luminaires or systems for commercial refrigeration, the field of lighting is taking advantage of a broadrange of innovation across industry. Whether you are creating a new system or enhancing an existing design, TE is your lighting solutions provider for electromechanical and electronic components that seamlessly integrate controls and transmit power and data across multiple building systems.
Lumawise
TE Connectivity partners with the leading LED and optics manufacturers in the industry to bring you connector solutions for your choice of LED array.
TE Connectivity provides a broad range of solderless LED holders that provide fixture designers an easier way to integrate LEDs into their designs. The scalable, Type Z and custom holder platforms each offer the designer a unique suite of features and benefits. These LED holders form the core of the fixture ecosystem by integrating LED electrical, mechanical, thermal, and optical interconnectivity. These holders can accelerate time to market, minimise applied costs, facilitate easy integration, and improve assembly efficiency when compared to traditional methods of LED integration.
BUY THE LATEST LUMAWISE CONNECTORS FROM RS COMPONENTS
Nector M
The NECTOR M power system is a flexible, fully pluggable, modular wiring unsealed and sealed connector and cabling system for permanent power and data circuit electrical installations in the construction industry. The NECTOR M provides a reconfigurable, "plug and play" alternative to traditional hard-wired electrical connections.
It's round design drastically reduced installation time especially compared to rectangular connector systems in nearly any indoor installation. The enhanced systems allow electrical contract manufacturers the ability to engineer, design and build power distribution units, electrical devices and cable assemblies off-site that result in reduced on-site labour costs, increased efficiency and improved reliability for permanent electrical installations.
BUY THE NECTOR M FROM RS COMPONENTS
LIGHT-N-LOK
The LIGHT-N-LOK series is a poke-in termination system designed for LED lighting.  It is intended to provide easy, tool-free termination installations for field or factory applications.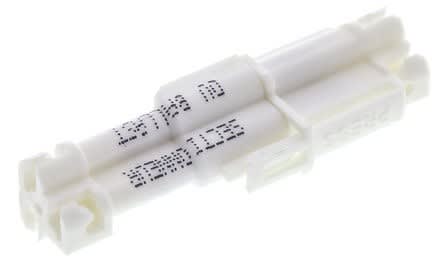 It has a number of key features that are key in lighting design.  The rounded form of the connector helps to prevent snagging of wires, and also helps to reduce casting of hard shadows in lighting designs.  They are hot-pluggable, making installation quicker and simpler.  The connector housings are compact and are designed to fit through small openings, again assisting with installation.  They also feature Connector latches prevent unintentional disconnect of connector integral strain relief to prevent inadvertent wire twist out and pull out.