Dave from

DesignSpark
How do you feel about this article? Help us to provide better content for you.

Dave from

DesignSpark
Thank you! Your feedback has been received.

Dave from

DesignSpark
There was a problem submitting your feedback, please try again later.

Dave from

DesignSpark
What do you think of this article?
The dream of millions to have a truly automated home is finally with us. The desire for an automated home has been around for decades, from 1950's black and white television infomercials to science fiction spanning the whole spectrum from The Jetsons to I, Robot. The technology to enable this revolution in the way we live has, for many, been just out of reach.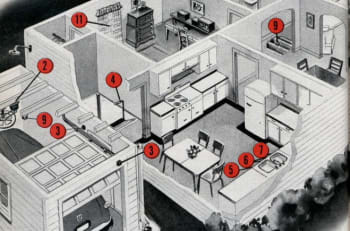 Home Automation - 1950's style...
This is changing. The idea of a Connected Consumer is a new concept, and is driven by the power that millions of us carry round in our pocket in the shape of a smartphone. When combined with the continuous evolution of electronic systems and explosion of the internet, this has finally created the conditions whereby the average homeowner can control their entire home from their armchair.
Key to this new world will be the components that engineers will need to design appliances that can not only interact with the Internet of Things, but can play a central role in the home of tomorrow.  Global leader TE Connectivity (TE) is at the forefront of component technology.
Connectors
Interconnection technology is at the heart of appliances within the automated home.  Whether a connector is a humble terminal block, a low profile spring finger to the latest in state-of-the-art, fine pitch flexible printed circuit (FPC) type, TE has been at the cutting edge of connector design for decades. With solutions for power, data, signal and networking, TE has the complete offering for all of your connector needs.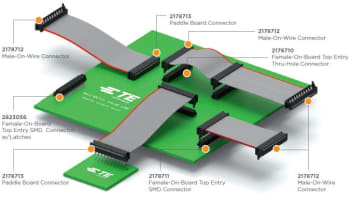 VIEW THE HUGE RANGE OF TE CONNECTORS AVAILABLE FROM RS COMPONENTS
Sensors
One of the key differences between a truly automated home and one simply controlled remotely is the feedback provided by sensors. Sensors allow appliances to monitor themselves, adjust their operation or generate messages to the user concerning their status. Sensors can either be connected to the control board directly, or be part of the wiring harness of the device. 
TE's sensors are at the forefront of sensor technology with both analogue and digital outputs, making it easy to interface with I2C and SPI Networks.  The TE range of sensors are all designed with connectivity in mind, and include options for monitoring temperature (including both traditional and non-contact versions), humidity, vibration, and position.
VIEW THE MARKET LEADING RANGE OF TE SENSORS AVAILABLE FROM RS COMPONENTS
 Relays
Relays are vital for the remote control of electrical circuits. Relays and contactors are employed where it is necessary to control an electrical circuit with a low voltage signal, perfect for use in an internet-connected application. TE has a wide range of products from small, PCB-mounted low power relays such as the RE Series up to large power relays like the T9A Series, making them the ideal partner for any design including access control systems, lighting, HVAC, and a wide range of other safety-critical applications.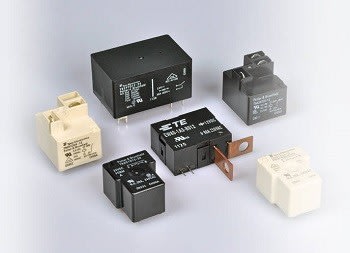 VIEW THE COMPLETE RANGE OF TE RELAYS AVAILABLE FROM RS COMPONENTS
Passives
At the heart of every electronic design is an array of passives. TE has been a major player in the passives market for many years.  TE offers not only a range of inductors such as the 3640 Series, ferrites like the BMB Series and resistors such as the 3521 Series Thick Film Resistors, all of which are ideal for designs in the home automation sector, but also has a range of board-level shielding products for limiting the effect of EMI on the modern mobile devices.