Building a Clone of a VCS 3 Synthesiser Part 1: Sourcing PCBs and Planning the Build
Follow article

Dave from

DesignSpark
How do you feel about this article? Help us to provide better content for you.

Dave from

DesignSpark
Thank you! Your feedback has been received.

Dave from

DesignSpark
There was a problem submitting your feedback, please try again later.

Dave from

DesignSpark
What do you think of this article?

Electronic Music Studios Synthi VCS 3 II (1973) Musikinstrumentenmuseum Berlin. Public Domain.
Planning the build of a vintage 1970s VCS 3 Synthesiser clone including research into its history and previous examples of other clones.
The Voltage Control Studio 3 (VCS 3) is a very early synthesiser developed by EMS (Electronic Music Studios) in the UK around 1971. It is in effect a modular synth consisting of sound generators that can be modified by routing them through various effects via a pin matrix.
History
The VCS 3 was developed by EMS, headed by Peter Zinovieff and with David Cockerell being responsible for the electronics, with the case designed by the electronic music composer, Tristram Cary, another founder member of EMS.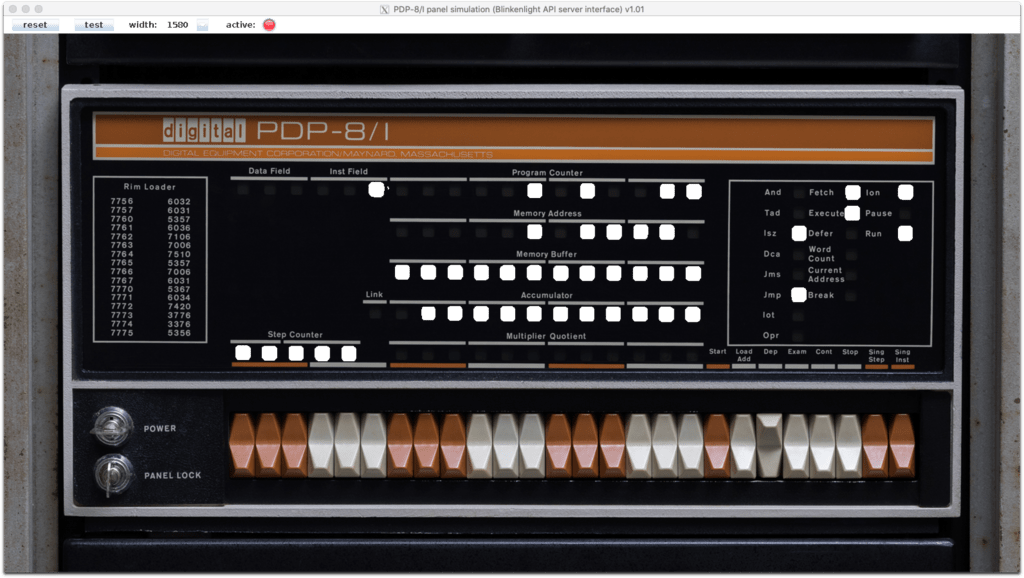 The front panel of a PDP 8-1 Computer – source https://github.com/j-hoppe/BlinkenBone/
Zinovieff had been interested in electronic music for some time and acquired two DEC PDP8 minicomputers and, along with Cockerell, had developed a software program called MUSYS which used punch-paper to control various analogue synthesiser modules. In the mid-1960s it would be extremely rare for a private individual to own one 12-bit computer with 1K memory and a video monitor, let alone two. To then use them to produce music was even more extraordinary. Peter Zinovieff is quoted as saying "I was lucky in those days to have a rich wife and so we sold her tiara and we swapped it for a computer. And this was the first computer in the world in a private house." In spite of the tiara, the VCS 3 was developed to raise some money to support EMS when it started to struggle financially. It was aimed initially at the education market and retailed for just under £330.
Description
The VCS3 comprises three oscillators, two of which are the primary sound sources producing frequencies from below 1Hz to around 10kHz in various waveforms – sine, triangle, sawtooth and pulse. The third is a Low-Frequency Oscillator or LFO. There is also a noise generator that produces white or pink noise. On the effects side, there is a Ring Modulator, a trapezoid envelope generator, a low pass filter and a spring reverb. There is also a built-in stereo amplifier and speakers.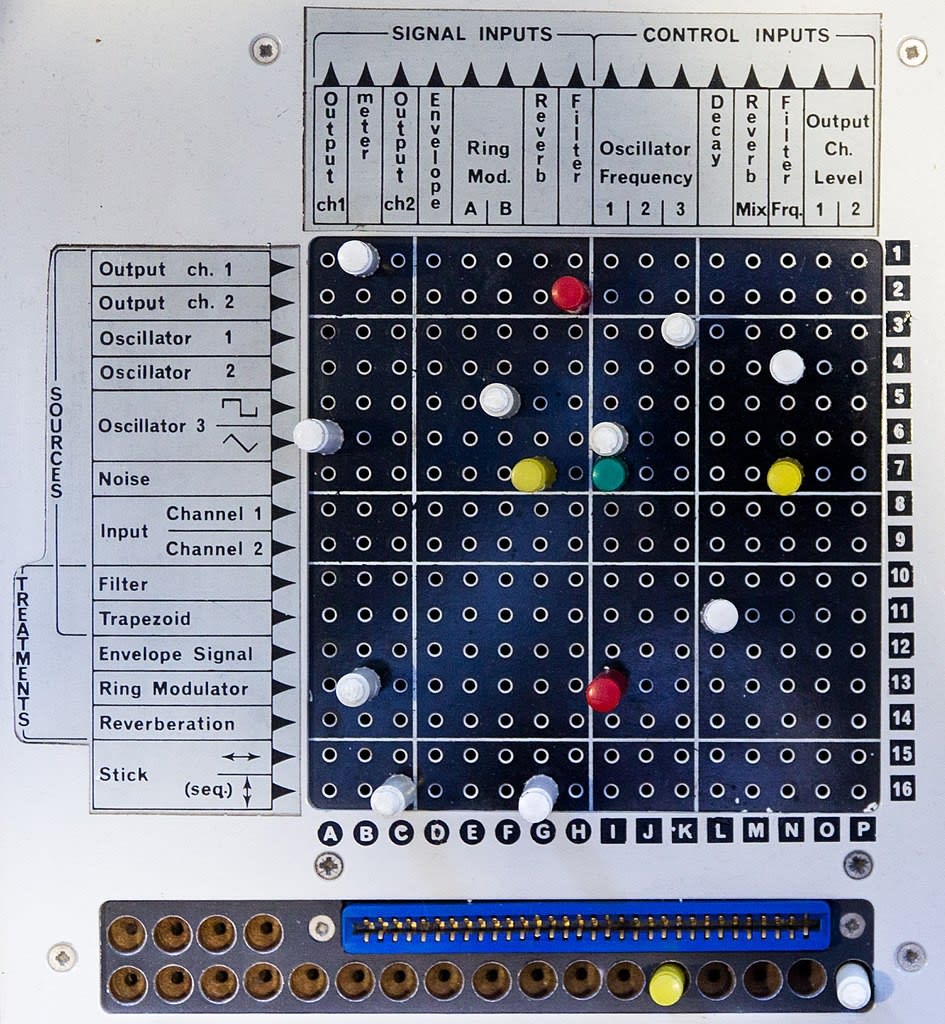 Routing matrix of an EMS VCS3 synthesizer, taken at the Musikinstrumentenmuseum in Berlin. Licensed under Creative Commons Attribution-Share Alike 3.0 Unported
The modules are connected using the distinctive pin matrix.
All this produces sounds you may be familiar with from music, such as Pink Floyd's "On The Run" from Dark Side of the Moon, the Who's "Won't Get Fooled Again" or Brian Eno's synth solo in Roxy Music's "Virginia Plain".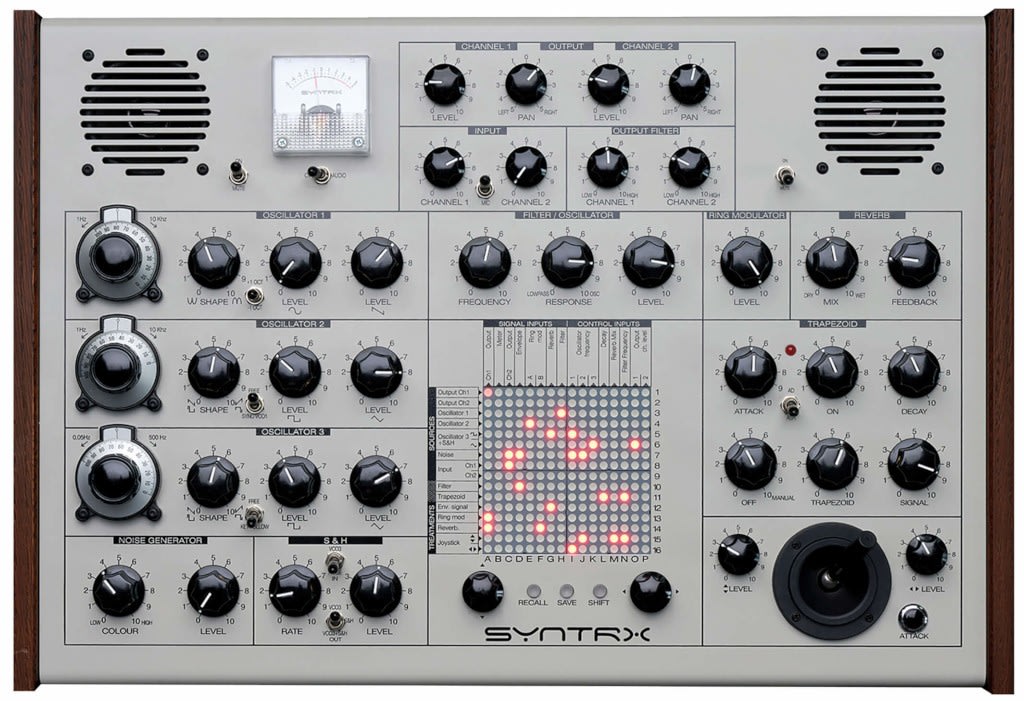 The Sintrx Synthesiser by Erica Synths
There has been renewed interest in the VCS 3 recently, partly due to the increased interest in modular synthesisers in general and fuelled further by the German electronic music manufacturer, Behringer, announcing they were going to produce a clone — as well as the well respected Latvian company Erica Synths producing the Syntrx, which it describes as a homage the VCS 3
Close Encounter
I first came across a VCS 3 when I was doing a foundation course at Rochdale Art College in 1974 and became fascinated by it, producing a series of tapes (now sadly long lost) for my portfolio, which gained me access to Maidstone Art College's Film, Video and Sound department. There I happily discovered another VCS 3, this time the A version that was housed in a Spartanite briefcase. I was inspired by my youthful encounter with the VCS 3 to build my Modular Synthesiser but also wondered if it would be possible to own the real thing.
Vintage examples seem to go for four-figure sums, so that was out of the question. They are still being built in very small numbers, but again they are very pricey and the waiting time seems to be over 5 years. The only way would seem to be to build a clone myself.
Building a VCS3 clone
The obvious route for building your own VCS 3 clone is the kits produced by the Cloney Project. Unfortunately, just as I decided to embark on my DIY project they announced they would not be producing any more kits.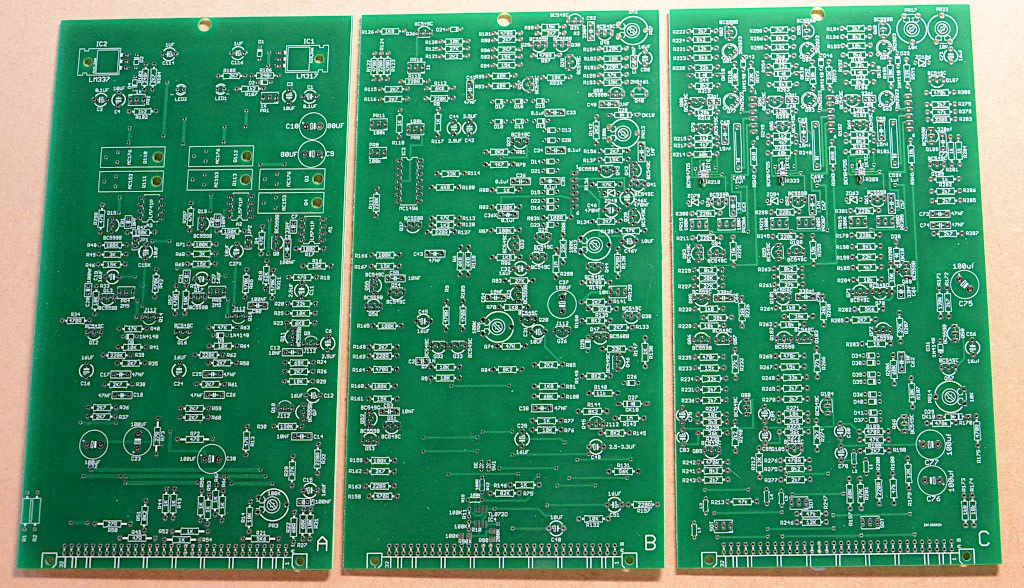 I managed to find someone on eBay who was making and selling copies of the 3 main circuit boards, so as a start to my project, I ordered them and started putting together a BOM. This involved a little detective work as the BOM supplied was not complete and I think was for an earlier version of the boards.
I had some pictures of the completed boards that were included when I purchased them, and the PCBs themselves were clearly marked, but some of the components were new to me, such as the large transistors with what appear to be built-in heat sinks.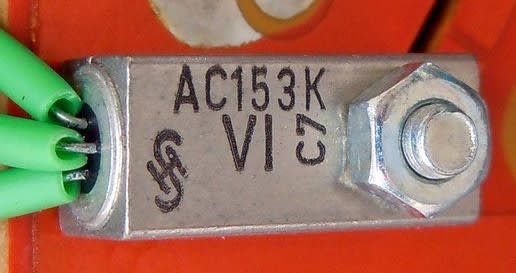 Image courtesy of Wilfried Hofmüller
Some research reveals they are germanium transistors, which I know are much loved by people building old-style guitar effects pedals, as they give a more authentic vintage tone. I also found this quote on Sussex VCS, a site created by someone who had built a similar clone: "When the speakers were un-muted there was very nasty distortion and oscillation. … Suspecting the silicon transistors I bought the correct AC176K and AC153K germanium transistors ... using them worked. So it looks like the output amps require these old parts."
Once those PCBs are populated there is just the simple job of connecting all the controls to them, sourcing and wiring up the matrix, sorting out a power supply and building a case – so I am in this for the long haul. On the plus side, there are a few examples of others who have gone down this route and I know that Huddersfield University, which is close by, has two original examples and so I am hoping that once Covid restrictions are lifted, I will be able to go and take a look at them. There is nothing like seeing the real thing "in the flesh" for working out how everything connects up.
In Part 2, I'll be getting to grips with DesignSpark Mechanical, trying to source unusual components, and coming up with alternatives to progress the build of a 1970s VCS3 synthesiser