Building a Clone of a VCS 3 Synthesiser Part 2: Designing the Enclosure and Starting Soldering
Follow article

Dave from

DesignSpark
How do you feel about this article? Help us to provide better content for you.

Dave from

DesignSpark
Thank you! Your feedback has been received.

Dave from

DesignSpark
There was a problem submitting your feedback, please try again later.

Dave from

DesignSpark
What do you think of this article?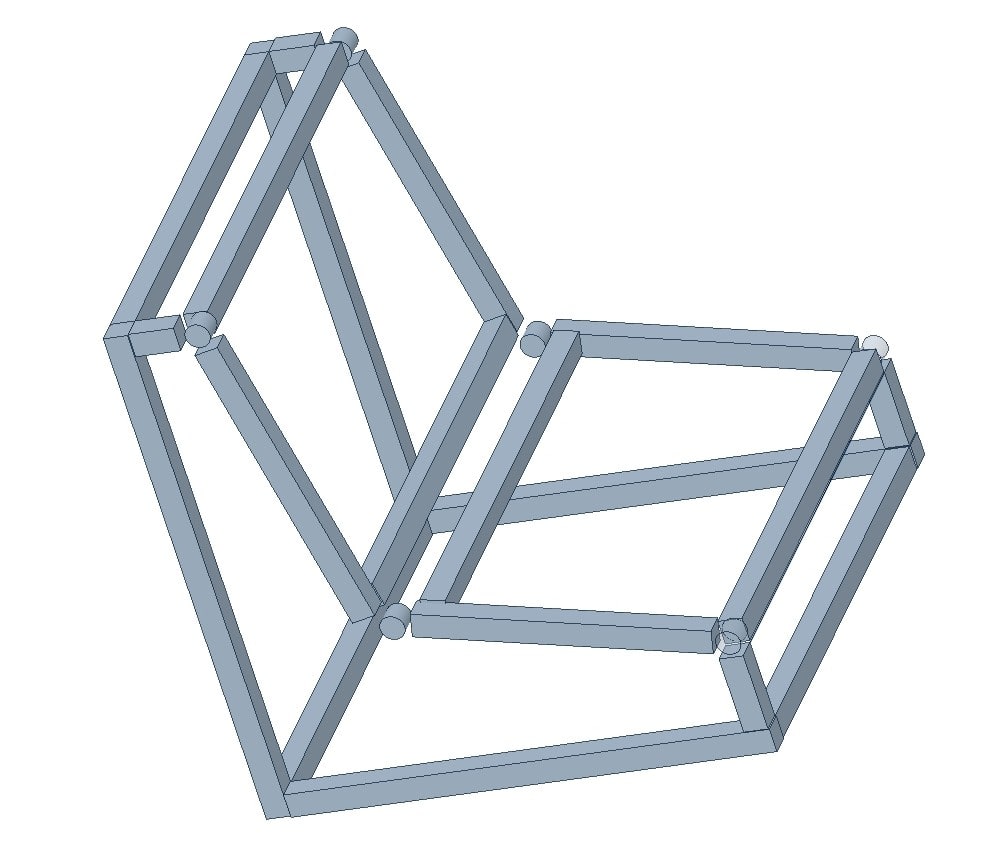 Getting to grips with DesignSpark Mechanical, trying to source unusual components, and coming up with alternatives to progress the build of a 1970s VCS3 synthesiser.
After my first blog post, I have had a bit of a re-think on the design of my VCS3 copy. Given my lack of woodworking skills and the difficulty of obtaining some of the more unusual parts, I have decided that it would be sensible to build a copy rather than a clone; I am aiming for something that has the authentic sound and feel of the original, but without being a slavish clone.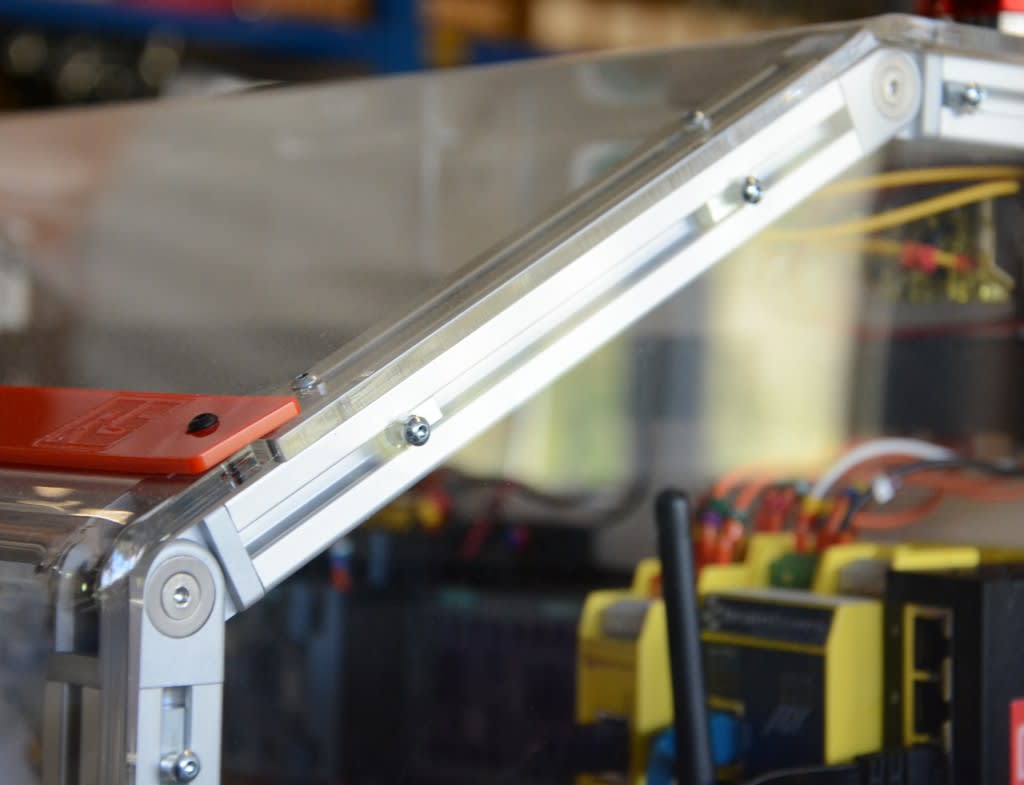 Given my experience of building cases with 2020 aluminium extrusion, I decided that would be a good option for the enclosure. I had used the RS Pro Pivot joint (180-9134) on previous projects and so knew it would be good for the joints that were not right angles. I can build a frame, then design and make the panels from laser cut acrylic — similar to the process I employed building the Lyra 8 — and use veneered wood sides to give it a bit of a retro feel.
DesignSpark Mechanical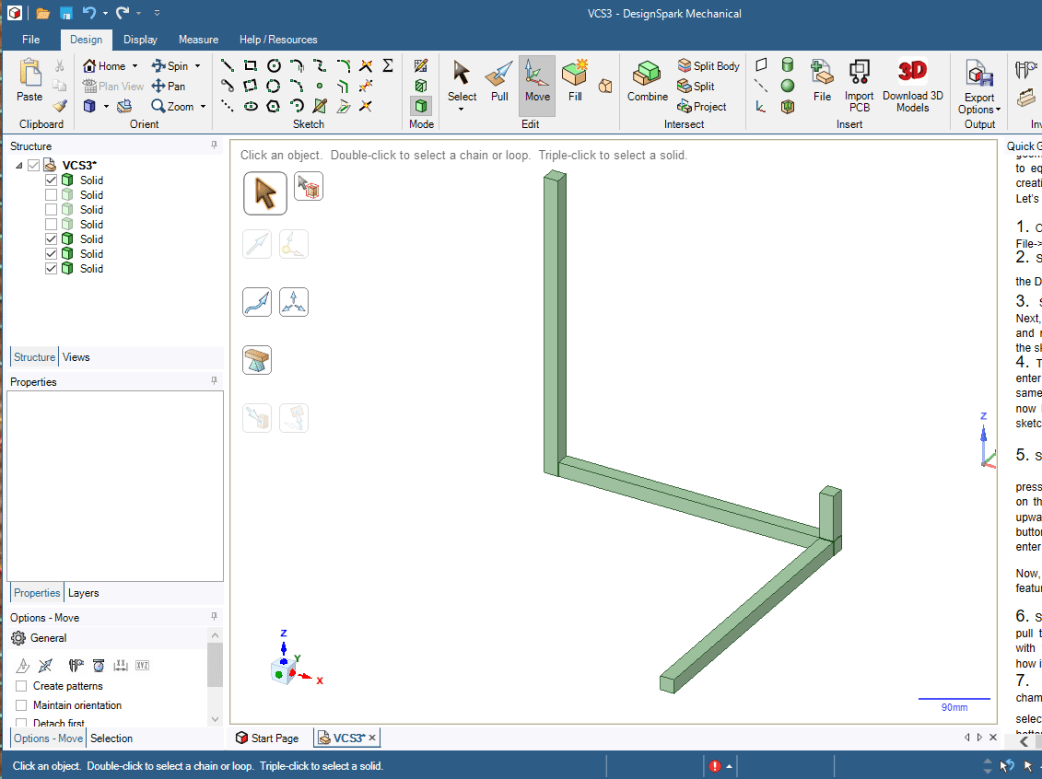 With that in mind, I started to design a case using DesignSpark Mechanical, basing it on the original shape and similar dimensions. As it was some time since my first encounter with the software, it took me a little while to get reacquainted, but it was a good way to try things out and, once I had got the hang of it, kept tweaking the dimensions until I was happy with it. There are importable 3D models of the 2020 aluminium extrusion, but I actually found it easier just to create and manipulate my own. I have used a simple 20mm deep by 20mm diameter cylinder to represent my pivot joints.
Panel design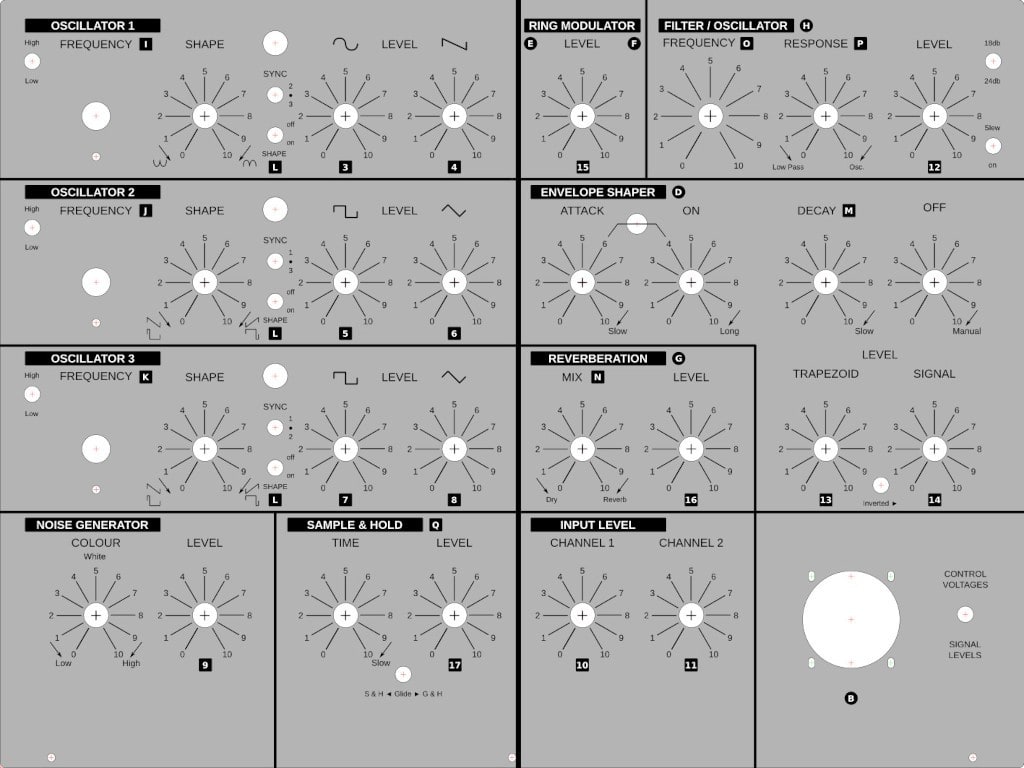 Now back to my old friend Inkscape to work on the panel design. I knew what dimensions my panels needed to be now that I had the case frame sorted and I decided to keep as close to the original VCS3's placement of control's as possible. Information on the original VCS3 dimensions was hard to come by, but I looked at loads of pictures and worked out something that felt right.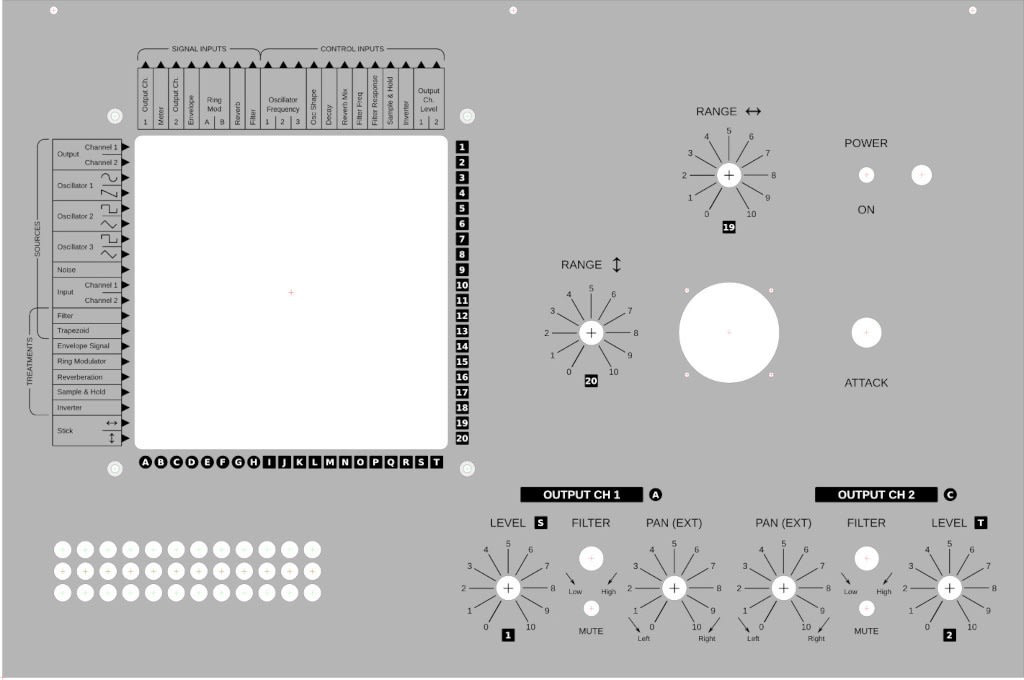 The top panel was fairly straight forward – I may need to adapt the bottom one depending on the outcome of my decision on the pin matrix (see below).
Hard to find components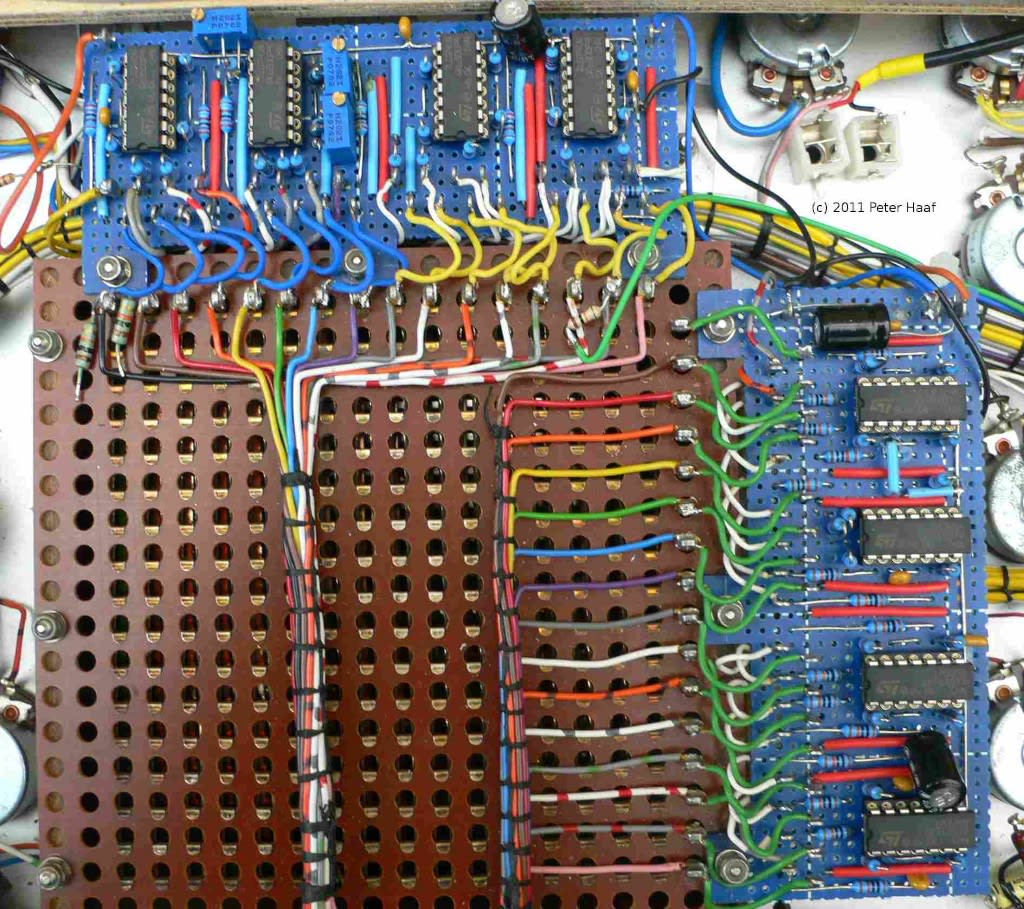 The pin matrix is a central feature of the VCS3 so, although I had decided I was not going to build anything like an exact copy, I felt I needed to retain this feature.
Peter Hinton, an expert on servicing and modifying the VCS3, has been very helpful in my research into the pin matrix and the image above of the rear of the matrix is taken from his website.
The patch matrix presents a real problem. I only found one company that manufactures and sells them - Ghielmetti in Switzerland. I contacted them and received a quote for well over 400 Euro for their 20 x 20 panel — without any plugs — and which put it out of my price zone.
Another option is to build a patch matrix using 2.5mm jack sockets (010-6830) . Given that a 20 x 20 panel would need 400 sockets this would be time-consuming and would take up more space than a manufactured one, but it may be my only option.
As an alternative that retains some of the feel of the original, I am also looking into the possibility of using an electronic matrix as used in the Erica Synths Syntrx I mentioned in the previous blog post. I am still trying to track down a supplier for such a thing.
Another slightly quirky feature of this synthesiser was the joystick. Apparently, many of the original parts of the VCS3 were sourced from the electronics shops that used to line the Tottenham Court Road in London and this is where the joystick came from - presumably originally manufactured for use in early video games machines. Fortunately, I found a suitable alternative (467-9032) to the original, so that did not present quite such a challenge.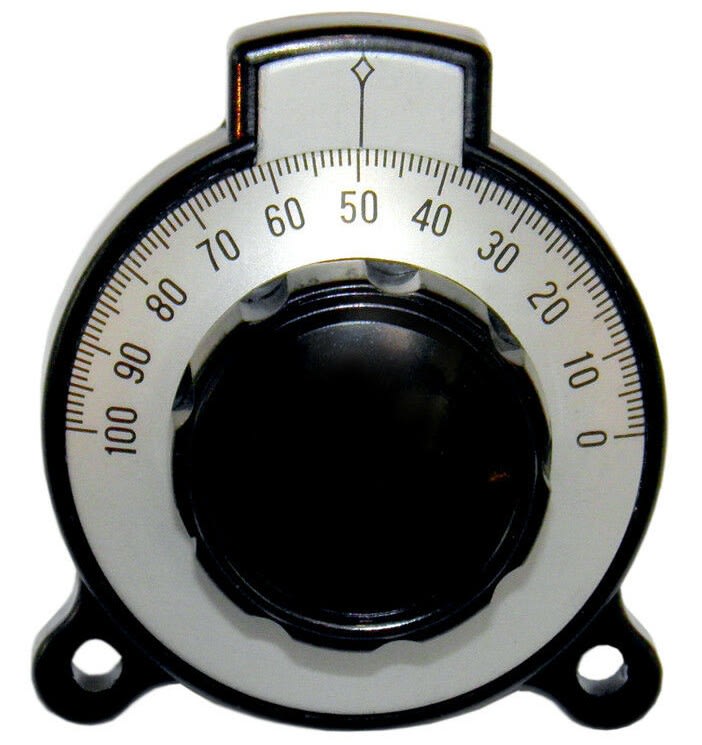 The 36mm vernier dials employed on the 3 oscillators are another part that is proving hard to track down – at least at an affordable price. These type of knobs were very popular with home built amps and amateur radio gear in the past, so I'm guessing they were also sourced from Tottenham Court Road. As I am no longer building a clone I am planning on using something similar that will produce the same effect. One possibility may be to use a multi-turn potentiometer with an appropriate turn counting collet knob dial (166-4738) , rather than the single turn with vernier knob used in the original. I think the best plan will be to buy one and test it out on a completed oscillator to see how it feels.
Other components.
For the power supply, I have opted to use a kit intended for use with a Modular Synth that I can adapt slightly to produce the -9V used by the VCS3 rather than the -12 that is standard for modular systems. The +12V is the same on both. This coupled with the appropriate power supply (400-6541) should provide a safer, easier to work with an alternative to the original integrated mains input with step down transformer.
Soldering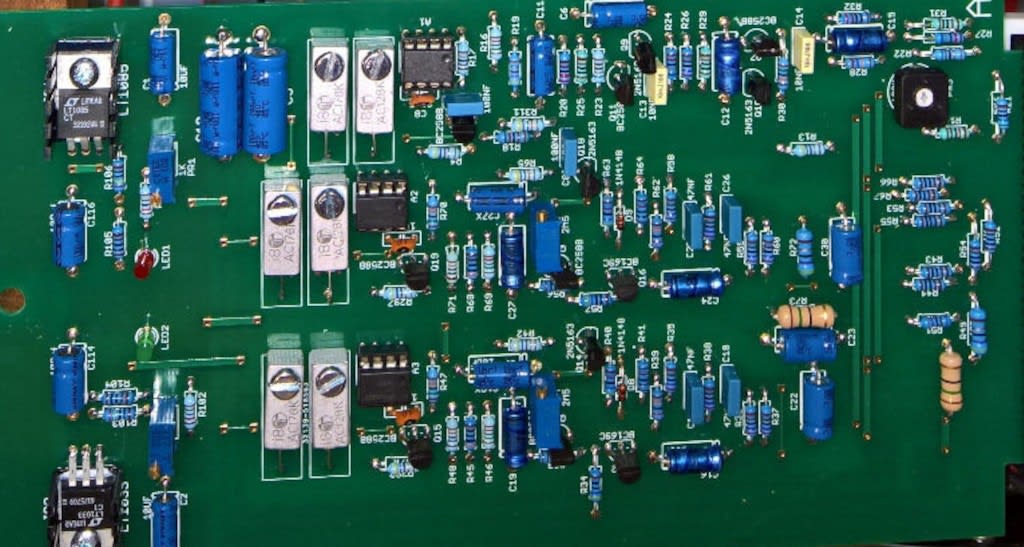 Whilst researching the above, trying to come up with appropriate solutions and adapting my plans accordingly, I have started soldering components to the PCBs that I have. Whilst I am no longer making a slavish copy of the VCS3, these will ensure I end up with an authentic-sounding instrument.
There is obviously still a long way to go with this project but now I have designed my case and panels and started soldering I do at least feel it is underway.
Sourcing PCBs and Planning the Build can be seen in Part 1