Dave from

DesignSpark
How do you feel about this article? Help us to provide better content for you.

Dave from

DesignSpark
Thank you! Your feedback has been received.

Dave from

DesignSpark
There was a problem submitting your feedback, please try again later.

Dave from

DesignSpark
What do you think of this article?
INTRODUCTION
At WindArk Energy we strive to enable a greener future through sustainable engineering. Our team of expert engineers and analysts work diligently, applying their skills to efficiently complete projects with as little impact to the environment as possible. With the energy crisis in Europe, and the increasing demand for renewable energy due to climate change, we want to propose a new wind farm development in Inverclyde, Scotland. Located south of Greenock and Port Glasgow, Auchenfoyle wind farm will have 16 turbines and a capacity of 57.6MW. It will produce more than 215 GWh of clean, renewable energy to power the grid annually. This article is presented to you by Jason Clark, Karolina Sanjuan, Mihn Ahn Tran and Abdul Rahman Afzal.
LOCATION
The Auchenfoyle Wind Farm is located on Auchenfoyle and Cairncurran in Scotland, near river Clyde bank. As it lies in the vicinity of Glasgow Port, turbine transportation and construction can benefit from the port and all connecting infrastructure (including the nearby 132kV substation), thus, shortening the project schedule and cost. Not only does this region possess an accessible terrain with a higher elevation in Northwest and lower and flatter elevation in Southeast, but it also offers an on-site mean wind speed of 8,84 m/s at 100m. Moreover, social reports show that the project area is sparsely populated with mostly farmlands and a near windfarm. All these mentioned have proven that the project location is technically and socially viable.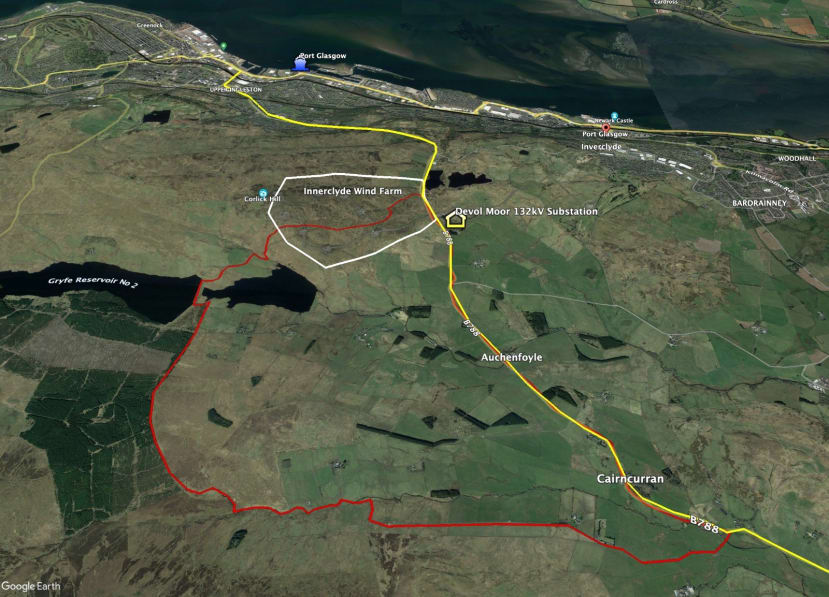 Figure 1 Project location & nearby facilities 
One of the biggest concerns this location poses is its proximity to Glasgow airport. Fortunately, after consulting the Inverclyde Local Development Plan it was determined the airport would not cause issues to the windfarm and vice versa. this document also provided information on the areas in Inverclyde with potential for wind farm development, and as it can be seen in Figure 3, the proposed location is within this area.
Figure 2 Glasgow Airport safeguarding zone
Figure 3 Spatial framework for onshore wind farms
WIND FARM LAYOUT
Turbine selection
Based on site suitability and financial efficiency, 3,6 MW turbines are chosen for this project. This turbine is classified as IEC 1A, which is technically appropriate for the observed wind data. The turbine technology is an upwind 3-blade, horizontal axis wind turbine with an asynchronous (cage wound) generator. The table below shows the technical parameters of the chosen turbine. 
Table 1 Turbine parameters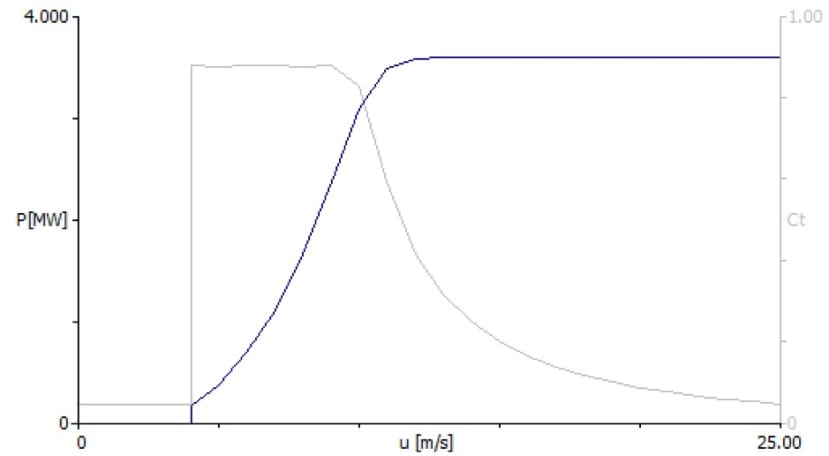 Figure 4 Power Curve 

Figure 5 Wind profile 
The elevation & roughness length of actual terrain and observed wind data collected from an on-site 100m-high met mast is taken as input for performance analysis using Wasp 12. Main wind directions are West and Southwest with roughly 85% of observed time wind speed lying within the operating range of the chosen turbine. 
Turbine placement
Based on all factors i.e. wind resource map, wake effect, and site feasibility, the plant layout is presented below. During the design process, the distance from each turbine site to any nearby residents or existing facilities is also carefully considered to minimize any negative impact on the neighbourhood in terms of noise, shadow flicker, and pollution during the construction stage. Besides, the project will also offer a walking path, a car park, benches and bins for residences to use for leisure purposes. Auchenfoyle Wind Farm would be connected to Devol Moor's 132kW substation, which is 1km away from the project.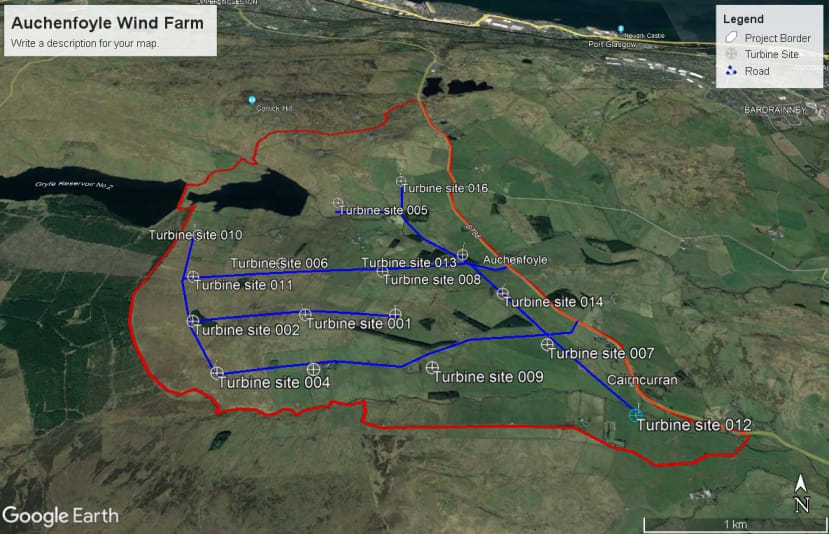 Figure 6 Plant layout 
Turbine placement was also informed by data obtained from UK Soil Observatory. Figure 7a shows the soil texture of the location. It is mostly composed of heavy soils. Figure 7b shows a diagram of the soil depth, showing that it is mostly deep ground, excluding some areas with shallow ground. In figure 7c the pH level of the soil is depicted, which is consistently high throught the whole location. Figure 7d shows that the bulk density is fairly low in all the location.
From this data it was determined that this location is of very high suitability for a wind farm, as well as also informing correct turbine placement.
                                      Figure 7a Soil texture                                                                                    Figure 7b Soil depth
                                   Figure 7c Soil pH level                                                                                   Figure 7d Bulk density
ENERGY PRODUCTION
The table below shows performance parameters of the project.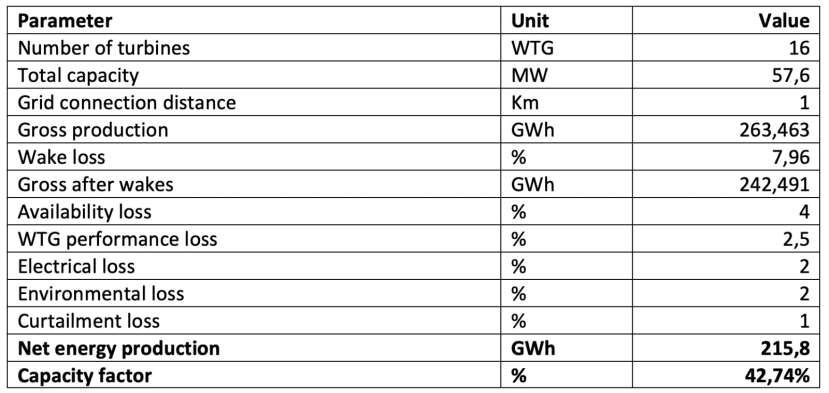 Table 2 Performance parameters 
ENVIRONMENTAL IMPACT
Forestry and peat 
The construction of the wind farm will have no impact on the forestry within and outside the location. The land is mostly composed of grassland and heather grassland as seen in figure . It contains a few small groups of trees that will not need to be cut down as they can be avoided during construction. Furthermore, it is believed that the soil will be suitable for the plantation of more trees, for which funds have already been allocated. 
Peatlands are a highly important ecosystem to combat climate change since they act as a carbon sink. Scotland's government strongly recommends that large scale projects refrain from building in it. This location has minimal amount of peat which has been very beneficial for this project, and we have simply decided to avoid it and place turbines and roads in locations without peat. 
                                Figure 8a Land cover                                                                                   Figure 8b Peat coverage
Protected species
The FGS SMF Species Conservation was consulted to ensure no protected species inhabited the location or its surroundings, as seen in the figure below. The location does not interfere with any natural preserves either, with the only natural preserve in Inverclyde situated in Greenock around 4 miles away from the wind farm.
                    Figure 9 Protected species locations                                                                Figure 10 Nature reserves 
Ornithology 
The animals that are at the most risk are birds and bats. Below is a data table on bird collisions obtained by the neighboring Inverclyde wind farm. It is situated only half a mile from our wind farm and the data is therefore relevant to our wind farm. As seen in the table below, bird collisions are very infrequent and so they do not pose a major issue when it comes to wildlife as a whole. However, WindArk Energy wants to ensure the wind farm impact on the environment is as little as possible. Therefore, some measures will be taken to protect both birds and bats. 

Table 3 Bird collisions data
We have chosen a bigger diameter than the turbines at Inverclyde wind farm. By doing this and slightly reducing the rotor speed, birds will be less likely to collide with the blades. The impact that reducing the rotor speed has on the energy production is negligible. We have chosen an optimized blade profile, which will reduce the noise caused by the turbines and therefore will not interfere with mating calls and migratory paths. This only has a minimal impact on energy production. During migration season, the wind farm will turn its lights off if required so as to not interfere with bird migration paths. 
Hydrology 
There are a number of watercourses within the proposed location, including a reservoir, the river Gryfe water and multiple streams. There are also two rivers running on the west and south boundaries, Garshangan Burn and Green Water. Furthermore, we are also taking into consideration the reservoirs just outside our location, Gryffe Reservoir, Knocknair'shill Reservoir and Harelaw Reservoir. 
Care was taken when placing the turbines, ensuring they are built as far away from watercourses as possible. However, we still have recognized the risks a project like this can have in water bodies. Which is why some measures will be implemented. 
To prevent soil erosion and sediments from entering bodies of water, a sediment barrier will be installed during construction. Storm water during construction can also be a risk to water bodies, therefore it will be stored in retention basins, where it will undergo a treat runoff before being released into the environment. Furthermore, the pH of water in the reservoirs will be frequently tested to ensure it stays at a normal level. 
Construction debris, fuels and other pollutants will be properly disposed of to minimize the risk of contaminating water bodies and wildlife in general. Additionally, construction vehicles and equipment will be properly maintained to prevent leaks or spills . 
Surveys and tests 
Although vast amounts of information was accessible to assist on selecting the location for the wind farm and its layout, extensive tests and surveys will be performed on the location for 12 to 15 months before beginning construction. 
A wind mast will be set up in the location, exactly located at coordinates 55.909929°, -4.710663°. It will collect wind data for 12 months to confirm the location is viable for the construction of a wind farm. While this takes place, the environment will be fully studied by performing an EIA (Environmental Impact Assessment) among other assessments. We estimate these studies will take between 12 and 15 months. 
These include a comprehensive study on the local flora and fauna to determine what species inhabit the location, specifically the impact that the windfarm may have on the local bird and bat population. A soil assessment of the site and potential risks to the surrounding area, specifically the Natura 2000 site located nearby. A ground water, river, and water body assessment, to mitigate any risk of pollution to the nearby reservoir and waterways. 
COMMUNITY ENGAGEMENT
Community campaign
Engagement with the local community is our main priority, and we aim to satisfy the people of this community to the best of our abilities. Our strategy to engage with the local cummuntiy will involve setting up a community campaign where members will be able to actively engage with the project by attending in-person and online consultations, where we will seek input from the local community members and address any concerns they may have. 
The project will be divided in 3 stages: testing and surveying, construction, and energy production. The testing and surveying stage will last up to 15 months, during which time there will be a total of 13 consultions, which will occur once every month, excluding the lasts two months while we finalise the location studies and prepare for construction. The second stage is construction and it will last 9 months. There will be 3 consultations during this time, once every 3 months. And finally on the energy production stage, there will be a consultation every 6 months for the next 5 years. After this time the community may be able to request a meeting should the need arise.
Social impact
We understand the community will have concerns about the wind farm's impact on their lives, such as noise, shadow flicker and road accessibility. Due to safety concerns, some roads might be closed to the public during construction. The only roads expected to be affected will be the B788 and Auchentiber Road. Appropriate guidance and information on alternative routes will be provided to the local community once this information is available to us.
To mitigate shadow flicker we will deploy the following methods:
Conduct a comprehensive shadow flicker analysis during the wind farm planning phase to identify potential affected areas. 
Adjust the layout and orientation of wind turbines to minimise shadow flicker impact on nearby building and residencies.
Utilise advanced turbine control systems that can automatically adjust the blade angles or turbine rotation speeds to reduce shadow flicker duration and intensity.
Install shadow flicker monitoring systems to gather data and ensure compliance with regulations and predefined limits.
turbines that cause shadow flicker on residential areas for extensive amounts of time despite these measures will be turned off for certain periods of time. 
To mitigate the level of noise, the following methods will be deployed:
Conduct a noise impact assessment during the wind farm planning phase to identify potential noise-sensitive areas and establish noise limits.
Optimise the wind turbine layout and spacing to minimise noise propogation to nearby residencies.
Utilise low-noise wind turbines configuration and technologies that help reduce noise emissions.
Implement noise barriers, such as bunds or fences, between the wind farm and sensitive locations.
Regularly maintain and service wind turbines to ensure that they operate at optimal efficiency, reducing noise generated by mechanical compoenents.
We would like to emphasize our believe that the community will benefit from the addition of this wind farm in their local area. Some of the beneifts to the local community include:
Green jobs during and after the construction phase, improving the economy of the local community.
The wind farm will produce clean and renewable energy which will displace carbon emissions and help achieve Scotland's goals towards net zero, as well as help fight the energy crisis in Europe.
Trails, footpaths and cycling routes will be created within the wind farm, promoting a healthy lifestyle within the community.
Signs throught out the wind farm to provide visitors with guidance and iformation regarding renewable energy and how our wind farm works. 
Additionally, plans for a car park design are in motion, which will contain up to 20 parking spots and 4 charging station for electric cars.
FINANCING THE PROJECT AND ESTIMATED PROFITS
To finance the development and construction of Auchenfoyle Windfarm, WindArk Energy has secured multiple sources of funding. After discussions with Equate Bank, they have agreed to collaborate with us and contribute a £40,000,000 loan that will be paid back at a rate of 1% over 10 years. Furthermore, contributions from private investors, government funding and WindArk Energy's own capital will fulfil the remaining £12,883,904. A breakdown of the funding sources can be see in the following Figure:
Figure 11
This initial funding will be allocated strategically to facilitate the required planning and construction of the project. In the following figure, the breakdown of the upfront costs can be seen: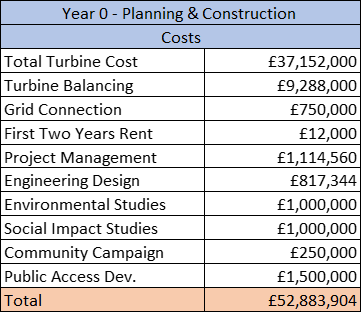 Figure 12
The running costs over the lifetime of the project will be due to change. From year 1 to 10 the loan repayments will be made at a rate of 1%. After year 10 the loan will be fully repaid. From year 1 to 13 the land use rental payments will be £6000 plus 6% of the total revenue. From year 13 to 25 this will increase to £8000 plus 8% of the total revenue. The maintenance of the turbines has been estimated to be around 10% of the total cost of the cost of purchasing them. A breakdown of the annual running costs can be seen in the following figure:

Figure 13
Finally, with all these costs determined, the total estimated profits can be determined for each year and therefore the estimated overall profits over the lifetime of the project. This can be seen in the following figure:
Figure 14
With the potential for a solid revenue stream and the government's long-term goal of increasing renewable energy generation, this project presents an excellent opportunity for both financial sustainability and contributing to a greener future.
DECOMMISSIONING
The end of life of the turbines is just as important environmentally as the rest of their life. We aim to dispose of the turbines in a sustainable way and with as little damage to the environment as possible. The life of the wind farm is 25 years. After 25 years the turbines will be dismantled and the components can be recycled or repurposed. 
The towers are made of steel which can be easily recycled by melting them down and repurposing them. The metal parts, electronics and wiring found in the generator and gear box can also be easily recycled. 
The rotor blades pose a problem since they are typically made of fiberglass or carbon fibre, materials that are difficult to recycle. Instead, the blades will be either repurposed or incinerated. If repurposed, they will be used in a wide range of applications such as bridge components, art installations or construction materials. If incinerated, the blades will be transported to a waste-to-energy facility where the energy released during incineration will be used to generate electricity. 
The foundations of the turbines will be decommissioned, meaning they will only be partially removed, while the remaining void is filled with biodegradable materials such as soil or gravel. This approach will cause less disturbance in the soil and minimizes the visual impact of the removal. 
If the land owner was to oppose this idea, the foundations can be left at the location to be repurposed for other projects at the owner's discretion. Overall minimising waste and reducing costs.