Asset management and theft prevention with RFID cable ties
Follow article
Hellermann Tyton has developed a range of nylon and metal identification cable ties with RFID tag to enable users to easily fix the RFID tag to equipment that needs to carry a serial number for tracking and identification purposes.
There are currently three options available with more configurations currently in development. Each variant comes fitted with the appropriate RFID transponder.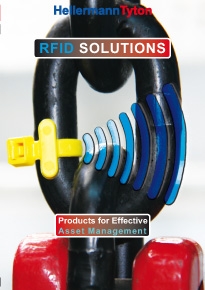 What is RFID?
Data relating to an item is stored on a RFID tag attached to an item, in this case a cable tie. Similar to a bar code the tag is a data carrier, it carries data programmed into a small computer chip and operates at a wide range of frequencies.

Applications include:
Theft prevention
Keg and gas cylinder tracking
Asset management
Attendance verifizcation
Security tagging
Leak detection
Essential maintenance
Baggage tagging
Benefits of RFID:
Elimination of clerical errors in recording data
Faster data collection
Reduction in labour
Reduction in paperwork required
Ability to hold more data than barcodes
Eliminated paper based inspections/reporting
Manage equipment inspections, maintenance work etc
Comply with legislation
Generate equipment reports
Control your stores management
Increase reporting and inspections accuracy
Share up to date information
Advantages of RFI over other ID technologies:
Reliable operation in harsh environments (i.e. wet, dusty, dirty conditions; corrosive environments, vibration and shock)
No need for contact or line-of-sight
Freedom from line-of-sight constraints (transponders can be read irrespective of orientation and through virtually any material, including flush mounted in or surface mounted on metals)