Dave from

DesignSpark
How do you feel about this article? Help us to provide better content for you.

Dave from

DesignSpark
Thank you! Your feedback has been received.

Dave from

DesignSpark
There was a problem submitting your feedback, please try again later.

Dave from

DesignSpark
What do you think of this article?
Electronic revolution took place in agriculture machinery thru ISOBUS communication interface between implements, tractors and other agriculture vehicles.
The standard protocol ISO 11783-2 establishes the electrical connection in order to transfer power, signals and CAN Bus communication to grant precision to the complextity of today's Agriculture processing.
Derived from the popular DuraMate™ environmentally sealed connector series, Amphenol Isobus Implement Connectors are compatible to ISO 11783-2 and include field installable cable connectors and overmolded cable assemblies.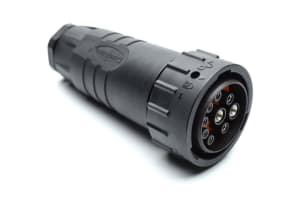 Rated IP67 - IP6k9k and engineered with durable high-grade plastic construction, Amphenol ISUBUS features the ergonomic "Plug & Play" design, easy to assemble with standard tools and providing an economical quick-connect bayonet locking system manufactured to assure reliability and safety to the challenges and complexities of harsh environment off-road applications.
Power cable from 6 to 16 square millimiters can be accomodated on crimp contacts size #8 plus signlas pins available as machined or stamped&formed type from 0.5 to 2.5 square millimiters. Wide temperature range for field applications from -40°C to +125°C and over 100+ mating cycles assure outstanding characteristics of Amphenol ISOBUS cable connection system for the harsher places to be in the Agriculture demanding environments.
For over 80 years Amphenol has enjoyed success as the interconnection technology provider of choice to industry-leading companies around the world. One of our key strategic areas of focus has been and is the Industrial market. Our organization works with leading manufacturers across a wide range of applications - including Energy Generation & Distribution,  transportation, Heavy Equipment, Factory Automation, Wireless Outdoor, ChipCard Readers - enabling smarter, faster and better technologies to connect products to customer solutions.
The Industrial market footprint of Amphenol covers over facilities in more than 12 different European countries and more than 30 countries worldwide.
Thank you for partnering with Amphenol. Our entire organization is at your service.