Dave from

DesignSpark
How do you feel about this article? Help us to provide better content for you.

Dave from

DesignSpark
Thank you! Your feedback has been received.

Dave from

DesignSpark
There was a problem submitting your feedback, please try again later.

Dave from

DesignSpark
What do you think of this article?
It's important to note that not all pressure sensors are equal. When selecting a pressure sensor many customers will focus only on the purchase price and subsequently fail to consider the total cost of ownership. If a low cost unamplified uncalibrated pressure sensor is selected, customers need to consider the additional costs design and manufacturing costs. They also need to consider the impact on field quality and reliability that can lead to; increased service/repair costs, damage to reputation and lost sales.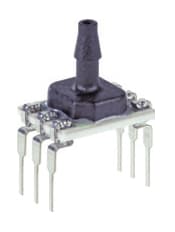 Honeywell Sensing and Internet of Things, Amplified Basic Pressure (APB) series, is an amplified and fully temperature compensated board mount pressure sensor, designed for high volume medical and industrial applications. ABP combines high performance, reliability and strong feature set within a small form-factor, low cost and highly configurable package to provide customers with a highly cost-effective pressure measurement solution.
ABP supports gage pressure measurements from 60 mbar to 10 bar, differential pressure measurements from ±60 mbar to ±4 bar and accuracy of ±0.25 % FSS (Full-Scale-Span). ABP is calibrated over a temperature range of 0°C to 50°C, but supports an operating temperature range of -40°C to 85°C.
ABP Series


ABP is specified with a Total Error Band (TEB) of ±1.5% FSS. TEB includes all error sources and provides the most comprehensive measurement of a sensor's true accuracy. Customers can utilise the TEB specifications to easily calculate all errors within the equipment/system design, thus reducing development time and costs. Please note, TEB should not be confused with accuracy; many competitors do not report the TEB, and only report the accuracy specification, for this reason, we also report the accuracy specification for comparison.
ABP provides enhanced analogue and digital pressure measurements in a small board mounted package (7x8 mm). ABP is available with single and dual ports and supports non-corrosive gases and liquids on both ports. ABP provides a low-cost alternative to fully media isolated sensors for some liquid pressure applications.
When the liquid media option is selected, a silicone-based gel coating will be applied to the primary port (P1), this enables the use of non-corrosive liquids (e.g. water and saline) on both ports when a dual port configuration is selected. This option is typically utilised for wet-on-wet differential sensing. ABP is one of only a handful of board mount pressure products that supports liquids on both ports.
ABP is available with sleep mode and diagnostic options. Sleep mode is generally used in battery powered applications to extend the life of the battery; control system will wake the sensor, take a pressure measurement and then put the device back into sleep mode, during sleep mode the device consumes virtually no power (~2 uA). When diagnostics are enabled the sensor will continuously monitor the performance of the sensor and report any errors back to the control system.
ABP can be utilised with Honeywell SIoT developer/evaluation kits, to quickly test the performance of the sensors within the customer application. Developer/evaluation kits are readily available, they are easy to install and use, and simplify the design cycle.
Honeywell developer and evaluation kits can be used in conjunction with ABP to quickly test the performance of the sensor within the customer application. Developer and evaluation kits are readily available, they are easy to install and use, and simply the design cycle.
ABP provides a highly cost-effective solution for your board mount pressure sensing needs.

Applications
Pressure sensors are used within white goods applications to improve efficiency and reliability of the equipment and reduce operating costs.

Water level measurement
Filter clog detection
Improve pump efficiency/reliability
Reduce power consumption/costs

Pressure sensors are used within coffee machines to control the flow-rate and brewing process to improve the flavour and taste of coffee.

Water level measurement
Control delivery pressure/volume
Improve equipment efficiency/reliability
Reduce power consumption/costs

Pressure sensors are used in a variety of medical equipment to measure blood pressure and airflow.

Blood pressure measurement
Airflow measurement
Long-term stability
Improved equipment efficiency