Dave from

DesignSpark
How do you feel about this article? Help us to provide better content for you.

Dave from

DesignSpark
Thank you! Your feedback has been received.

Dave from

DesignSpark
There was a problem submitting your feedback, please try again later.

Dave from

DesignSpark
What do you think of this article?
VARIOFACE system cabling provides you with compact solutions for the simple planning, assembly, and commissioning of your automation system. Plug-in system cables and termination boards ensure fast, safe, and error-free wiring. This saves you time and reduces your costs considerably.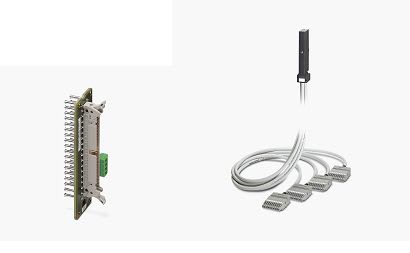 The Varioface range is made up of 3 parts:
An adapter that plugs directly onto the PLC or onto your distributed or remote I/O.
A separate or encapsulated cable that plugs onto the adapter
A termination board to plug the other end of the cable into and allow you to wire out to the field.
This system has been around for 20 years and has been proved to save up to 75% in wiring time and give a more professional look to your finished panel.
Phoenix offers adapters for many PLC manufacturers including Siemens, Allen Bradley, Mitsubishi and Schneider as well as solutions for DCS systems from the likes of Honeywell and ABB.
System cables are available with D-SUB or FLK connectors. You can select from a wide range of pre-assembled system cables with different numbers of positions. They can be connected with single wires and pin or socket strips. Alongside standard lengths from 0.5 m to 10 m, Phoenix can also supply you with system cables in a specified length!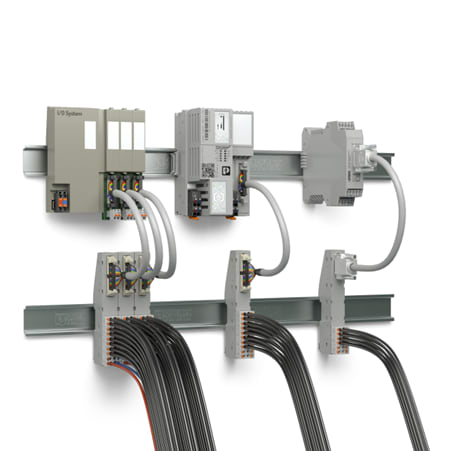 VARIOFACE termination boards ensure your reliable signal transmission between the field and automation levels. The universal termination boards couple high-position connectors, such as IDC/FLK, D-SUB, or RJ45 to screw or Push-in connectors. In conjunction with our universal system cables, you benefit from quick 1:1 wiring that protects against polarity reversal.
There are also special termination boards adding further functionality, such as RJ45, relay outputs, blade isolation or fused options.
The latest edition to the family is Varioface Front Connect. This new generation of ultra-compact termination boards, with front connections, is the perfect addition between the remote I/O system and the field level. An innovative design ensures fast and error-free wiring as well as space savings in the control cabinet. VARIOFACE Front Connect ideally supports decentralized peripherals with high flexibility and a narrow design.