Dave from

DesignSpark
How do you feel about this article? Help us to provide better content for you.

Dave from

DesignSpark
Thank you! Your feedback has been received.

Dave from

DesignSpark
There was a problem submitting your feedback, please try again later.

Dave from

DesignSpark
What do you think of this article?
A look back at a much loved engineer's treasure trove of information from the pre-Web days.
We now take the Internet for granted and access problems which at times of pressure can be a cause of acute anxiety. But how did engineers get access to detailed technical information in the pre-Web days? Printed data books were one solution and together with these, application notes. However, while you might typically have a selection of these for commonly used components and device families, there would plenty of things that you didn't have data for. In addition to which was the matter of discovery and knowing that there was something available for a particular job.
As a trainee engineer, part of my induction involved being handed a copy of the RS Data Library, together with the RS catalogue — altogether a formidable stack of pages — and asked to think of a few circuits that I'd like to build. What luxury! The details are now vague, but I remember one project being a digital frequency synthesizer, which utilised an impressive looking chip that had a reference crystal set into it (perhaps someone can comment and refresh my memory as to the part).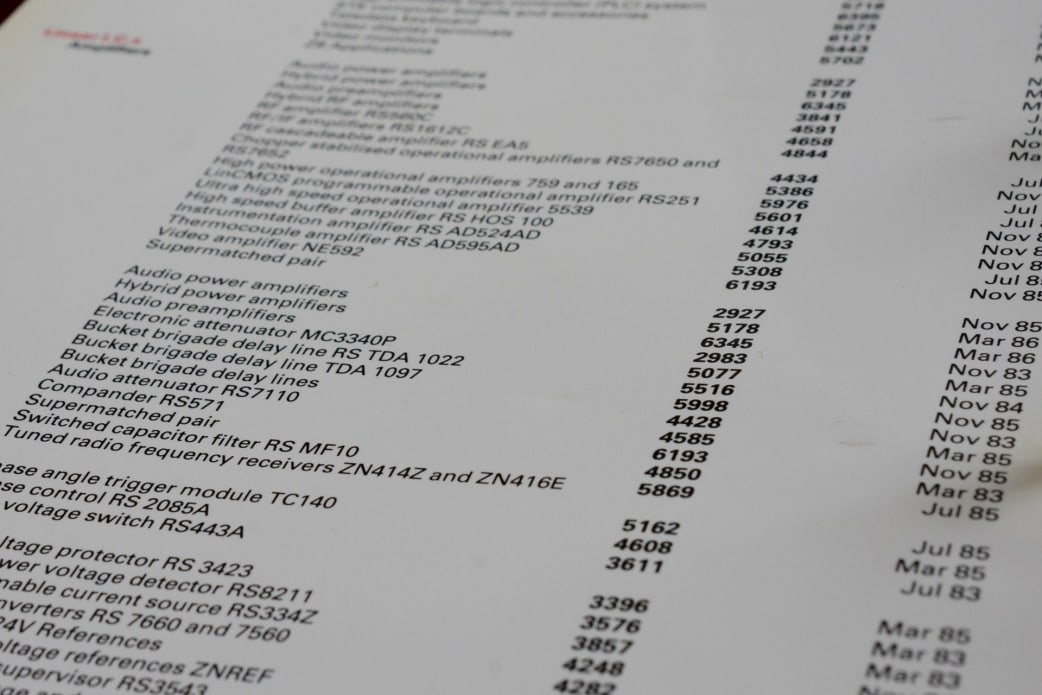 The RS Data Library was a weighty set of ring binder volumes which were frequently updated as new products were introduced. Spanning everything from batteries to analogue and digital ICs, the data provided covered things such as their theory of operation, part numbers and specifications, performance characteristics, physical mounting instructions, typical applications, and notes on use in particular environments. A veritable wealth of information that not only assisted in completing a design with a selected part but also served as a source of discovery and inspiration.
When I recently had the opportunity to pick up a vintage RS Data Library volume, it proved too much to resist. Let's take a look at its contents and consider how things have changed since then.
Rewind to March 1986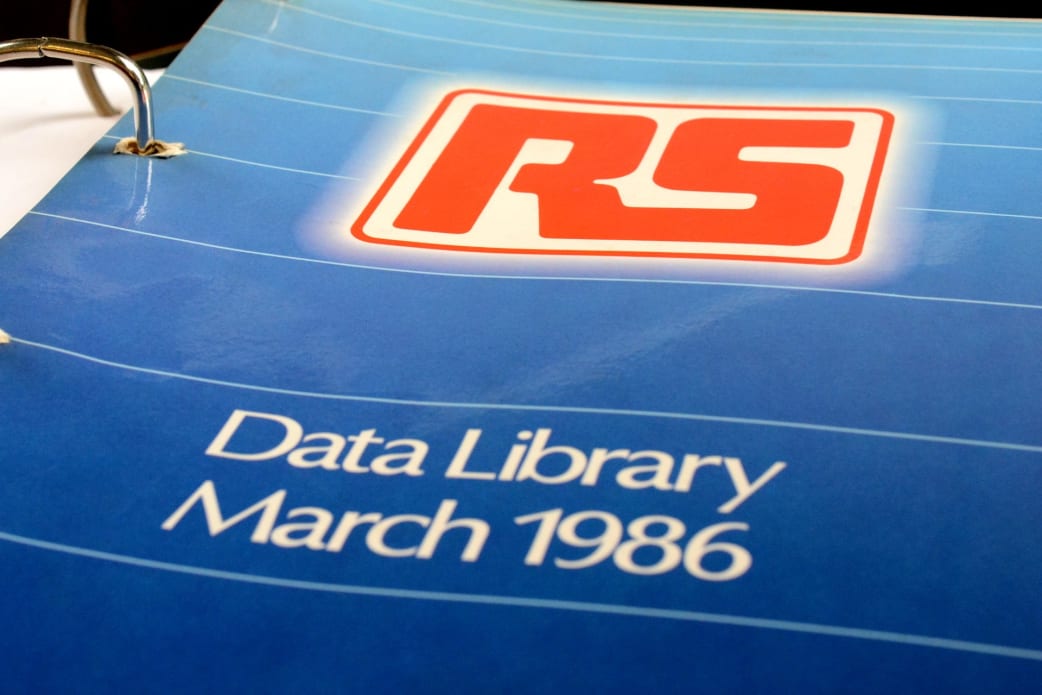 The volume in question was a number of years earlier than those which I had access to as a trainee, but it's likely that there were pages common to both — after all, there are voltage regulators and amplifier ICs that date back some 40 years or more and which are still very much in use today.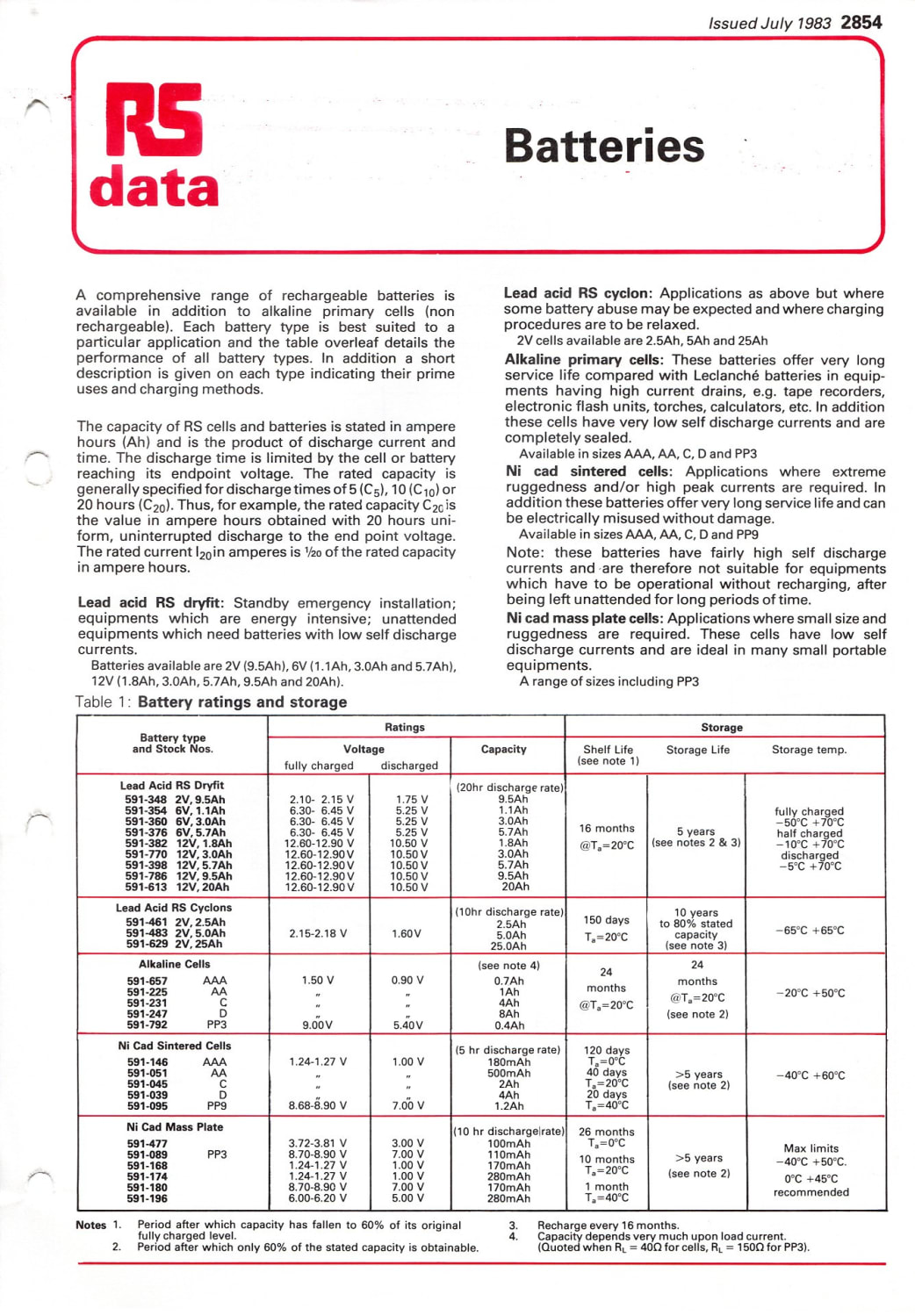 This particular section on batteries dates from July 1983 and while the pace of innovation for battery technology is not the same as for, say, microprocessors or sensors, LiPo packs have been around for some time now and offer a significant advantage over previous technologies. That said, lead acid batteries are still in use and have their own particular benefits. Although NiCad cells have largely been replaced by NiMH, which can provide greater capacity, amongst other advantages.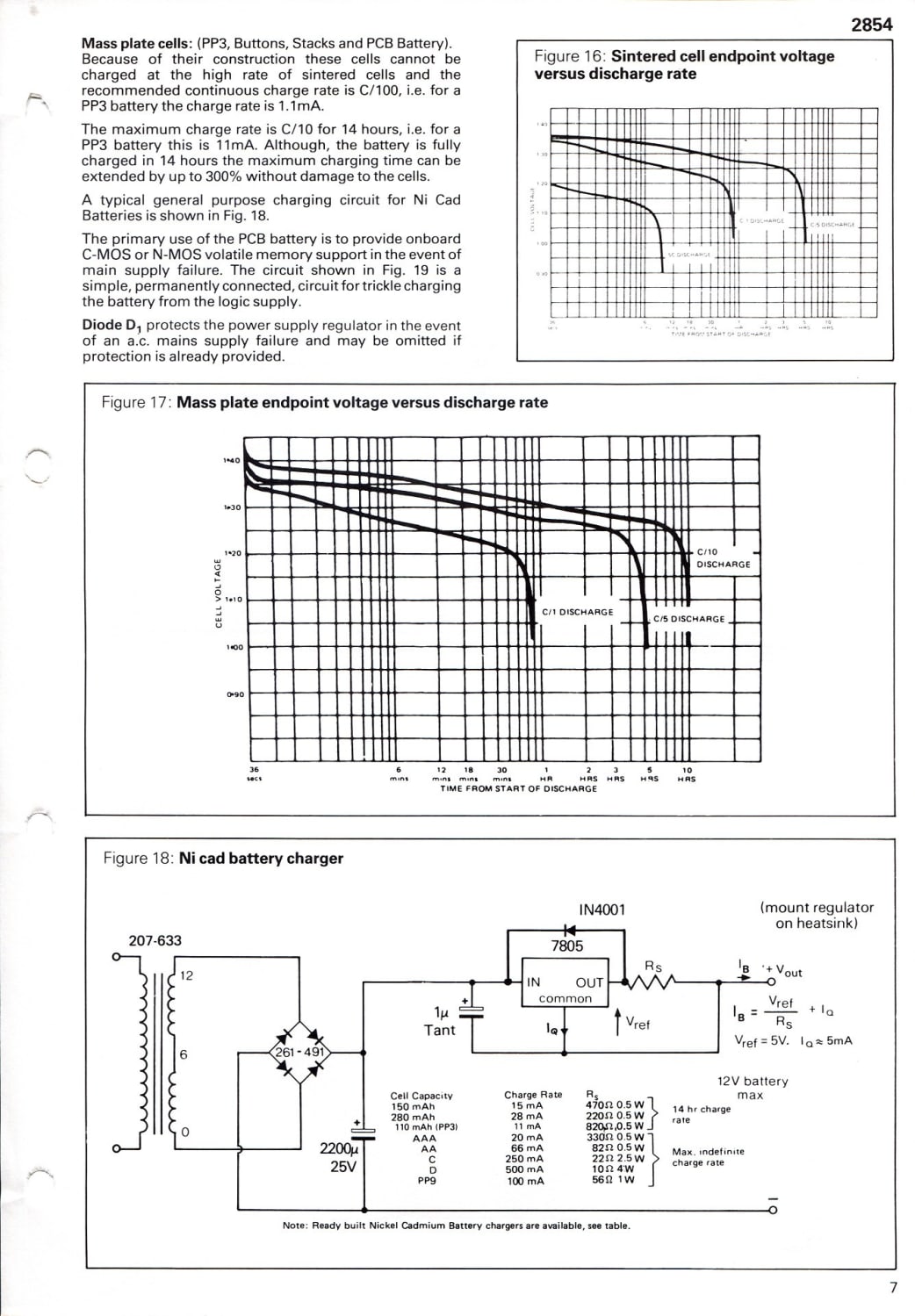 Conveniently, the Data Library includes battery characteristics and example charger circuits — the sort of information which may now be found in documents located in the Technical Reference section of a product page on the RS website, and in documentation on the manufacturer website.
Sound favourite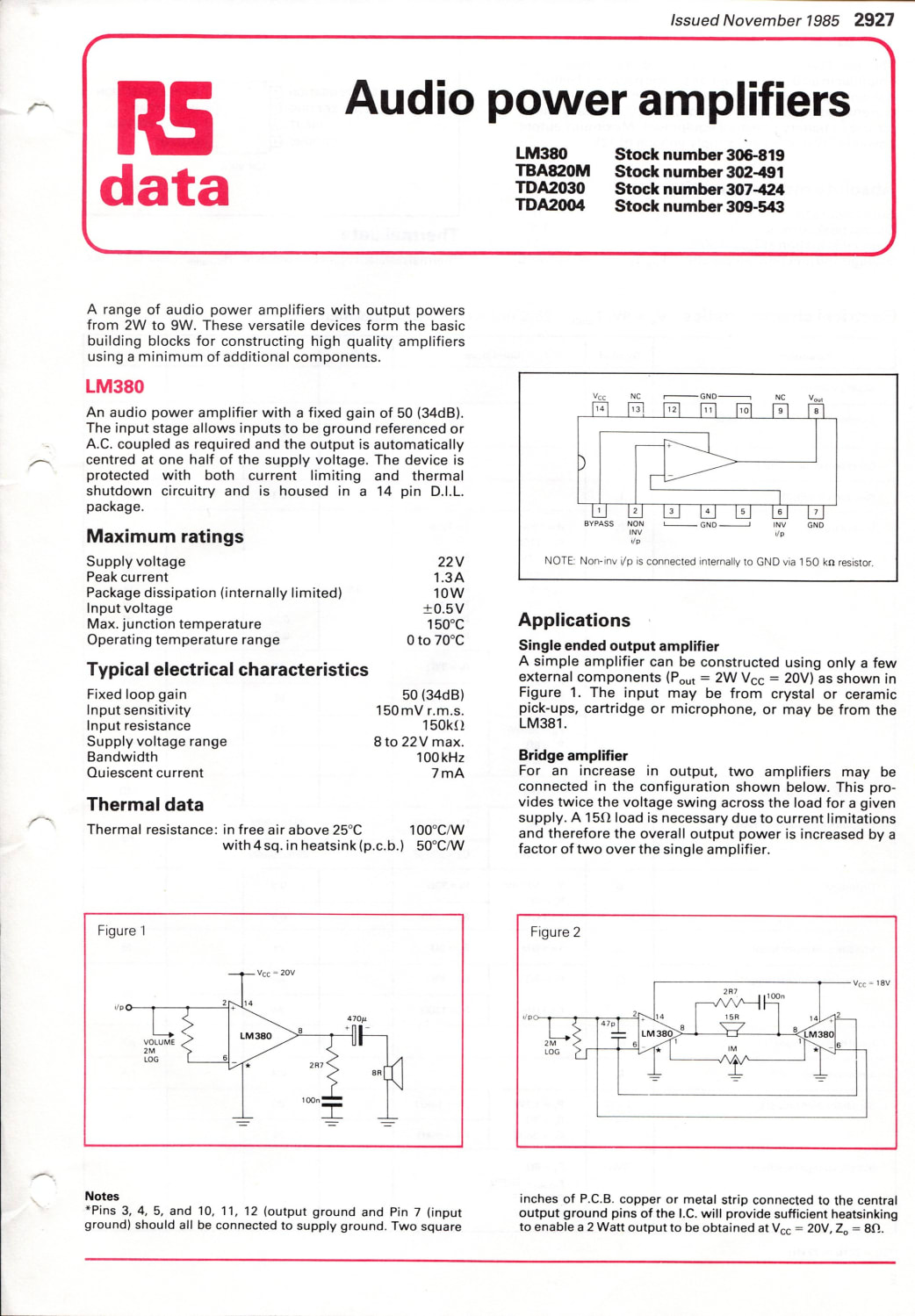 There are some device families which really stand the test of time and the LM-series of ICs are one. Within this are a collection of audio amplifiers, such as the LM380, which has a fixed gain of 34dB, is rated for 2.5W output and is still available today (535-9464) . Of course, we do also now have much more efficient class-D amplifiers, which in addition can deliver far greater power for a given size, and integrate additional highly useful features, such as digital volume control. For an example of class-D amplifiers in use, see the series of posts that my colleague, Dave Ives, wrote on creating a compact PA system for portable use.
A silicon icon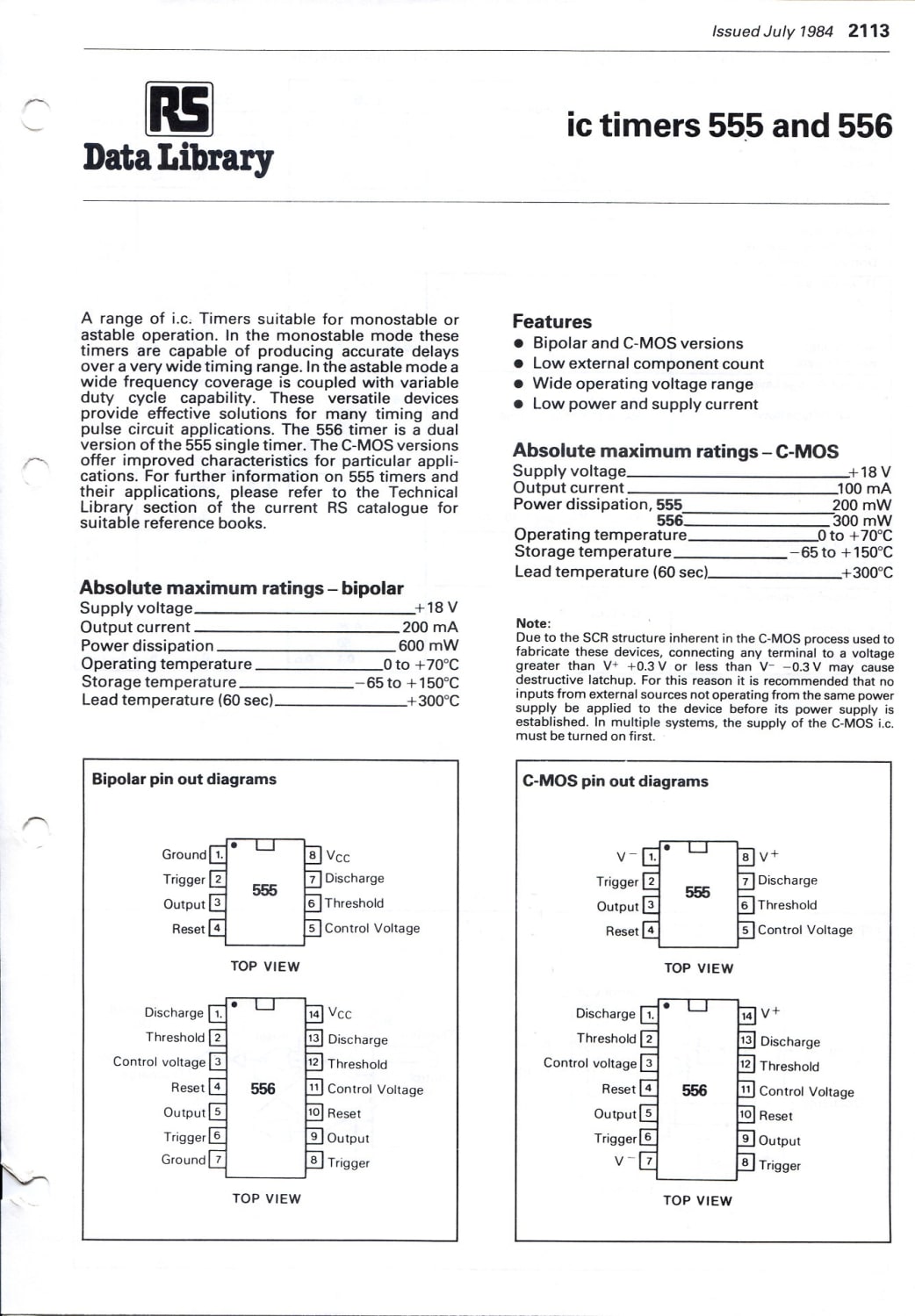 Another IC that is still available today and that has been elevated to iconic status, is the 555 timer. Above we can see the data for this and the dual variant, 556. Once again, another part that is still very much available today (221-5535) and loved by hobbyists and veteran engineers alike.
Time waits for nobody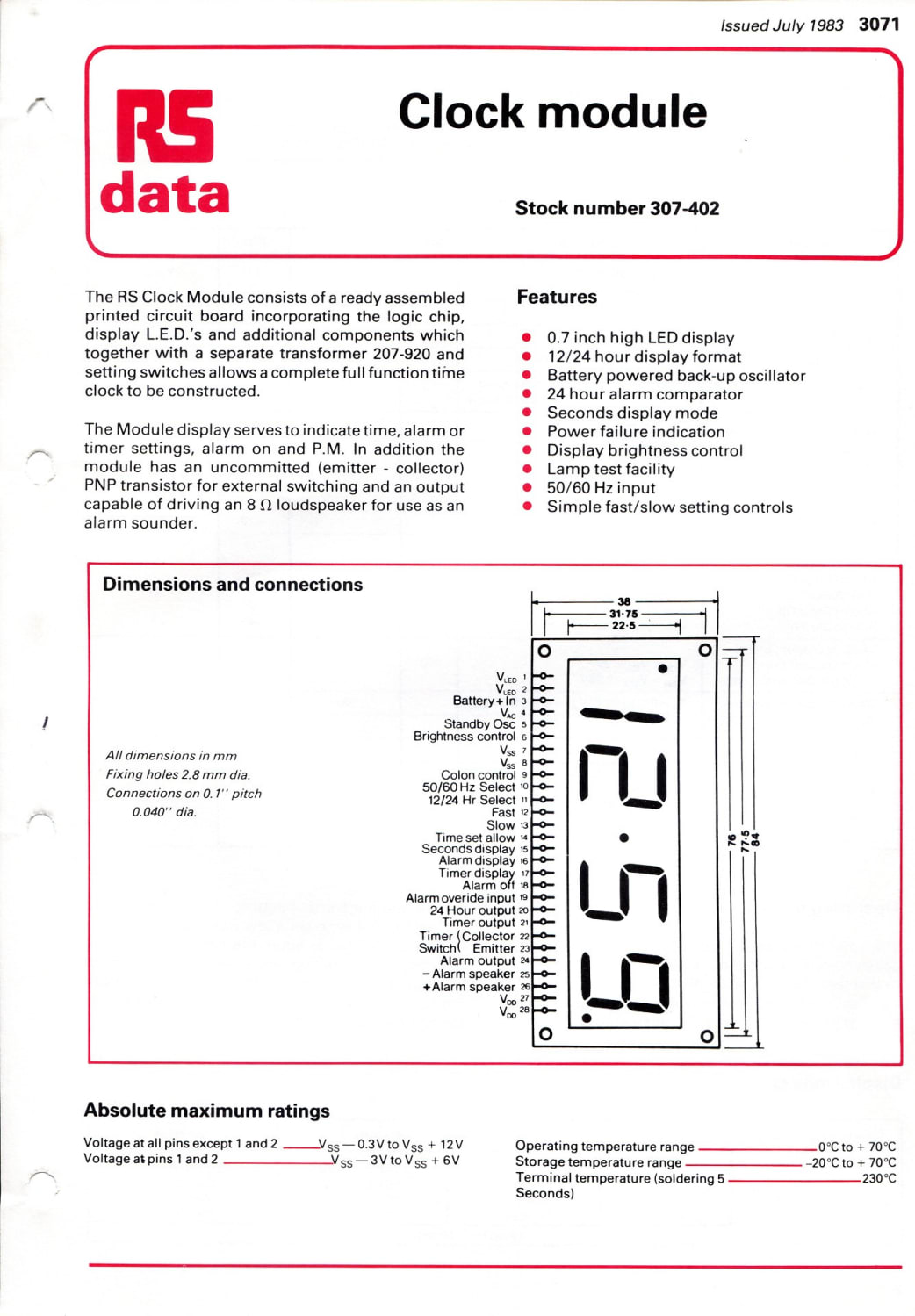 The Data Library included information on not only components but many other items also, such as computer peripherals and modules. An example of the latter is this virtually plug-and-play clock module, which integrates logic, LED display and other components, requiring the addition of little more than a mains transformer and a few switches. Perfect for use in a design item for the home, where the enclosure and switches etc. could be selected to create something unique. Else perhaps to integrate in a control panel for an industrial application.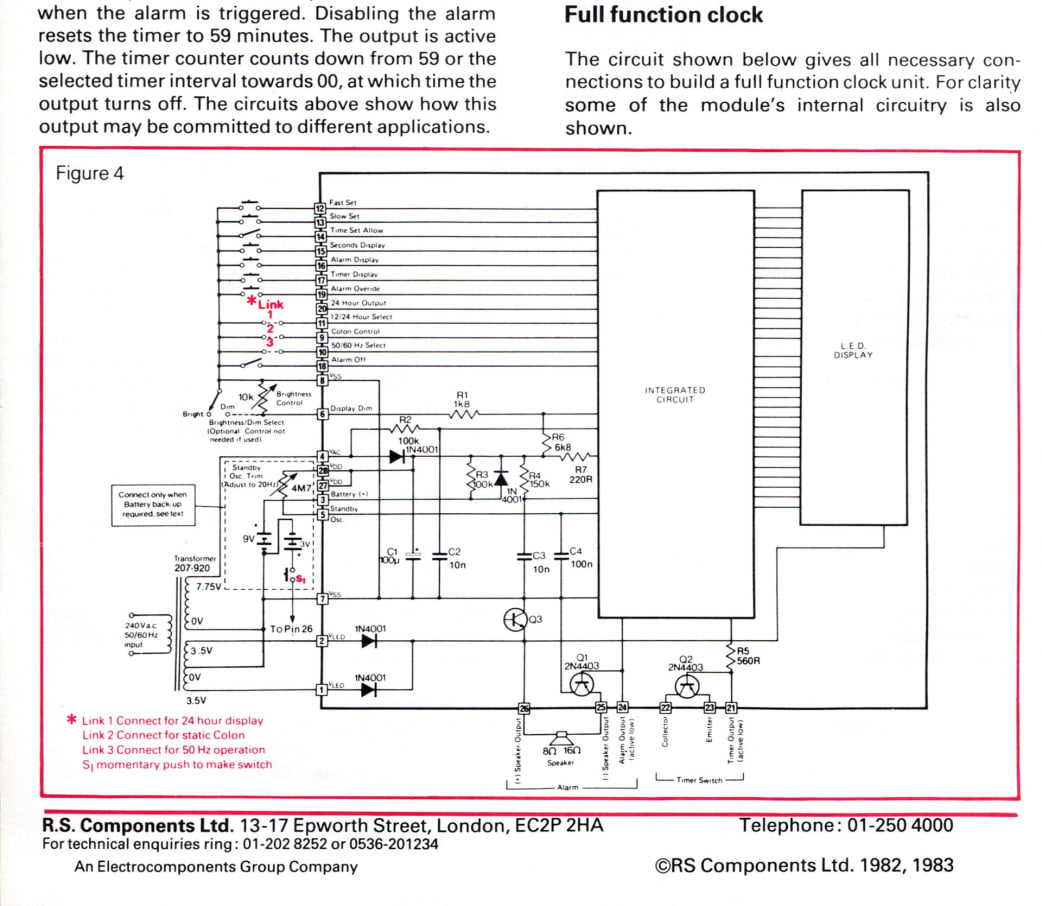 Here we can see the schematic diagram for a full function clock unit. Note how the module takes a low voltage AC supply and the 50/60 Hz is in fact used to provide a frequency reference, much like a predecessor electromechanical clock. Battery backup is also possible, although the data notes that the RC oscillator used does not provide as good timekeeping.
This setup may sound a little strange to us now, but the mains supply is often used as a frequency reference for timekeeping, with the National Grid implementing measures to correct for the frequency variations that result from the inevitable varying supply and demand imbalance.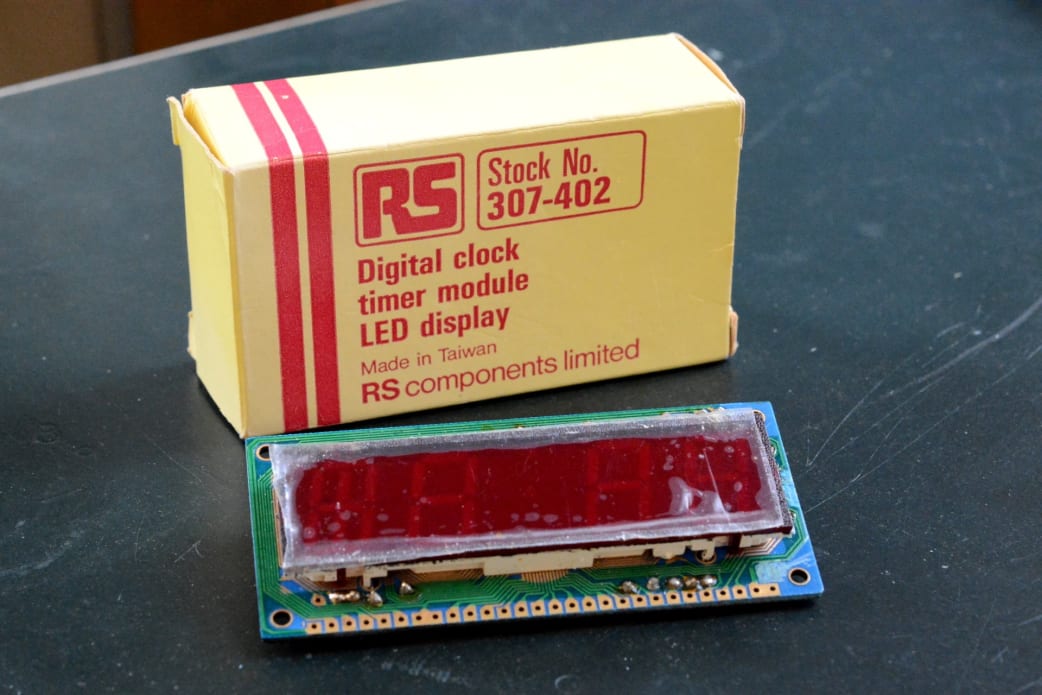 It's no secret that I am a bit of a collector of vintage technology and a number of years ago I managed to pick up a brand-new-in-the-box clock module. Hence it's great to now have the accompanying data for it and at some point it would be nice to assemble a complete clock unit.
Nowadays there are plenty of real-time clock (RTC) ICs to choose from and if we wanted to create a digital clock or similar, we'd probably pair one of these with a small microcontroller, plus whatever display technology best suited the application and desired aesthetic. In terms of the latter, we'd obviously have a lot more to choose from now and this could be LED, LCD, OLED or eInk etc. We could optionally also add a GPS receiver and benefit from high accuracy time, else a LAN or WLAN interface and get our time via the network using NTP.
Echoes of the past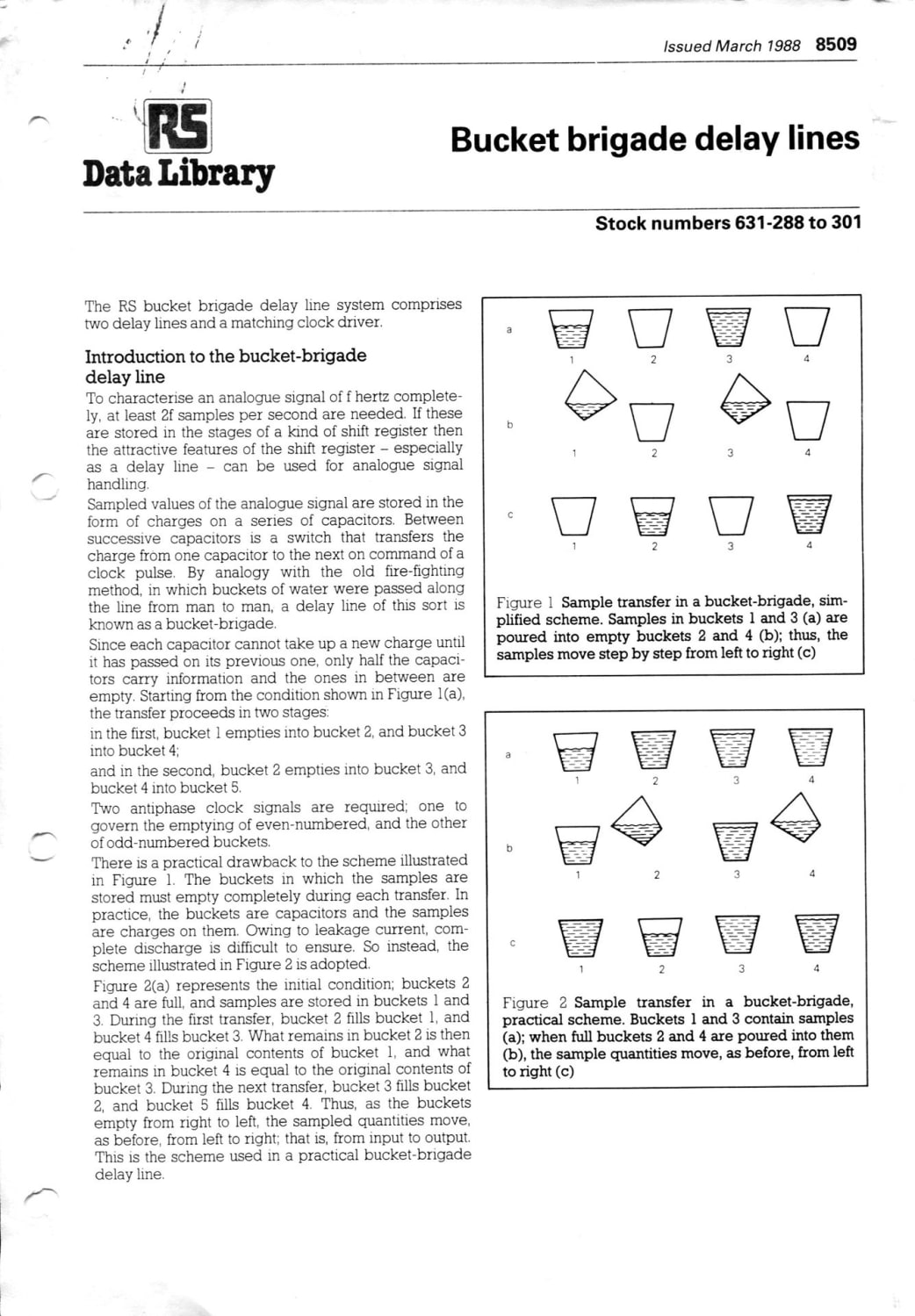 At the very front of the Data Library and inserted before the title page, were some photocopied sheets dating from March 1988, concerned with bucket brigade delay lines. As the documentation notes, these are a kind of shift register that can be used as an analogue delay line, whereby sampled values of the input signal are stored in the form of charges on a series of capacitors, between each of which is a switch. On command of a clock pulse the charge is then transferred from one capacitor to the next, much like a bucket brigade transporting water along a line.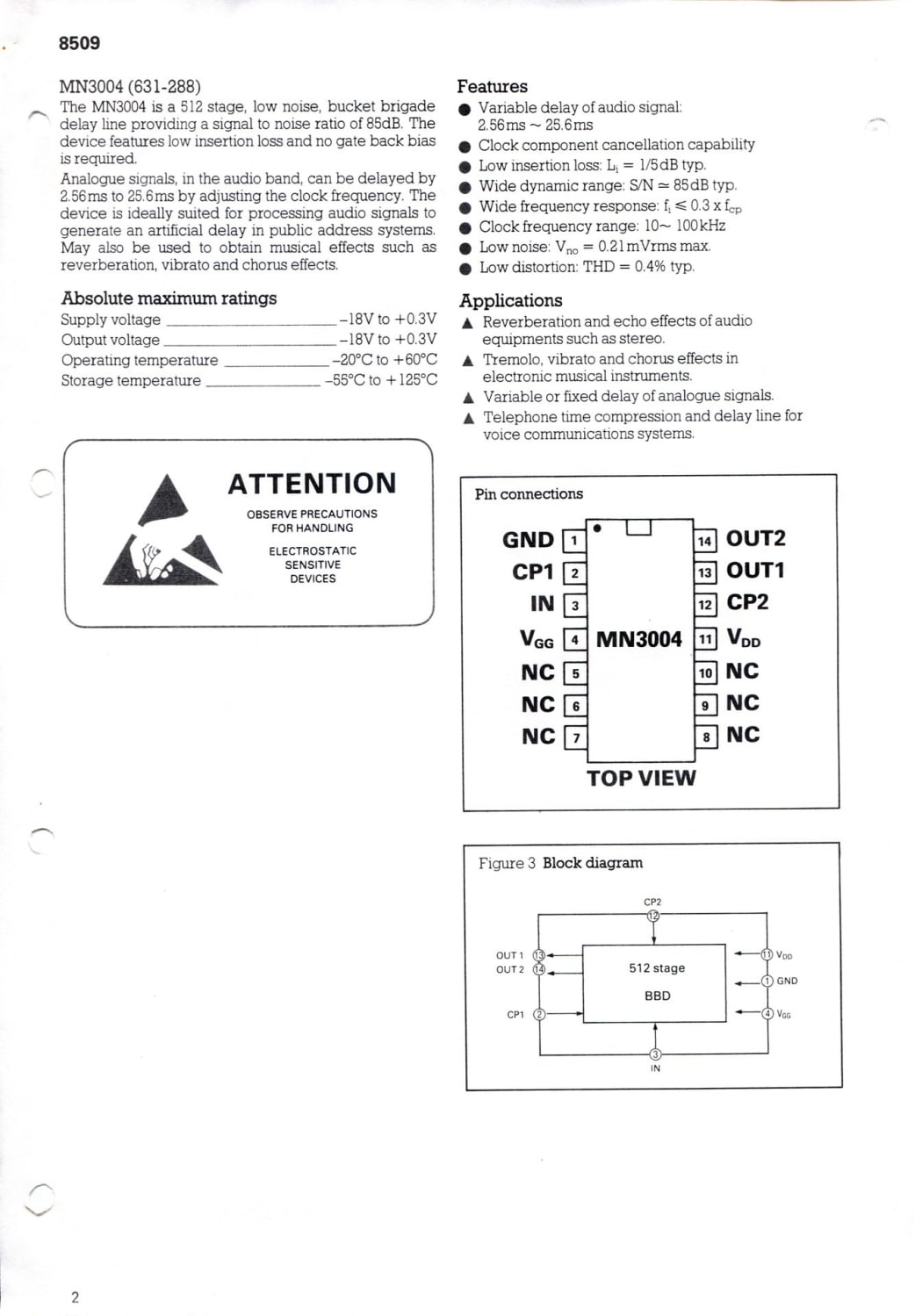 Two key characteristics of bucket-brigade devices (BBD) are how many stages they are comprised of and the frequency range for the clock input. The MN3004 is 512 stage and is rated for use with a clock of between 10-100kHz, which results in a variable delay of 2.56-25.6ms.
Applications include, as you might imagine, reverb and echo effects, along with musical tremolo, vibrato and chorus effects. Interestingly, it would seem that telephone time compression and delay lines for voice communications were applications also.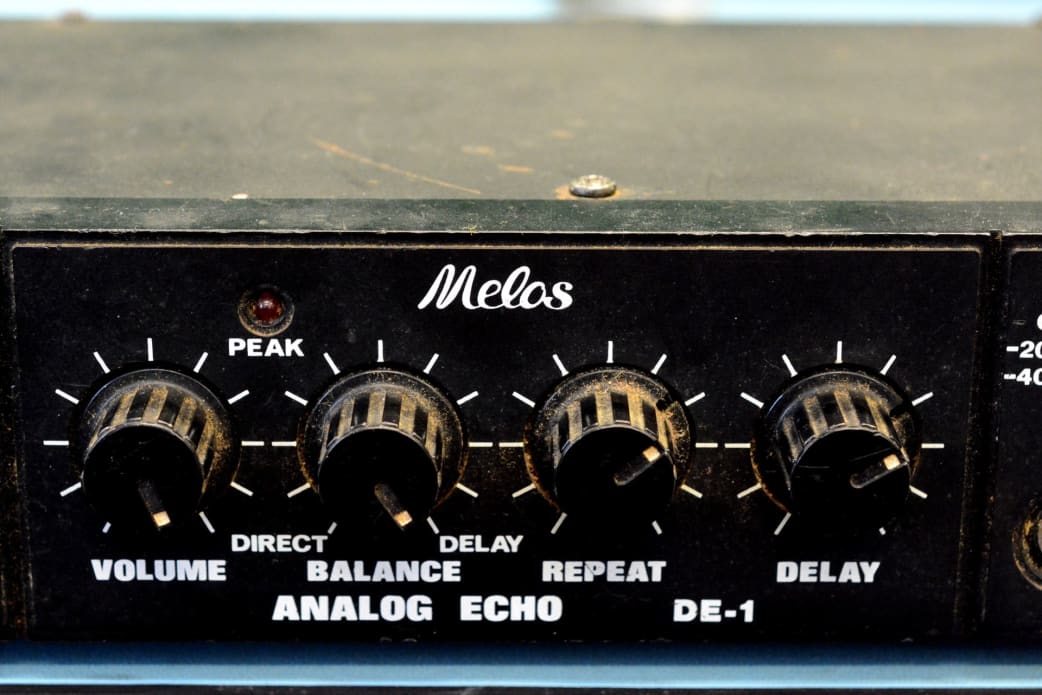 As it happens, I have an old analogue echo unit and this can be seen above, with controls for volume, balance of direct vs. delayed signal, level of repeat and delay time.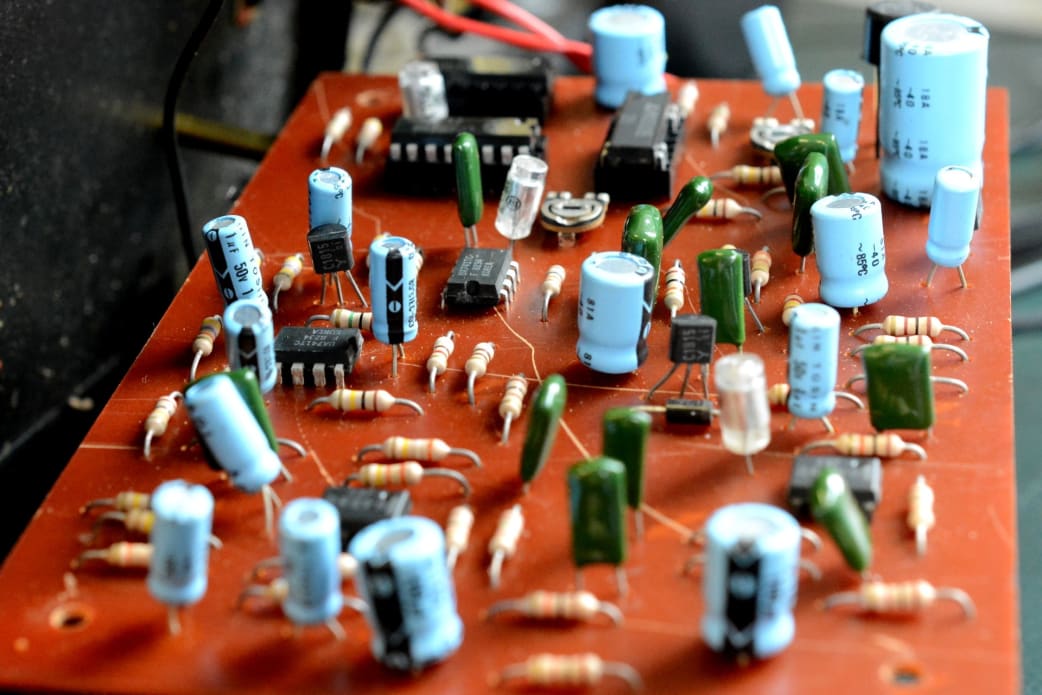 Taking the cover off this we are greeted by a suitably vintage looking PCB.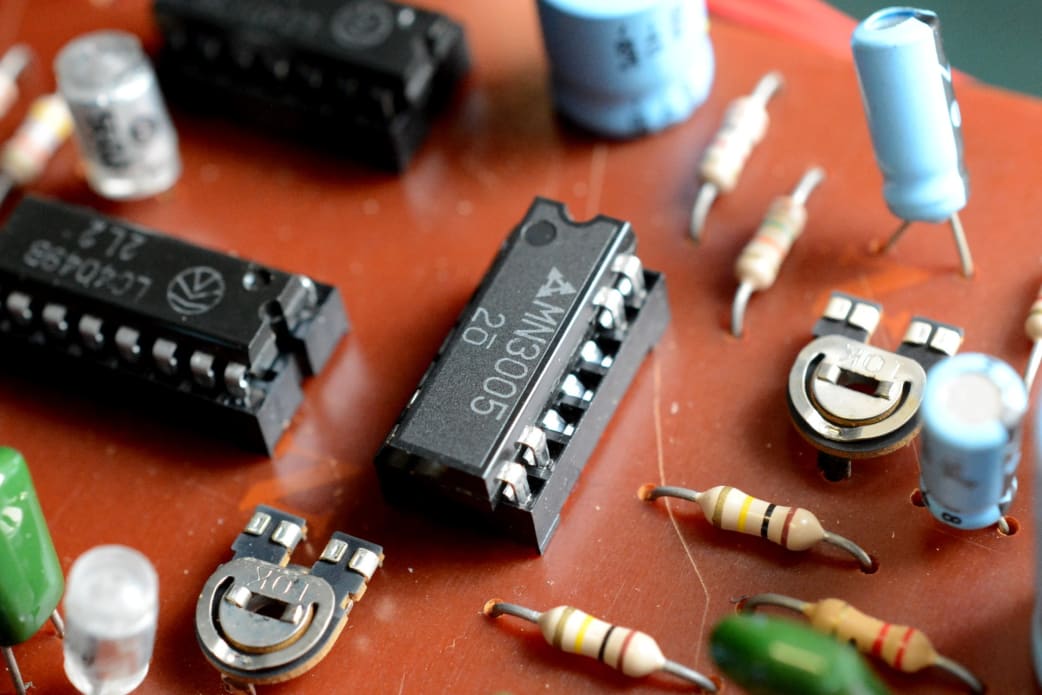 Upon closer inspection, we can see that it features an MN3005, which is a larger 4,096 stage sibling of the MN3004. So how does it sound?
In the video the input source is provided courtesy of a recording made by Greig Cameron, in which a Korg Nutube guitar peddle is put through its paces. As can be heard, the echo effect certainly has a vintage sound to it, with plenty of noise and distortion when compared with a more modern effect unit. However, for some, this would be a positive aspect, rather than a negative one.
So how would we go about creating an echo effect nowadays? A typical musical effect unit would likely use a microcontroller together with ADC and DAC — possibly all integrated into a SoC — and require a relatively small amount of RAM as a sample buffer. This would also allow for a great many other effects to also be implemented via the wonder of digital signal processing (DSP).
Of course, we could carry out such processing using a desktop or laptop computer, else perhaps something that is similarly a step up from a microcontroller, yet rather more compact. A great example of which being the BeagleBone Black (125-2411) , which in the video above can be seen providing a delay effect via the Bela software. For further details of which, see the blog post series from Dave Ives.
Final thoughts
It's been fun taking a trip down memory lane via the RS Data Library and it's possible that it may one day prove useful, whether due to needing data for a vintage device that is no longer produced, else requiring data for a now classic device that is still in production today.