Dave from

DesignSpark
How do you feel about this article? Help us to provide better content for you.

Dave from

DesignSpark
Thank you! Your feedback has been received.

Dave from

DesignSpark
There was a problem submitting your feedback, please try again later.

Dave from

DesignSpark
What do you think of this article?
Topics covered in this guide
What is an Emergency Stop Switch?
Characteristics of E Stops
When do you need to use one?
Stop Switch versus Emergency Stop Switch
Legislation related to E Stops
How to select the right E Stop and accessories
What is an Emergency Stop Switch?
An E-Stop is a specialised electrical switch, specifically designed to allow an operator or other involved person to bring equipment to a safe stop should a hazardous situation develop. The mechanical, visual and electrical design of certified E-Stops is tightly regulated by international approvals.
The E-Stop is used to minimise the risk of injury and/or to safeguard the equipment against damage by safely stopping the equipment and furthermore not allowing it to restart until a deliberate reset action has been made.
The E-Stop function in the equipment should provide a single action to bring the equipment to a safe state, generally by disconnection of the power or perhaps by applying a braking mechanism and should be clearly visible and easily accessible.
Characteristics of Emergency Stop Switches
A certified E-Stop should be designed in accordance with international regulations such as EN-60947-5-5 and the more recent EN 13850 and should have several design features that include:
Positive forced opening normally closed contact
These are directly acted upon by the switch mechanism and have a rigid construction to guard against contact welding.
Fool-proof or Trigger Action
Actuation of the E-Stop causes the switch mechanism to latch-in past a point of no return before the contacts are forced open and the circuit is broken, in order that there can be teasing of the contacts. The actuator head should be designed such that the movement cannot be deliberately or accidental blocked or impeded by a foreign object.
A twist, pull or key release reset function
The E Stop cannot be released without a deliberate and intentional action to restart the equipment by the operator.
A red actuator head with red unlocking arrows clearly visible on a yellow background
The actuator button should be red with a yellow shaft or background and have unlocking direction arrows in the same colour as the actuator.
There should be no printed text on the button or surround such as 'Emergency Stop' or any white arrows, but it is allowed to use the IEC 60417 symbol number 5638 in black on a surrounding yellow background label
The electromechanical symbol for a typical E Stop actuator with a normally closed contact looks like this. The right-facing arrow designates that contact is a positive opening contact.
Foolproof versus Failsafe
All certified E Stops feature a foolproof (or trigger action) design, but in some circumstances where there is extreme vibration, mechanical shock or even damage to the E Stop button it is possible that the contact mechanism could become detached from the actuator.
Should a modular switch contact block come off, the Normally Closed (NC) contact does not change state and the machine does not stop and the actuation of the E Stop button in an emergency will have no effect.
Many suppliers, now provide an additional 'monitoring normally open ( NO) contact that is held closed whilst the contact block is still attached to the equipment and regardless of whether the E Stop is actuated or not. The status of this contact can be used to monitor the health and availability of the E Stop system –typically by wiring it in series with one of the NC contacts. See example
When does an E Stop need to be to fitted to equipment?
In Europe, machinery and equipment covered by the Machinery Directive (2006 /42/ EC) must be equipped with at least one certified E Stop with a proven ability to prevent an imminent or occurring hazard.
In general, though, equipment or processes, where a risk assessment indicates that the combined likely severity of an injury due to a hazardous situation and likelihood of the hazard occurring represent a significant risk should also be fitted with an E-Stop.
Stop Switches vs E Stops
There are many circumstances where equipment does not present a hazard to users but needs a clearly visible switch to regularly stop or restart the machine. Such switches may be used more frequently, so may need to be rated for many more operation cycles than an E Stop.
Stop switches need not meet the design principles mentioned in EN 13850 and may have different visual designs to complement equipment and may offer a lower-cost solution.
An older style E-Stop already on the market may no longer be considered as a certified E-Stop if it no longer meets the latest regulations in force. So although a product may be called or categorised online as E Stop designers should check that it meets the latest regulations and design principles.
Legislation relating to E Stop switches
The actual E Stop design is covered in more detail under EN 13850 Safety of machinery — Emergency stop function — Principles for design.
Compliant products and their electrical circuits should be approved in accordance with control gear standards EN 60947-5-1 and subsection EN 60947-5-5 and the integration of the E stop function within machines is covered under EN 60204-1:2018 Safety of machinery - Electrical equipment for machines - General requirements
How to select the right E Stop?
So you have decided from a safety viewpoint that your equipment needs one, or more E Stops, but how do you ensure you select the optimum product for your application and its environment and that you have all the matching components and accessories needed?
With so many products on the market to choose from, designers can benefit from using an online tool that uses a parametric approach to select the correct E Stop system and which allows the creation of a Bill of Materials, all technical specifications, 3D drawings and a link to make a direct purchase. An example of this is the EAO Digital Product Selector that is available on the RS website more information can be found at
 https://uk.rs-online.com/web/generalDisplay.html?id=EAO-Configurator
Of jump straight in at:
https://rs-online.eao.com/catalog/function/emergency_stop_switch/en/emergency-stop-switch
or direct from the EAO website at https://direct.eao.com/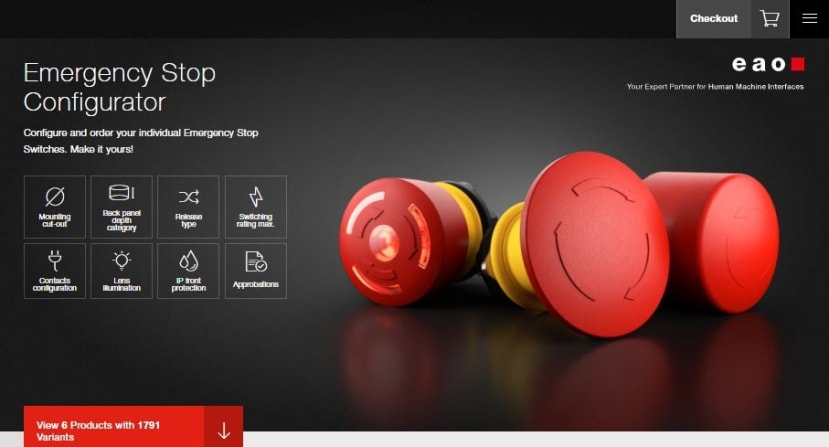 Regardless of whether you use an online selection tool, consideration of the following parameters will help lead to the optimum product.
Size and Construction Style
E Stops come in two broad categories, modular switches with a separate actuator and separate contact elements, or mono-block single piece E stop with a built-in contact block. The latter type normally offers a more compact construction with a lower back panel depth, whilst the former appear as more rugged larger industrial switches.
The more detailed selection parameters include :
Mounting Hole - This may be determined by existing metalwork or mouldings and could be either a nominal 16 mm or 22 mm cut-out
Back Panel Depth – How much space is available behind the panel? Choose between a low depth mono-block or a standard depth product with a separate contact block.
Release type - Should the product be twist to release, push-pull, or release only with a key
Switch rating - What is the maximum and minimum voltage, current and power that will need to be switched.
Contact configuration and connections – How many NC and NO contacts are required. Will gold or silver contacts be needed, what is the preferred wiring method: screw-in, plug-in push-in, crimp, flying lead etc.
Illumination - Does the product need to be visible in low light levels or could the illumination colour be an additional indicator of the status of the E Stop
IP front protection – What level of environmental sealing is needed from IP65 waterproof up to IP69K jet wash proof. The related IK rating specifies the impact resistance where a rugged metal E Stop might be needed.
Approvals – in addition to the normal EN 60947-5-5 and EN 13850 approvals – is there a need for UL, CSA or CCC approvals too?
Accessories – A complete E Stop system might need an enclosure, an approved E Stop legend plate, or a shroud to prevent accidental operation.
Summary
The design of certified E Stops suitable for machinery applications is closely regulated by international certifications and the design principles of EN 13850. Many so-called "E Stops " on the market are not fully compliant. So designers who have determined that they need a certified E Stop should be careful to select a product with the correct approvals.