6 Steps to defining ESD Protective Packaging Requirements for ESD Sensitive Items
Follow article

Dave from

DesignSpark
How do you feel about this article? Help us to provide better content for you.

Dave from

DesignSpark
Thank you! Your feedback has been received.

Dave from

DesignSpark
There was a problem submitting your feedback, please try again later.

Dave from

DesignSpark
What do you think of this article?
If your company has an ESD Control Programme per EN 61340-5-1 in place, you need to define ESD protective packaging for ESD sensitive items (ESDs). But where do you start? Don't panic – we're here to help!
What is ESD Protective Packaging?
ESD Protective Packaging comprises all "items and materials that provide intimate protection for ESDS parts during all phases of handling, shipping and storage". [EN 61340-5-2 User Guide clause 4.8.1 Introduction and purpose] You don't need to worry about secondary or exterior packaging unless it's used for ESD protection purposes.

Example of ESD Protective Packaging
Why do you need ESD Protective Packaging?
The fundamentals of ESD control include grounding all conductors in the EPA. ESD packaging will have special material composition to lower the resistance so that when grounded, electrostatic charges will be removed to ground thus protecting your ESD sensitive devices inside.
"An ESD protective packing system's basic function is to make up the difference between the ESD sensitivity of the product and the level of threat that exists in the distribution environment. For example, if the product has a human body model sensitivity of 100 V and the people that will be handling the package are known to have a maximum of 1 000 V on their bodies, then a package shall be selected that will make up the difference between the product's ESD sensitivity and the distribution environment." [EN 61340-5-2 User Guide clause 4.8.3 Selecting/designing the right package]
Packaging is to be determined for all material movements inside and outside of the ESD Protected Area (EPA). Best practice is to define the required packaging or material handling item on the product's bill of materials. Remember: the ESD packaging is just as important as a component part.
Customer contract packaging can take precedence, but otherwise "the organization shall define ESD protective packaging requirements for ESDS within the plan based on IEC 61340-5-3. Packaging, when required, shall be defined for all material movement within EPAs, between EPAs, between job sites, field service operations and to the customer." [EN 61340-5-1 clause 5.3.5 Packaging]
Choosing your ESD Protective Packaging
A number of factors need to be taken into consideration when choosing your ESD protective packaging including "the ESD sensitivity of the product as well as the expected distribution environment hazards." [EN 61340-5-2 User Guide clause 4.8.3 Selecting/designing the right package]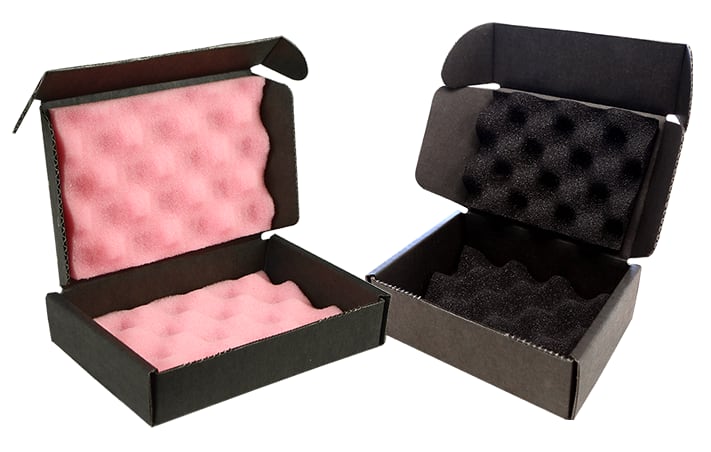 Example of ESD Protective Packaging
The User Guide EN 61340-5-2 recommends the following steps to implement your ESD Protective Packaging:
1. Understand the product sensitivity
You can gather information about the ESD sensitivity of an item by either measuring it in-house, contacting the manufacturer of the product or by analysing published ESD sensitivity data.
2. Determine the distribution environment for the packaged product
Knowing the environment in which the product is shipped and how it will be handled is extremely important. Humidity and temperature are the main factors to consider when it comes to choosing the right type of packaging for your ESD sensitive items. If items are susceptible to moisture, barrier material should be chosen to prevent excessive humidity exposure. On the other hand, condensation may occur inside the packaging if temperatures vary around the dew point of the established interior conditions. In those instances, desiccant should be put inside of the package or the air should be evacuated from the package before shipment.
3. Determine the type of packaging system that is best suited for the intended application
The first step is to choose low charging or static dissipative materials when in contact with ESD sensitive devices. Many companies also require the packaging to protect the contents from a direct discharge or exposure to electric fields. In addition to these requirements, there are further questions that need to be asked:
Returnable or reusable packaging?
Disposable or one-time only packaging?
Aesthetic requirements for packaging?
4. Select and test packaging materials
Test methods are explained in EN 61340-5-1 and will classify packaging materials as conductive, static dissipative or insulative.
5. Design a packaging system
Once the ESD sensitivity and distribution environment have been evaluated and available materials have been selected, the design of the packaging system can begin. Per the User Guide, the following general rules apply:
"If the package is primarily used to transport product in an ESD protected environment then a low charging, static dissipative package may suffice.
If the product is moving between ESD protected areas (uncontrolled environment) a low charging, discharge shielding package may be required.
When the package is shipped into a totally uncontrolled environment a low charging discharge shielding package is recommended."
In addition to these guidelines, there may be additional factors that should be considered, e.g.:
Cost/value relationship: The cost of the packaging compared to the total value of the contents is important. Some companies choose less expensive packaging for less valuable parts.
Handling: If rigorous handling is expected, cushioned packaging may need to be considered.
6. Test the final packaging design for effectiveness
It is highly recommended to subject packages to the type of hazards that can be expected during shipments. These tests can, for example, involve the following:
High voltage discharges to the exterior of the packaging
Simulated over the road vibration
Drop tests
Environmental exposure
Final thoughts on ESD Protective Packaging
Now that you have an understanding of the factors to consider when choosing your ESD Protective Packaging, you're ready to implement the above guidelines. ESD packaging comes in all sorts of shapes and forms so bear in mind to not just look at bags when deciding what type of packaging to choose. Also, remember that ESD packaging should be marked.
Example of ESD Protective Packaging
Do you currently use ESD Protective Packaging? Do you use bags or boxes or something else? How did you choose your ESD Protective Packaging?