Dave from

DesignSpark
How do you feel about this article? Help us to provide better content for you.

Dave from

DesignSpark
Thank you! Your feedback has been received.

Dave from

DesignSpark
There was a problem submitting your feedback, please try again later.

Dave from

DesignSpark
What do you think of this article?
We have a terrific range of Digilent reference designs for you to download and tinker with to your heart's content! Created for use with DesignSpark PCB, but equally happy when used with other PCB design software.
If you are searching for inspiration or perhaps you have hit a brick wall in your own design process, why not try out these great Digilent reference designs? They might just save you a little bit of time and money as well!
Digilent Pmod ALS
The Digilent Pmod ALS (134-6463) provides light to digital sensing via a single ambient light sensor with 8-bit resolution. Designed by Digilent engineers around the Texas Instruments ADC081S021 (761-5321) analogue to digital converter and Vishay Semiconductor's TEMT6000X01 (768-9354) .
Digilent Pmod HYGRO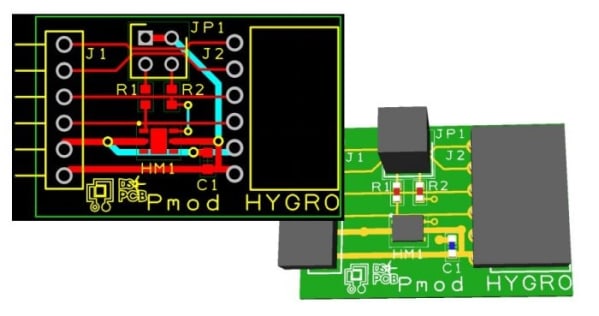 A great reference design of the Digilent Pmod HYGRO (136-8072) . A relative humidity sensor with an integrated temperature sensor which provides highly accurate measurements at up to 14-bit resolution with low power consumption.
Digilent Pmod RS232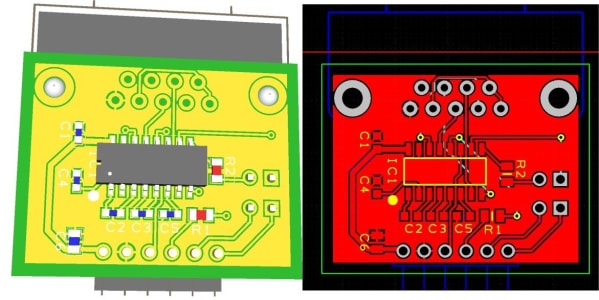 This reference design uses the Digilent Pmod RS232 (Revision B) (134-6444) and converts digital logic voltage levels to RS232 voltage levels. Configured as a data communications equipment device, it connects to data terminal support devices such as a Serial Port on a PC.
Digilent Pmod RS485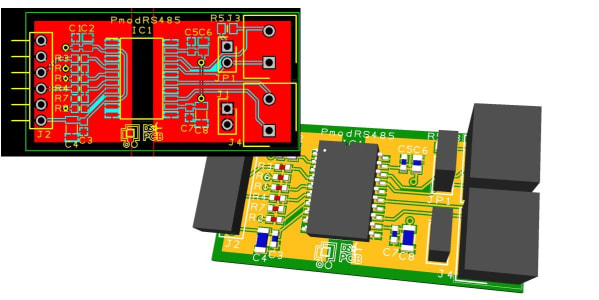 Incorporating the Digilent Pmod RS485 (Revision B) (134-6474) this reference design offers signal and power isolation for high-speed communication lines utilising the RS-485 communication protocol. Providing differential half or full-duplex communication with an impressive 16 Mbps maximum data rate.
Digilent Pmod USBUART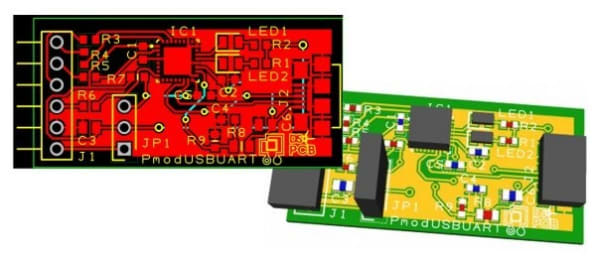 The Digilent Pmod USBUART (Revision A) reference design is a USB to ART Serial converter module that is capable of transfer rates upwards of 3 Mbaud. Complete with a micro USB connector and the option to power the board via the FTDI chip (730-0168) .
If you are new to PCB design, why not try DesignSpark PCB, it's easy to learn and free to download and use!