Dave from

DesignSpark
How do you feel about this article? Help us to provide better content for you.

Dave from

DesignSpark
Thank you! Your feedback has been received.

Dave from

DesignSpark
There was a problem submitting your feedback, please try again later.

Dave from

DesignSpark
What do you think of this article?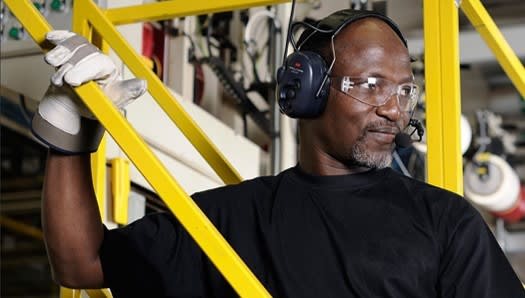 Improving productivity while protecting workers from occupational ill health can be an uphill struggle for employers in the food and beverage industry.
Read how 3M™ PELTOR™ Communication Headsets protect workers' hearing whilst keeping them motivated and improving productivity.

Due to the diversity of processes and products in the Food and Beverage sector, its workforce faces the prospect of developing a number of long-latency occupational health issues. One of these, irreversible hearing damage, can be caused by exposure to noises exceeding the 80dB(A) and 85dB(A) action levels.
For example, according to the UK Health and Safety Executive, currently more than 17,000 people in the UK suffer from deafness or tinnitus as a result of past exposure to workplace noise. (Source: http://www.hse.gov.uk/noise/)
The use of personal protective equipment (PPE) featuring communication solution technologies can help prevent the onset of noise induced hearing loss and can also enhance communication in the workplace.
3M™ PELTOR™ Communication Headsets - what are the benefits?
By combining hearing protection and communication systems, 3M™ PELTOR™ Communication Headsets do more than protect the workforce from noise induced hearing loss, they can also support employers by cutting down on lost time by reducing wastage, maintaining worker motivation, improving safety levels, boosting productivity by aiding workplace communication and allowing workers to have a more rewarding experience at work.
Cutting down on wastage
When something goes awry on the production line, there is an immediate need to take action to avoid unnecessary and costly waste and product backlog. Such wastage can be resolved by fast, efficient and safe communication. With the joint trends of a decrease in worker numbers in factories and increased physical distance between employees on the production line, communication can be speeded up by the use of PELTOR™ Communication Headsets.
Example: Communicating to a mechanic, who may be physically absent from the factory floor, that a machine needs to be fixed when a product jam has occurred.
Maintaining motivation
Working in a noisy environment for sustained periods of time can be both isolating and morale-sapping. PELTOR™ Brand LiteCom Headsets tackle these problems by enabling colleagues to freely chat to one another without removing their PPE. Additionally, PELTOR™ products with built-in FM radio receivers allow workers to listen to their favourite radio stations while working, while complying with all current HSE guidelines, which can help to maintain motivation during monotonous tasks.
Example: 87 per cent of respondents in a recent UK-based survey said that playing music improves workplace morale. A Performing Arts License is not required for personal radio use, providing employers with another way of saving money while reaping the benefits music can bring.
Increasing safety
Hearing protection that inhibits easy communication can prevent employees from working safely by blocking out useful sounds, such as warning alarms. Workers may also remove uncomfortable or obstructive PPE in order to listen to a co-worker.
Example: Lifting up the cup of an ear defender for a few moments to talk or listen to directions may not seem especially dangerous, but over a protracted period of time it can lead to hearing problems.
Improving productivity
To increase productivity, it is important to facilitate communication between members of the workforce. Repeatedly heading to an office to make external phone calls, or manually searching for a colleague is wasted time. The use of PELTOR™ LiteCom Headsets can save time by enabling calls to be made and instructions issued without needing to leave the factory floor. Some models can even be connected to a telephone via Bluetooth, making individuals accessible wherever they are.
Example: Informing a colleague that a task has been completed and that it is their turn to begin.
Want to find out more? Visit the RS Health and Safety Knowledge Hub and see the full selection of 3M PELTOR™ communication Head Sets available from RS.