Dave from

DesignSpark
How do you feel about this article? Help us to provide better content for you.

Dave from

DesignSpark
Thank you! Your feedback has been received.

Dave from

DesignSpark
There was a problem submitting your feedback, please try again later.

Dave from

DesignSpark
What do you think of this article?
Also known as audio alarms, audio indicators, audio transducers, piezo buzzers, beepers or audible alarms, the variety of product available is extensive.  Buzzers are typically used for alarm or identification purposes on a wide range of applications.  The purpose of this article is to provide a summary of key points to consider when purchasing buzzer products. 
1. Piezo buzzer or electromechanical buzzer?

Piezo Buzzers contain a piezo ceramic vibration plate or piezo element within a moulded case.  Basically, sound is generated when a voltage is applied and the piezo element vibrates inside the case.  RS Pro (511-7620) is an example of a piezo buzzer. 

Electromechanical buzzers use a bare metal disc and an electromagnet.  A magnetic field is generated when a voltage is applied causing the magnet to move and the metal disc to vibrate. This generates an audible sound.  One of RS Pro's popular electromechanical buzzers is (617-3081) . 
Typically, piezo devices consume less current, have a broader frequency range and generate a higher sound output. Electromechanical devices however, can generate sound at low frequencies. 
2. AC or DC voltage?
AC buzzers, also known as Audio Transducers, use a wave signal. They require additional circuitry to generate sound which can make a design process more complicated. However, AC buzzers offer great flexibility in terms of the overall range of sound output.
With DC buzzers, sound is generated by applying a DC voltage. Also known as Audio Indicators, these buzzers have an internal design circuit which means they are an easier option for design engineers.
3. Tone – Continuous or Pulsed?

The majority of devices are continuous-tone, i.e. they make one long sound when a voltage is applied.  Buzzers such as the RS Pro (179-7442) offer a slow pulse tone and (724-3181) a fast pulse. The recently introduced (179-7447) can produce a continuous or intermittent tone.  The pulse/intermittent tones are highly suitable for alarm applications.
4. Fixing – Leads, Pins or Surface Mount?
Identifying how you fix your buzzer within your application is important.  With PCB pins, you need to know the pin spacing. For DC devices one pin is sometimes longer than the other which denotes the positive.
Buzzers with leads have various lead lengths and these can sometimes be customised to suit specific applications. 
SMT devices are usually low profile and more widely available as electromechanical options.
5. Sound Output
This varies considerably between products.  The RS Pro Multi-tone buzzer (837-7850) can generate a minimum of 105dB.  For applications requiring a reduced sound output, the lower frequency (724-3184) may be a preferred option. Sound output can also be influenced by the application itself and environmental conditions.
6. Size
The RS Pro range of buzzers supports a considerable variety of product.  One of the smaller items recently introduced is the (179-7445) . This has a pin spacing of 3mm and is only 7.6mm diameter.  It still manages to generate 70dB despite its size.
In contrast, the (136-7925) siren styled buzzer is rectangular rather than the usual round. Its dimensions are 47 x 39 x 22.8mm and it has a sound output of 102dB.  Larger buzzers tend to generate higher sound levels.
7. Position of Sound Vent

As you will notice, the majority of buzzers and sounders have a top opening from which the sound is emitted.  You can however purchase buzzers with a sound vent on the side. The RS Pro (171-0895) is a popular choice for designers requiring such a product. The (179-7446) is a surface mount option and a relatively new addition to the RS Pro range.
8. Feedback Option

Some buzzers are fitted with a feedback pin or lead. This means they can be run using either DC or AC voltage. If using a square wave (AC), the feedback pin or lead does not need to be connected. The feedback line on a transducer is used to create a voltage which in turn creates a simple, self-oscillating circuit. A reference circuit is provided on the datasheets. This enables the optimum sound levels to be produced.  Examples of buzzers with a feedback option are (188-2201) , (188-2203) and (188-2208) , all new to RS Pro.
9. Voltage Range
It is advisable not to exceed the operating voltage range of a buzzer as this may reduce product reliability. You can find details of the operating voltage on the product datasheet to determine whether a buzzer will be suitable for your application.
10. Piezo Elements
If you are building your own housing for your application, you may prefer to use a bare piezo element. This enables design engineers to build an enclosure to produce the optimum sound output. Piezo elements are also very thin and compact so highly suitable for small applications. The RS Pro (724-3162) is a popular device.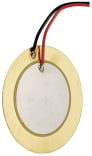 All of these buzzers can be found on the RS website. Click on the product numbers or contact the sales team for assistance.